Five Celebrities Who Dislike Their Tattoos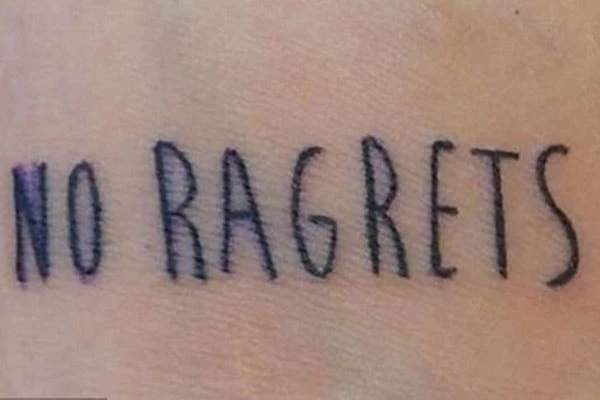 Most of the celebrities want to get a tattoo that relates to their life and personality. However, some of the celebrities have such a bad day that their tattoo gets all messed up. The reason behind it is the time or tattoo artist.
So, when the celebrities regret having awful tattoos on their body, they either hide it or remove the tatt. Well, here are some of the celebrities who dislike their tattoos and some of them who have even removed from their skin.
Johnny Depp
The phenomenal actor, Johnny Depp used to have a tattoo of his then-girlfriend, Winona Ryder that said: "Winona Forever." He inked the tattoo in honor of her. But, Johnny Depp and Winona Ryder had their own issues that led to their break-up.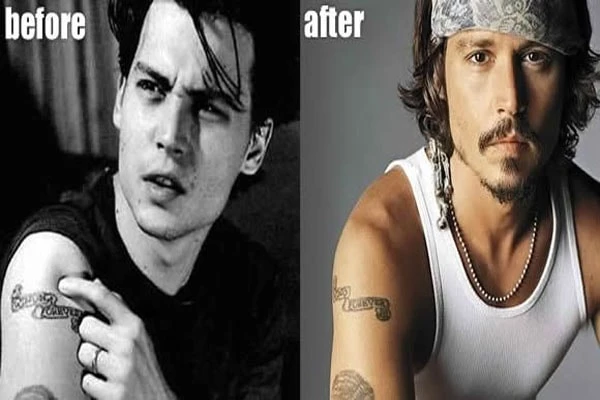 The tatt that Johnny had for his ex-girlfriend was not a fit after the split. So, to get rid of it, the actor had it changed to "Wino Forever." Hence, the wine really is forever for Johnny Depp. He probably has forgotten that he even had a tattoo named after Winona Ryder. 
Demi Lovato
Demi Lovato did not think twice when she got like 12 tattoos in her teens. She regretted having the tattoos at such a young age. Perhaps, she had a naive mind back then. The singer has also considered getting the tatts removed from her body. She admits that she does not love all of her tattoos. Demi Lovato said that the tattoo of her friend's lips on the inside of her forearm was the stupidest decision of all.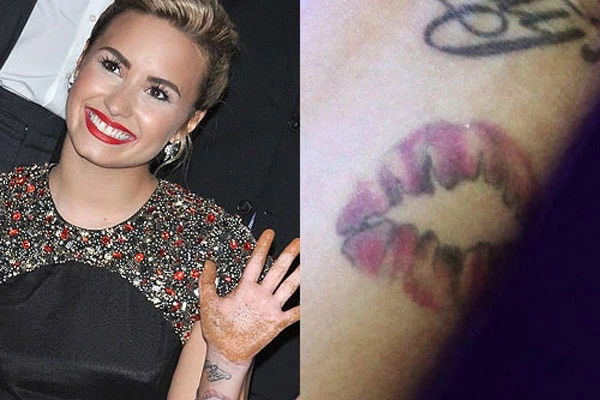 She is intending to give attention to her tattoos when she gets older.
Adam Levine
The handsome and talented Adam Levine is a tattoo lover and has lots of tattoos inked on his hands and chest. But the one tattoo that Adam hates to see on his body is the tattoo on his right chest and shoulder area.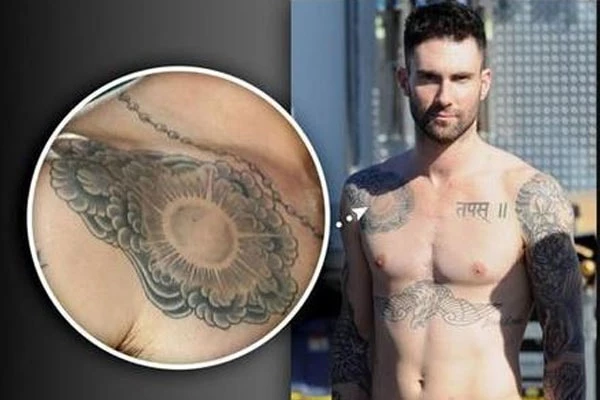 It's a Russian prisoner-inspired tattoo which turned out like cauliflower with a sun in the middle of it. He even admitted that the tattoo is just despicable-looking. He did not remove it because he does not want any of his ink to be covered up with.
Angelina Jolie
Angelina Jolie loves tattoos, just not the ones that are related to her ex-partner. She had gotten "Billy Bob" tattoo to show how much she loved Billy Bob Thornton, but as time went, it went to become upside-down.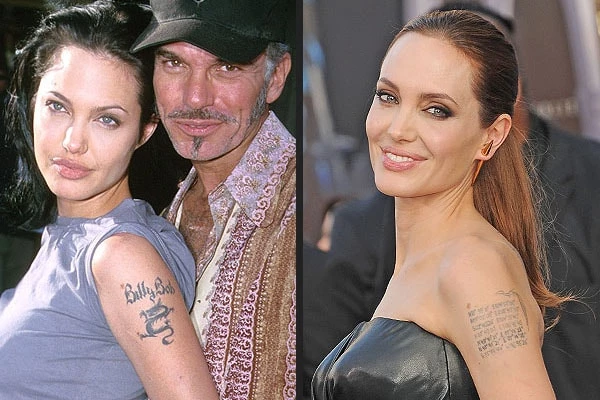 After the divorce, the tattoo had become a burden on Jolie's body. So, she removed it and replaced with her six children;'s birthplace coordinates. 
Kaley Cuoco
The Big Bang Theory star, Kaley Cuoco married her now ex-husband, Ryan Sweeting on December 31, 2013. The actress decided to get the marriage date tattooed on her upper back to commemorate the very special day.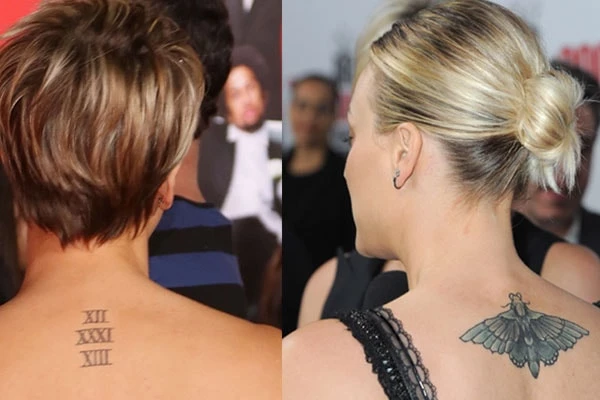 Unfortunately, the ex-couple had to go through a divorce and it was that moment she regretted getting the tattoo. So, to erase the memory from her skin, Kaley tattooed a butterfly on top of messed up tatt. She even said on Instagram,
"Note to self—do not mark your body with any future wedding dates."
Maybe after reading the mistakes of many big names, now people would think for a while before getting something tattooed.
Get More Updates In News, Entertainment, Net Worth, and Wikis In eCelebrity Spy.