Here Are Five UFC Fighters With The Best Tattoos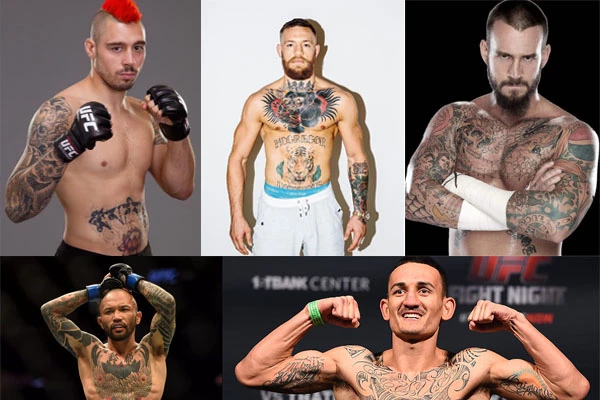 Tattoos and mixed martial arts are like peanut butter and jelly. Most of the MMA fighters of UFC tend to ink their body with breathtaking tattoos. Many people go WOWZA!! and keep on wondering after they see those awesome tattoos.
The UFC fighters probably get tattooed on their body to express their characteristics and personality. The odds of tattooless UFC fighter are less than the ones with tattoos. Here are five UFC fighters with best tattoos you will find inside the Octagon.
Conor McGregor
Apart from his aggressive wrestling style, Conor McGregor is known for his tattoos too. The UFC fighter has tattooed some impressive ink on him. First of all, the Arabic writing on his heel is Conor's first tattoo that he got when he was drunk. 
You can see is a silver gorilla on his chest. The gorilla is wearing a crown and holding a heart in the mouth. When asked about the tattoo he said that he just likes the way it looks.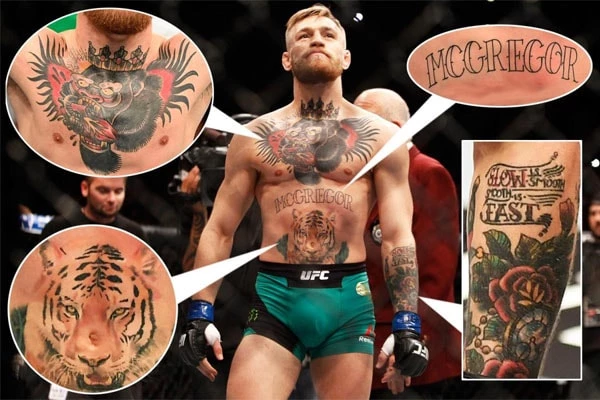 The Notorious guy also has this huge tattoo of tiger's head and name on his abdomen. He is inspired by Tiger's courageousness and studied animal's movement to incorporate their style of attack in training. 
Conor has inked a winged crucifix on the back of his neck and a thorny helix that's connected to it. Not forgetting rose bush, clock with 3:35, dagger and a gentleman on his forearm. He has also tattooed a motto that says "slow is smooth, smooth is fast" on his left elbow.
Norifumi Yamamoto
Norifumi Yamamoto is also included in the list for best tattoos. The Japanese UFC fighter had made his body attractive with awesome tattoos. The flying crane on his chest area was a dope tattoo for sure.
His piece is not a typical biomechanical art. Just by looking at it, we can tell that Norifumi paid a very talented artist some serious cash to ink the tattoo for him. 
Similarly, Japanese writings were tattooed on the top of the crane. Both of his hands were covered with magnificent tattoos. However, Norifumi Yamamoto died on September 18, 2018, due to stomach cancer. Nevertheless, he will always be remembered for his aggressiveness and well-rounded style of playing.
Dan Hardy
The UFC fighter, Dan Hardy has this huge tattoo of a human eye between two wolf's heads. Dan explained that the tattoo is a Caput Iupinum whose Latin meaning is "wolf's head". 
Similarly, his stomach area is tattooed with Buddhist prayer Om Mani Padme Hum. And below that, the tattoo of a lotus flower is inked on Dan Hardy.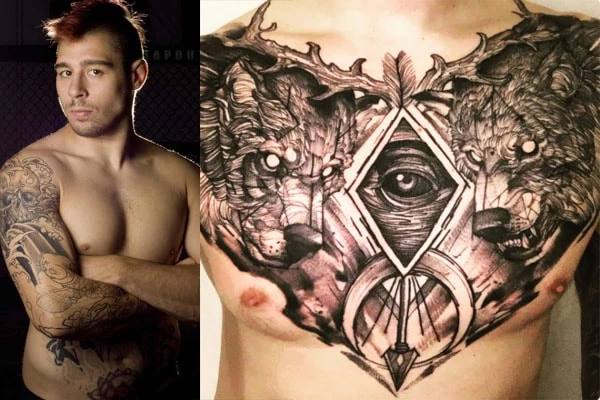 Looks like Dan is a fan of tattoos because he has inked his right and left hand with tattoos that seem to be expensive. Also, the fighter has inked his lower legs with a skull, man's head, etc.
Max Holloway
Max Holloway loves to have tattoos on his body. He says that it's a unique way of expressing yourself. Max got the first tattoo of his name on the stomach when he was just 17. 
Then comes the pair of wings on his back. This was the second tattoo he inked to show that Max is an angel from his heart. The meaning of the wings is peace and balance in the world.
The extraordinary tattoo on his chest area tells the story of Max Holloway and is very close to him. It probably seems that he had spent heavy cash to ink his super-close tattoo.
CM Punk
Phillip Jack Brooks aka CM Punk is one of the UFC fighters and a WWE superstar. Your mouth goes wide open after you see his tattoos oh his chest and hands. He has a huge skull tattoo on his right chest.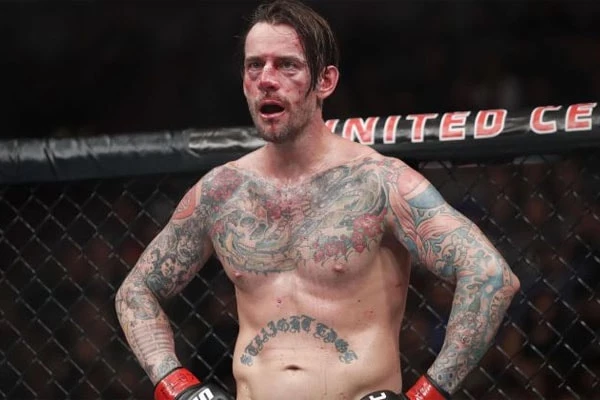 He has a Pepsi tattoo on his left shoulder. The four ace cards below the Pepsi tattoo is a sign of good luck. The wrestler has engraved number 13 in a spider web which is his lucky number. His right hand is full of the small detail of star tattoos.
Get More Updates In News, Entertainment, Net Worth, and Wikis In eCelebrity Spy.