Take A Look Into Machine Gun Kelly's Tattoos. Also Know MGK's Tattoos Meaning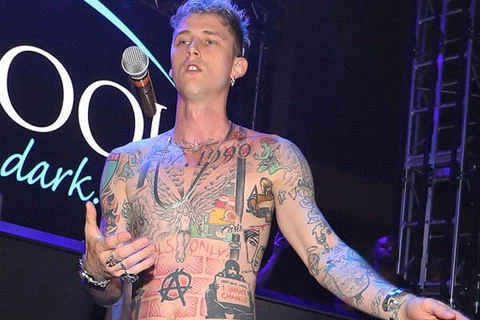 Machine Gun Kelly is a well-known American rapper born on April 22, 1990. He has so far released various songs and albums that have been quite popular. He has also played roles in movies such as Bird Box, The Land, and Captive State amongst many. 
Alongside his rap songs and feud with Eminem, MGK is also quite famous for his amazing tattoos. And the rapper seems to love getting tattoos and has said that he got his very first tattoo when he was 14. Most of Machine Gun Kelly's tattoos are done by his main tattoo artist, Ceven. Body covered with ink, MGK's tattoos have various meanings. Here are some of MGK's inks with their meanings.
Where Is MGK's Baby Mama Emma Cannon Now?
Blooming Rose Tattoo
After the release of his album titled "Bloom", MGK got a tattoo which is a rosebud opening into a fully bloomed flower. This tattoo extends from his hips to his ribs.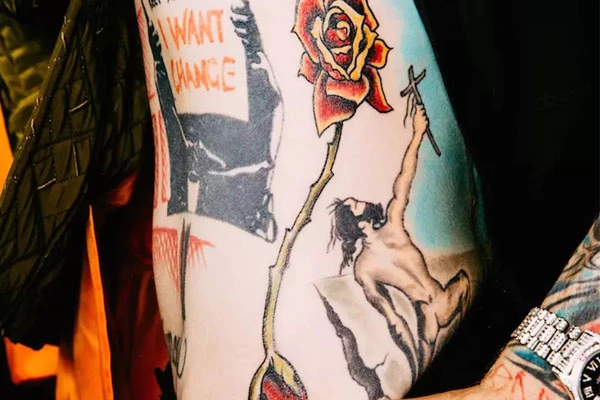 The talented rapper got this tattoo in 2017 after his album "Bloom".
Kiss The Sky Tattoo
In the album, "Bloom" is a song named Kiss The Sky. He got a tattoo in honor of this song at the same time he got the blooming rose tattoo. This tattoo is located on his inner elbow and simply reads Kiss The Sky.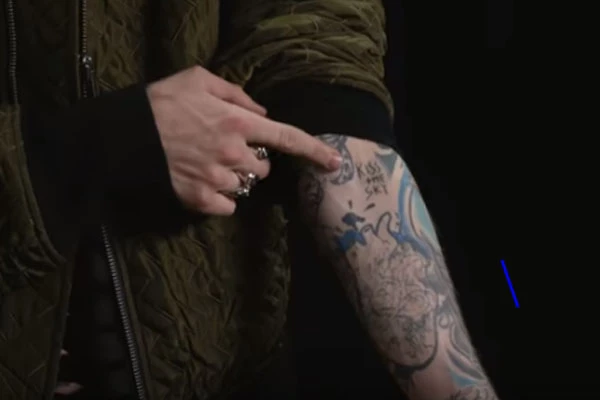 MGK has said that the meaning of this song inspired to get him this tattoo.
Jessica Rabbit Tattoo
MGK has a Jessica Rabbit tattoo on the inside of his right bicep. He got this tattoo because Jessica Rabbit, the cartoon leading lady in the 1988 movie "Who Framed Roger Rabbit", is his fantasy woman.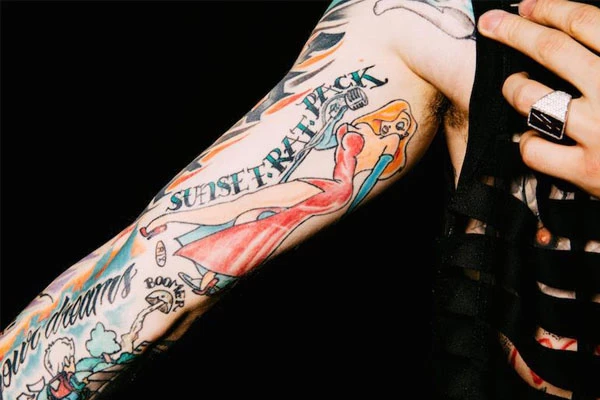 And according to MGK, this tattoo was the most painful one he got. 
Gash Tattoo
Machine Gun Kelly has a tattoo of a gash which shows some blood oozing out of it right where his heart is.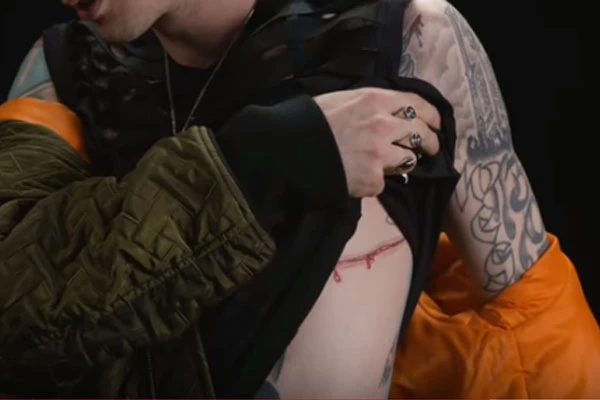 He simply states "Somebody ripped my heart out" when explaining the tattoo's meaning. 
1984 Tattoo
MGK has a tattoo on his upper arm which he says is an ode to the novel "1984" written by George Orwell.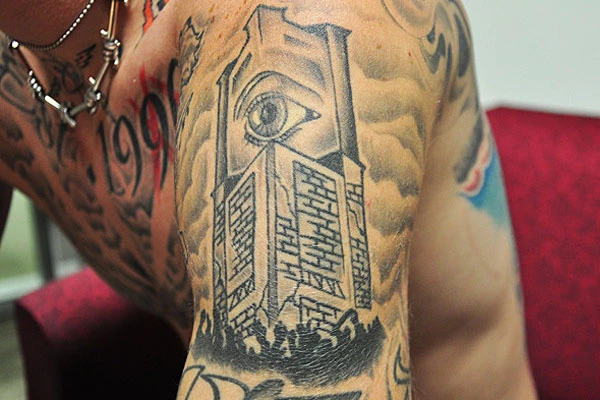 He has said that people often mistake this 1984 tattoo for the symbol of Illuminati as it has a single eye. 
Salvador Dali Piece
MGK also has a Salvador Dali piece as a tattoo. This tattoo covers most of his back and he says that it took 50-60 hours to complete this tattoo.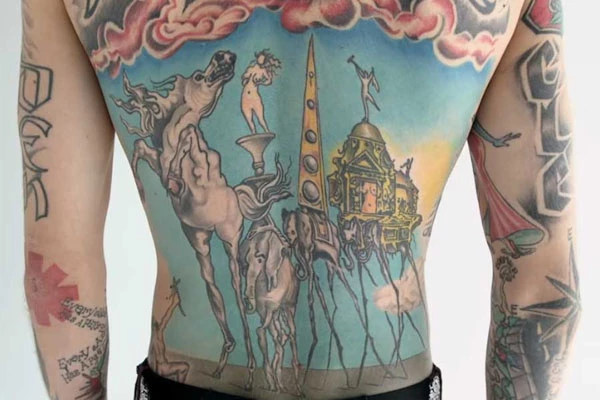 He interprets this piece as the revelation and people repenting for their sins. MGK has further said that this tattoo symbolizes a lot to him as he has lived a dark life and wants to get right with himself.
Other Tattoo Meanings
In an interview with Noisey, Machine Gun Kelly explains the meanings of his tattoos. He has a 71 North tattoo on his right arm. This tattoo reminds him that if he is homesick he can take a 71 North bus and be home at Cleveland. He also has a tattoo dedicated to his grandmother whom he loved very much. 
MGK has many more tattoos whose meaning has not been revealed yet. But all his tattoos must be personal and close to him as they do mean something.  
Keep Up With eCelebritySpy, For More Updates On News, Net Worth, Wikis, and Articles.