What Is The Reason Behind Frances Conroy's Discolored Eyes?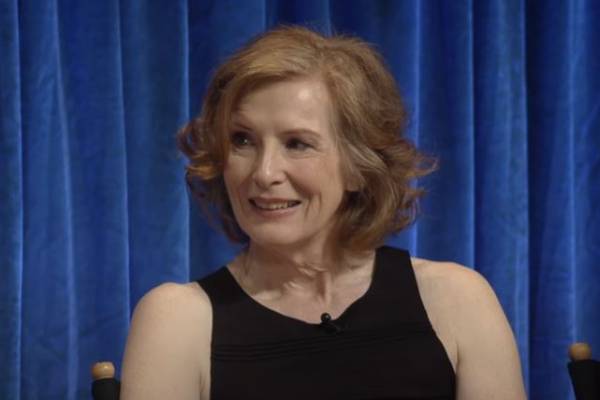 Known for her fantastic performances in famous shows like Six Feet Under and American Horror Story, Frances Conroy has been capturing viewers' hearts for over four decades. Whether it is Loretta Stinson of How I Met Your Mother or Ruth Fisher of Six Feet Under, Conroy has portrayed the characters with heart and has mesmerized people around the world.
And her latest appearance in the highly acclaimed movie, Joker, cements the fact that she has an uncanny ability to capture audiences' attention through her performances. Along with this, one more attribute of hers that people remember and recognize is Frances Conroy's discolored eyes.
Frances Conroy's Discolored Eyes
Many remember Conroy from her fantastic acting abilities in numerous movies and television series. Her versatility in portraying a comedic character in one project and embodying a sad and faint role in others has made her one of the most intriguing actresses in the industry. And besides, her discolored eyes have made her a somewhat of an enigma.
While her eyes have always been the first topic of discussion when Frances' name is taken, there is a somber story behind it. The reason behind her discolored eye is the corneal damage of her eye due to a car crash. In 2014, a fan page dedicated to Frances revealed the cause behind the actress's eye.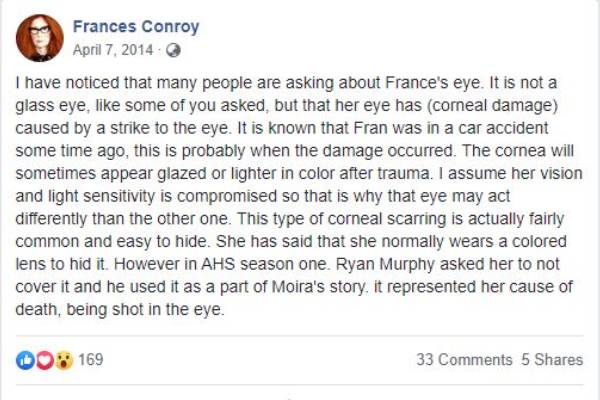 Many fans noticed her different eye color and made a valent effort to know more about the causes and effects of the condition. It was revealed that the reason for her glassy eye is the trauma it suffered during the crash. Due to this, her vision is compromised, and she also suffers from light sensitivity. All this information about their favorite actress made the fans respect her and her performances even more than before.
Uses Colored Lens
Frances' discolored eyes and the cause of it is now known by many people. But the actress revealed that she uses colored contact lenses to hide while out. She has worn her lens while filming many earlier projects and attending various events. 
The first time people saw her real eyes, without contacts, was in American Horror Story while portraying the role of Moira O'Hara. Instead of hiding it, series creator Ryan Murphy tied the astonishing physical attribute to the character's story, and fans got to see it as a part of the character. Since then, many viewers have noticed the peculiar difference in many of the actress's other roles and has celebrated her and her courage.
The unique feature, even though it originated from a difficult time, has made Frances' popularity rise more than ever. And with her featured in many famous shows like Arrested Development and highly successful movie like Joker, her fame seems to in no way decreasing anytime soon.
Some Facts About Frances Conroy
Frances Hardman Conroy was born on the 15th of March, 1953, in Los Angeles, California.
She was interested in performing from an early age and was encouraged by her parents to explore her passion.
Apart from her eyes, Conroy's red hair is also a notable attribute of the beautiful actress.
For her amazing portrayal as Ruth Finder in the show, Six Feet Under, she won a Golden Globes Award in 2004 and SAG Awards in 2006.
She has been nominated for Primetime Emmy Awards multiple times.
She has been married to actor Jan Munroe since 1992.
Explore more on eCelebrity Spy and get updates on Celebrity News, Wikis, Net Worth, and More.