Meet Will Reeve's Girlfriend Lexi Henkel - Relationship, Marriage Plans And More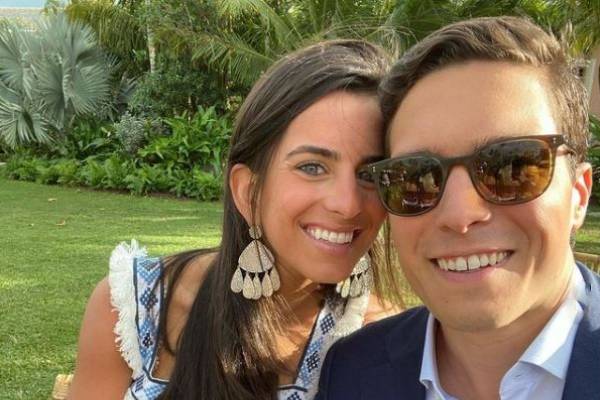 Will Reeve is mostly known as the son of famous Hollywood couple Christopher Reeve and Dana Reeve. The sports broadcaster has embraced the identity and has carried on his parent's legacy after their passing. Due to him being the offspring of such a popular pair, Reeve grew up in the spotlight and with millions of eyes on him.
While Reeve has been in front of the media for years, he has managed to keep most of his personal life hidden, especially his relationship with his girlfriend, Lexi Henkel.
Who Is Catherine Gamez? Is She Ryan Garcia's Wife?
Who Is Will Reeve's Girlfriend Lexi Henkel?
Lexi Henkel is mostly known as the girlfriend of famous sports broadcaster, Will Reeve. She currently works at the biotechnology company, TMRW Life Sciences, as the Senior Director, Finance & Strategy. Will's partner has been working for the life science company for almost two years and has always spoken highly about the works they have done in the field of fertility medicine.
Henkel attended Yale University and graduated with a Bachelor's Degree in Economics and Spanish. She grew up in Greenwich, Connecticut, and completed high school at Greenwich Academy in 2013. She was part of the Women's Lacrosse team throughout her high school and college years and even won numerous awards for her contribution to the lacrosse team.
Even though many of her professional achievements have been public, Lexi's childhood and personal details have been a mystery for all. The one small information about her that is available is her birthday, which she celebrates on the 2nd of February. Henkel is yet to reveal about her early life, and we hope that we get to know more about Will Reeve's girlfriend in the coming future.
Will Reeve And Lexi Henkel Relationship
While the exact timeline of the relationship between Will and Lexi is unknown, it looks like the lovely pair have been together for quite some time now. Reeve made his relationship with his girlfriend Lexi, "Instagram Official," on August 19, 2018, by posting a beautiful picture of them together.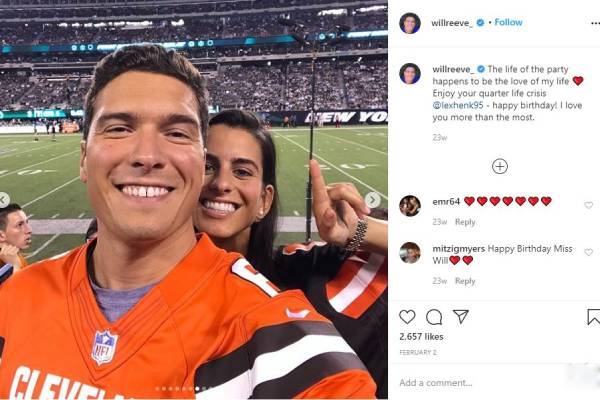 Since then, Will has shared several pictures of them and has declared his love for his girlfriend. In one of the birthday posts for her, Lexi Henkel's boyfriend said that she is the love of his life, and looking at the photos; it is clear that she feels the same too. While the pair has mostly stayed silent about their love life, Will does not hesitate to profess his love for Lexi via his social media pages.
Marriage Plans For Will Reeve And Lexi Henkel
Christopher Reeve's son, Will, has been together with his girlfriend Lexi for almost two years now. Looking at the love the two have for each other, we can say that their relationship seems to be going strong and heading in the direction of marriage. The two have not talked about their marriage plans yet, but if they are ready, they already have their parent's relationships to look up to.
Will's parents Christopher Reeve and Dana Reeve, were married for twelve years till his father's death in 2004. When Christopher suffered from critical injuries after falling off his horse, Dana was by her husband's side. She cared for him while Christopher was paralyzed from the neck down and also raised their young son. Will has praised his mother's strength and stated that their family was stronger because of her.
While both of Will's parents are no longer in this world, he has continued to remember them and their legacy. The Christopher and Dana Reeve Foundation which was established by his father has been a big part of his life. He is the brand ambassador for the foundation and is a passionate advocate for the improvement of medicine for spinal injuries.
Well, Will Reeve's Girlfriend Lexi Henkel's answer will surely be "Yes" if he ever plans on proposing to her. Whether or not Lexi and Will have any plans regarding their marriage; they already have people to look up to. And when they are ready to settle down, we hope that the pair share their joy with the whole world. 
Have you considered reading about the failed marriage of Vanessa Villanueva's husband, which was plagued by the lingering shadows of his first wife?
Get More Updates In News, Entertainment, Net Worth, and Wikis In eCelebrity Spy.