Abby Huntsman Net Worth - Know The American Journalist's Income Sources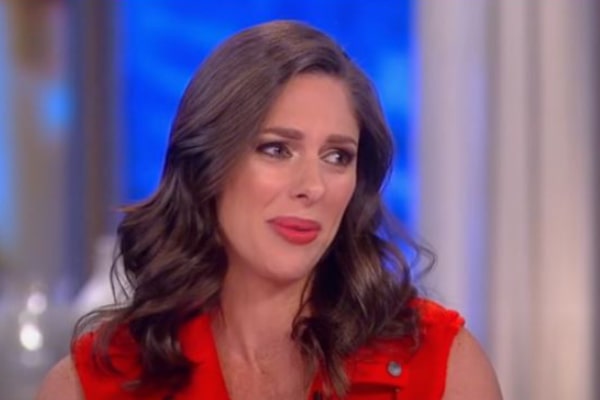 Abby Huntsman is one of those journalists who have gained a massive number of followers because of her amazing skills onscreen. She has managed to be one of the well-known personalities in the field of journalism in America. Whether it is her charming personality as a talk show host or being the one to interview people like Ivanka Trump, she has been the talk of the town for her works.
Abby Huntsman has been working in the world of journalism for years. From all the shows she has hosted over the years, she has earned an estimated net worth of $20 million.
Abby Huntsman Net Worth And Earnings
As stated above, according to Celebrity Net Worth, Abby Huntsman's net worth is estimated to be $20 million. She has managed to earn this vast fortune from her career as a television personality.
Income As A Journalist And Television Personality
Abby Huntsman started her career in the journalism sector when she was just sixteen and worked behind the camera at Good Morning America. She has admitted to disliking the work, but after interning for Diane Sawyer, she changed her mind and wanted to pursue her career in the sector.
Her first job was as a host and a producer for the Huffington Post's streaming network, HuffPost Live. She also appeared frequently on CNN during this time. Huntsman then replaced S.E. Cupp in MSNBC's The Cycle in 2013, hosted the show for two years, and left the MSNBC after it was canceled.
After leaving the company, Abby joined Fox News Channel in October 2015 as a general assignment reporter. After a year, she was announced as the co-host of Fox & Friends Weekend. She was the co-host of the program for another two years, and her final appearance on the show was on August 12, 2018. 
She then joined ABC's long-running show, The View as a co-host alongside other famous personalities. She was also nominated for Outstanding Entertainment Talk Show Host along with her co-host for a Daytime Emmy Award in 2019. She then left the show two years later to help in her father's election campaign.
From her long career as a journalist, the famous tv personality must have earned a considerable sum. From her earnings from the several television appearances, Abby Huntsman's net worth saw an exponential growth over the years. And looking at how talented she is, we can expect her salary to be of a huge sum as well.
Working For Her Father
While she always enjoyed her work in the media, the well-known tv personality has also paused her career to help with her father's political campaign. She has worked as a media advisor and surrogate during her father's, Jon Huntsman Jr. presidential campaign in 2012. During these times, she and her sisters were famous for their hard work and their support toward their father. Speaking of Abby's dad, he himself has an estimated net worth of $950 million.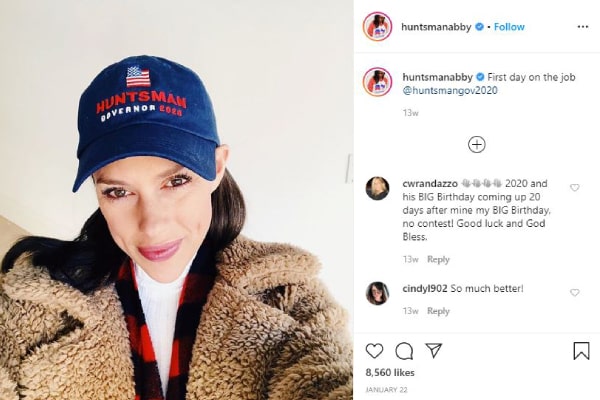 Also, in 2020 Huntsman left her job at The View to work for her father's election campaign. She became part of the 2020 Utah gubernatorial election campaign as a senior advisor for Huntsman Jr. Since she worked in one of the highest positions in the campaign, she might have earned a considerable amount from the role.
Income From Books
While journalism is the primary source of income for the talented television personality, Abby has also tried her hands in the world of literature. She has written a picture book for children titled, Who Will I Be? with Joanne Lew-Vriethoff providing stunning pictures for it. The book has lessons about valuing service and the power of giving back. The debut book of the famous journalist is available on Amazon and costs $5.99 for the hardcover edition.
The book was popular among the readers because of the exciting content and the life lessons for small children. The earnings from the sales of this book must have helped increase Abby Huntsman's net worth.
Lifestyle 
With all the wealth she has earned as a journalist, Abby Huntsman surely enjoys a lavish lifestyle. Also, looking at her Instagram page, we can see that she lives a comfortable life with her husband and three children. And following in her father's footsteps, she has also introduced herself as a philanthropist on many occasions.
Some Facts About Abby Huntsman
Abigail "Abby" Huntsman was born on the 1st May 1986 in Pennsylvania, U.S.A.
She is the daughter of Jon Huntsman Jr., who is the Governor of Utah and Mary Kaye Hunstman.
While she was born in Utah, she actually spent several years living in China since her father was an Ambassador to China.
She was the second eldest among seven children.
She is married to Jeff Livingston and has three children, Isabel Grace Livingston, Ruby Kate Livingston, and William Jeffery Livington, together.
Actress Ashley Greene played Abby's part in the biographical movie, Bombshell. The film portrayed the lives of women who exposed the Roger Ailes sexual misconduct scandal.
Explore more on eCelebrity Spy and get updates on Celebrity News, Wikis, Net Worth, and More.