Dak Prescott Net Worth - Know About The Football Quarterback's Salary, Contract & Other Earning Sources
Dak Prescott Net Worth
$2 million
| | |
| --- | --- |
| Birth Name | Rayne Dakota Prescott |
| Birth place | Sulphur, Louisiana, USA |
| Profession | Football Player |
| Nationality | American |
| Zodiac Sign | Leo |
| Hair Color | Black |
Among many quarterbacks in the National Football League (NFL), Dallas Cowboys' Dak Prescott has established himself as one of the best in the league. His game-winning abilities and amazing off-court personality have secured him a place in many of the Cowboys fans' hearts. And as with many other successful players in the NFL, Dak also has earned millions since his debut in 2016.
From his highly successful NFL career, the famous athlete has made millions over the years. According to Celebrity Net Worth, Dak Prescott's net worth is estimated to be $2 million, which comprise of his earnings as an NFL player and various brand endorsements.
Dak Prescott Net Worth And Earnings
As stated above, Dak Prescott has an estimated net worth of $2 million, which he amassed from his career as an NFL player and various endorsement deals.
Income As An NFL Player
Rayne Prescott was drafted by the Dallas Cowboys in the fourth round of the NFL Draft of 2016 after a highly successful high school and college football career. He signed a four-year contract, worth $2.72 million with the Cowboys in 2016. He had a very fruitful few years with the team and is currently negotiating with them for a contract extension.
American Football Player Kroy Biermann's Net Worth
Dak's team recently placed an exclusive franchise tag on him, which reportedly results in him earning approximately $31.6 million in the following season. It was reported that the quarterback declined a deal which would have paid him $33 million per year. Due to his impressive performances in the previous season, he wanted the team to pay him at least $35 million.
Whatever may be the final decision between the NFL player and his team, it is clear that Dak Prescott's salary in the upcoming years will see a massive raise, which will undoubtedly increase his net worth.
Income From Brand Endorsements
While Prescott's earnings from his football career are not that impressive, he makes it up from the number of brand deals and sponsorship he has with several companies. He has multiyear brand deals with companies like Adidas, Cambell's Soup, Sleep Number beds, Oikos, Pepsi, New Era caps, among many others.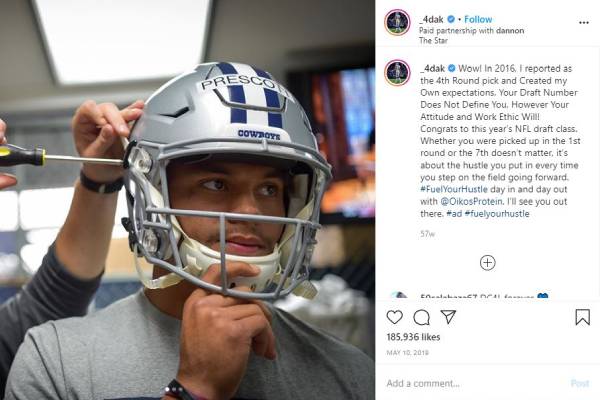 According to ESPN, these endorsement deal alone is valued at approximately $50 million from which the famous quarterback pockets a considerable sum. With his star value, he has brought a good amount of users for these brands, which have, without a doubt, helped him earn millions himself. With many other companies eager to sponsor him, Dak Prescott's net worth will see a significant rise in the coming years.
How Much Does Dak Prescott Earn From Merchandise?
Along with his on-court earnings and endorsement deals, Prescott also has another source of income, his merchandise line. Like many other celebrities, he launched his own clothing line, which includes various items like t-shirts, hats, hoodies, bracelets, and tank tops. Some of these products and their respective prices are listed below:
Mom - Mind Over Matter T-Shirt - $24.99
Dak Prescott Toon B Women's Tank Top - $24.99
Faith Fight Finish Bracelet - $4.00
Driven B Kids Youth Hoodie - $39.99
Driven B Kids Onesie - $19.99
D4K Logo W Snapback - $28.99
D4K W Throw Pillow - $29.99
Who B Men's Hoodie - $44.99
All of these merchandise products can be purchased from the football player's official online store. With his popularity among the fans increasing day by day, it can be said that Dak Prescott's earnings from merch sales will help improve his collective net worth significantly.
Lifestyle And Assets
With millions of dollars to his name, the Dallas Cowboys quarterback, Dak Prescott lives a lavish lifestyle. He currently resides in Texas and recently came under public scrutiny for hosting a party with thirty guests during the stay-at-home order due to coronavirus pandemic.
He later declined the accusations and released a statement regarding the incident. Nevertheless, it is clear that Dak loves to live his life to the fullest and live comfortably.
Facts
Rayne Dakota 'Dak' Prescott was born on July 29, 1993, in Sulphur, Louisiana.
He is the youngest among the four children of Peggy Prescott and Nathaniel Prescott. He was raised by his mother, who he lost in 2013 from colon cancer.
He has two older brothers, Tad Prescott and Jace Prescott, and on older sister Natalie Prescott-Smith. He lost his older brother Jace in April 2020.
He won multiple championships as a part of his high school and college football team.
Get More Updates In News, Entertainment, Net Worth, and Wikis In eCelebrity Spy.