Daphne Oz Net Worth - Income As An Author And A Host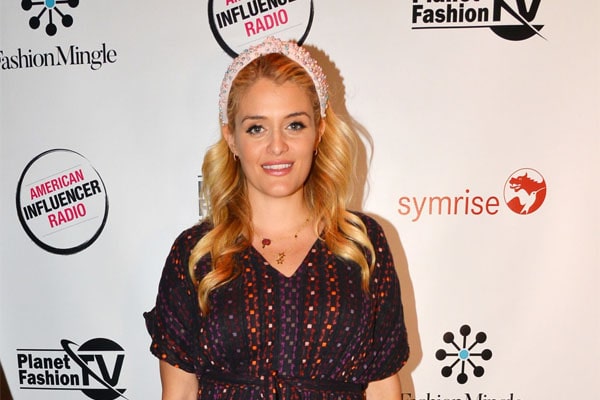 The beautiful and talented Daphne Oz first came into limelight for her book The Dorm Room Diet, which she wrote when she was just a twenty-year-old college student. The Princeton graduate and mom of four has continued to write books and also cohosted many TV shows which helped her amass a humongous wealth. Daphne Oz's net worth is estimated to be $12 million.
The New York Times Bestselling Author and an Emmy winning cohost, Daphne Oz, was inspired to write after she lost 30 pounds during her years in college.
Daphne Oz's Net Worth And Earnings
According to Celebrity Net Worth, Daphne Oz's net worth is estimated to be $12 million. She earned this money through her bestselling books, as well as many appearances in television shows as a host.
Income from books
Both Daphne Oz's net worth and career hit it off after the publishing of her first book, The Dorm Room Diet, in 2006 in which she gave practical advice to college students about eating properly. The book was a combination of the author's personal story and strategies that can be implemented while in college. It was a national bestseller, and Oz later released the revised and updated version of her project in 2010.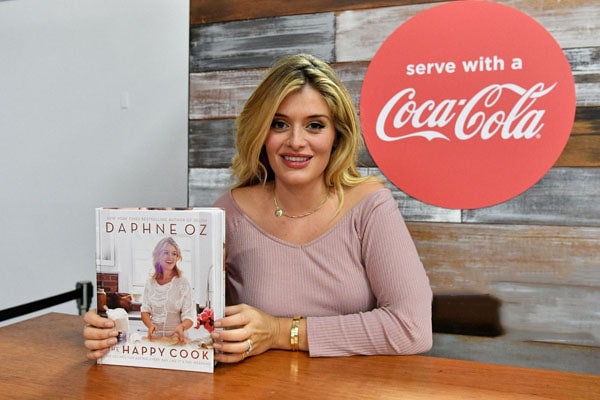 After the book's success, Daphne followed up with The Dorm Room Diet Planner a year later. In 2013, Oz released another book, Relish: An Adventure in Food, Style, and Everyday Fun. This book was different from her previous books and contained food and recipe photos and decor examples. It was more of a lifestyle guide and cookbook than a diet guide. 
The bestselling author then released a cookbook The Happy Cook in 2016. It was a collection of easy, healthy, and delicious recipes. Along with the above books, Daphne also co-authored books with her The Chew cohost. All of these books are available on Amazon, and some of their prices are mentioned below:
| | |
| --- | --- |
| Books | Price |
| The Dorm Room Diet | $11.95(Paperback) |
| The Dorm Room Diet Planner | $12.95(Paperback) |
| Relish: An Adventure in Food, Style, and Everyday Fun | $15.98(Hardcover) |
| The Chew: What's for Dinner? | $11.98(Paperback) |
| The Happy Cook: 125 Recipes for Eating Everyday Like It's the Weekend | $18.99(Hardcover) |
Along with all these books, the talented author has also written articles for Glamour, The Huffington Post, and Creators Syndicate. We can only imagine how much Daphne Oz's earnings increased from her book sales.
Income From Television
Daphne is not only a successful author but also a famous television host. Her first stint as a host came in 2011 as one of the five cohosts on ABC's The Chew, a lifestyle show. The show won a Daytime Emmy for Outstanding Informative Talk Show Host in 2015 and was nominated two more times in 2016 and 2017.
Additionally, Oz has also been featured in other shows like The View, E! News: Daily Pop, Fox, and Friends, Beat Bobby Flay, Masterchef, among others. The salary from these shows must have propelled Daphne OZ's earnings to new heights.
Income as Ambassador for WW International
Furthermore, Daphne Oz is also an ambassador for WW International, a global company that offers various products and services to assist in weight loss and maintenance, fitness, and mindset. On the official website, visitors can buy different products, some of which are listed below:
Peanut Butter Mini Bar - $7.95
Chocolate Pretzel Mini Bar - $7.95
Nacho Tortilla Chips - $4.95
As the ambassador for the company, the gorgeous TV host, Daphne Oz's income must have had significant growth from the revenues generated from sales of these products.
Lifestyle And Assets
As a successful author and television host, Daphne lives a very comfortable lifestyle. The former host is a New York resident but also resides in LA while filming various projects. Take a look at one of the People's videos where Oz shows around her home, more specifically her kitchen. 
In 2016, Daphne put up her Manhattan apartment for sale for $2.5 million, which she purchased in 2014 for just $1.65 million. This brought in a nice little profit. Not to mention, the talented host had the combined three-unit apartment upgraded in the kitchen area. 
Also, from Daphne Oz's Instagram feed, we can see that the author lives a very luxurious life, going on many vacations and trips with her family to famous spots. So, it's probably safe to say that with her vast wealth, Daphne lives a comfortable life, and with four kids and a loving husband, there never is a dull moment for the whole family. With revenue from multiple ventures and other endeavors she could walk into, Daphne Oz's net worth is sure to bump up in the upcoming future 
Some Facts About Daphne Oz
Daphne Oz was born on the 17th of February, 1986, in Philadelphia, Pennsylvania, USA.
She is the eldest daughter of Dr. Mehmet Oz and Lisa Oz and has three siblings, Zoe Yasemin Oz, Oliver Mustafa Oz, and Arabella Sezen Oz.
Daphne was born with the umbilical cord wrapped around her neck.
She married her longtime boyfriend, John Jovanovic in 2010, and share four children, three daughters Philomena Bijou, Domenica Celine, and Giovanna Ines, and a son, Jovan Jovanovic.
She also has an official website where we can find information about her books, videos, and recipes too.
Explore more on eCelebrity Spy and get updates on Celebrity News, Wikis, Net Worth, and More.