Matt Stonie Net Worth - Income From YouTube Of The Competitive Eater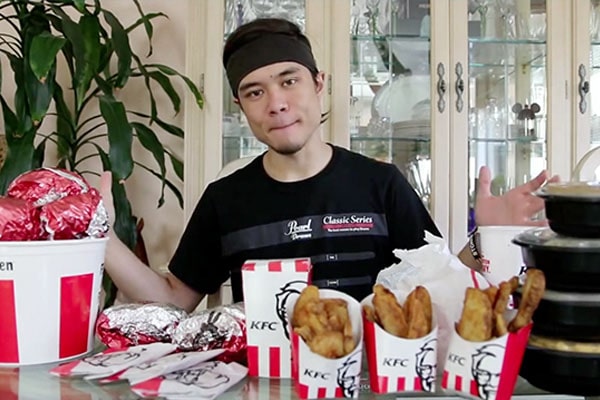 We've always been told that we should eat to live, but at times living to eat becomes a goal that helps to live. There are several people who make use of their hunger to earn a few easy bucks. But there are some eaters who take it to a whole other level. One of these people is the YouTube star and competitive eater, Matt Stonie.
This foodie started out with food challenges just for free food but enjoyed it so much that it is now more of a profession. Now the second-best of the World's Best Competitive Eater, Matt Stonie's net worth is over a million. Let's take a look at how this eater makes earning money look like a piece of cake.
Matt Stonie's Net Worth: Did You Know How He Earned So Much?
As stated prior, the competitive eater has a wealth of over a million dollars. Back when he had only 4 million subscribers on his YouTube channel, Celebrity Net Worth reported Matt Stonie's net worth to be at $700,000. Now that he has more than 10 million subscribers, which is more than twice, some suggest that his net worth multiplied by the same amount. That would make this eater worth over $1.5 million.
But do you know how the star earned so much? Let's find out the answer.
Food Challenges
Okay, so this one is pretty obvious. For food eaters like Matt, Joey Chestnut, and Geoffrey Esper, food challenges make way for good food and good money. Most food challenges offer the winner at least $1,000. And with the top dogs participating in national and international level competitions, some matches earn them about $10,000, and some pay even more. 
Speaking of Joey Chestnut, he himself has an estimated net worth of $1.5 million.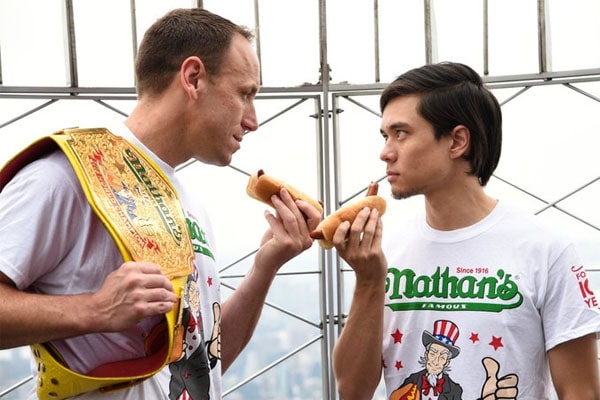 And with the number of Matt Stonie's food challenges and wins, his earnings from these challenges alone exceed a couple hundred thousand.
YouTube Channel
While a huge number of people know Matt as a competitive eater, most of his recognition came from his YouTube channel. As stated prior, Matt Stonie's YouTube channel has over 10 million subscribers. So the star's earnings from his channel are quite big but exactly how much does the star earn?
According to Social Blade, Matt Stonie's earnings are anywhere between $9.5K to $152K a month. As for his yearly earnings, they are anywhere between $114K to $1.8 million. This goes to show that YouTube earnings are a significant part of Matt Stonie's net worth.
Merch Sales
Most famous YouTubers with over a million subs tend to have their own merch. And with Matt Stonie's subscriber count exceeding over 10 million, it goes without saying that Matt would have his own as well. Matt Stonie's merchandise is called Megatoad, and they are available on sale on his website. To give you an idea of what merch you can buy, here is a table with the prices that you might like:
| Name Of The Product | Cost |
| --- | --- |
| Food Mountain Tee | $18.00 |
| #70Dogs Tee | $18.00 |
| Original Megatoad tee | $16.00 |
| "Hot Dog" Tee | $20.00 |
The cost of the merch is not too high, and as such, the sales and earnings make some big bucks. And while Matt Stonie's earnings themselves are impressive, he makes sure to give back to charity. In an interview, Matt mentioned how he donates to charity from his YouTube as well as from his wins in competitions. This also shows that Matt Stonie's heart is one that can also beat for others.
Lifestyle
Okay, so we discussed what Matt Stonie's net worth is and even how he earns his money. So now, let's discuss the kind of life that Matt Stonie lives. To begin with, Matt lives in San Jose, and although he earns quite a bit, he lives a modest lifestyle.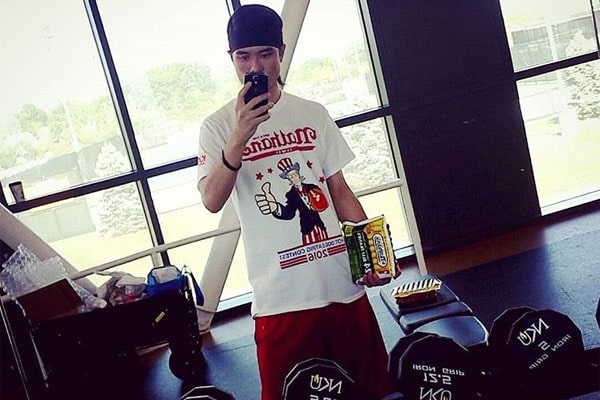 Most of the time, when Matt is not in challenges, he is busy taking care of his body. Going to the gym, exercising, and controlling his diet helps him take care of the huge numbers he sees on his plate during competitions. He also sees his doctors thrice a year and is reportedly healthier than 95% of the other patients. 
Here Are Some Facts That You May Not Have Known About Matt Stonie
Matt Stonie, with his reputation, has a lot of fans, but the number is also always increasing. As such, there are always people wanting to know about him, but there are still some fans who might not know all about this competitive eater. So here are some facts that will be useful for both old and new fans.
His first contest was a lobster-roll-eating contest and won against a semi-professional guy.
He loves playing the guitar and performing for people.
Studied nutrition in college.
Has a beautiful Husky named Gray, who has his own Instagram.
Has over 300K followers on Instagram as of now.
 Stay Up To Date With eCelebritySpy To Get Recent Updates On Celebrity Net Worth, News, Wikis, And Entertainment.