Melissa Etheridge Net Worth - What Could Be Her Income Sources Besides Singing?
Melissa Etheridge Net Worth
$25 million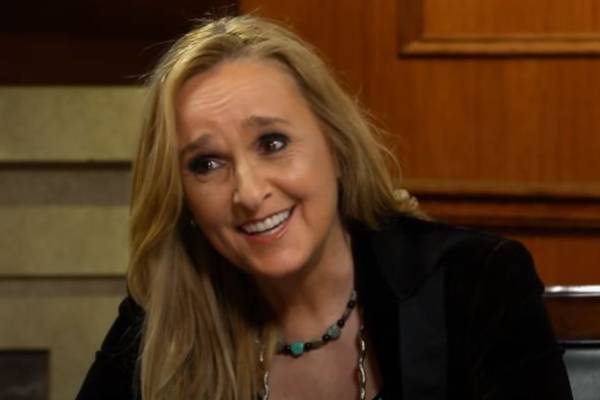 | | |
| --- | --- |
| Birth Name | Melissa Lou Etheridge |
| Birth place | Leavenworth, Kansas, US |
| Profession | Singer-songwriter |
| Nationality | American |
| Zodiac Sign | Gemini |
| Hair Color | Blonde |
Melissa Etheridge is a well-known name in the rock music scene. Whether it is her unique blends of music or her raspy voice, Melissa has made a name for herself in the music business by showcasing her talent and dedication for the art. And as one of the most famous female rock musicians, she has succeeded in earning tons of fans and also wealth from her music.
According to Celebrity Net Worth, Melissa Etheridge's net worth is estimated to be $25 million. She has earned this massive fortune from her successful music career.
Melissa Etheridge Net Worth And Earnings
As mentioned above, Melissa Etheridge's net worth is estimated to be $25 million. Her massive wealth comprises of her earnings from album sales and multiple tours she has been on.
Income From Music
The talented musician has been a music enthusiast since her childhood. She started playing in local country music groups and performed on clubs around the Boston area. She then moved to Los Angeles, seeking out a career in the music industry.
After moving, Melissa was discovered by Island Records while performing in various lesbian clubs around the LA area. She started recording soon after, but her first attempt was rejected by the label, which led her to finish her self-titled debut album in four days. The record, Melissa Etheridge, was released in 1988 and became an underground hit. A year later, Melissa released her second album, Brave and Crazy, which also gained similar success. Since then she has released fourteen more albums, some of which along with their earnings with reference to The Richest are listed below:
| | |
| --- | --- |
| Albums | Earnings |
| Melissa Etheridge | $2.7 million |
| Brave And Crazy | $1.2 million |
| Never Enough | $1.1 million |
| Your Little Secret | $2.1 million |
| Yes I Am | $6.2 million |
| Greatest Hits - The Road Less Traveled | $500K |
| Fearless Love | $46K |
| This Is M.E. | $50K |
Furthermore, all of Etheridge's albums can be purchased on Amazon and have been successful in their own rights. The chart-topping albums and many singles released to support the records were excellent in terms of sales. From all of the earnings from the album sales, Melissa Etheridge's net worth has seen massive growth over the years.
Income From Tours
From singing in small lesbian bars to performing in front of thousands of people, Melissa has come a long way in her career. Like every other performer, she has been on multiple tours and even performed in various festivals around the world. Not only this, but she has also been conducting concerts from home during the coronavirus pandemic.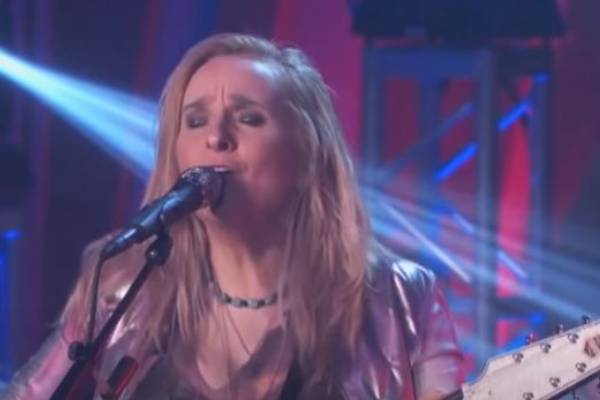 From the number of tours and performances in various festivals, Melissa Etheridge's income must have been significant. Also, one of the talented singer-songwriter's tour has also won the prestigious Small Hall Tour Award. 
Income From Merchandise
Similar to other artists, Melissa also has her own line of merchandise. Her fans can purchase various items ranging from apparel like t-shirts to accessories. Some of these products, along with their prices, are given below:
Hoodie-Choose Only Love - $64.99
Henley-Guitar Head Logo - $49.99
Demin Sleeveless-Embroidered Logo - $39.99
Aqua SS-Choose Only Love - $29.99
Fearless Love 500 Piece Puzzle - $29.99
Bandana-Navy Dust Mask - $14.99
Water Bottle-Song Titles - $29.99
Beanie-Embroidered Navy Peru Knit - $24.99
All of the above-mentioned products are available on the singer's official merchandise store. As one of the most talked-about artists in the 90s and the present times, Melissa Etheridge's earnings must have been significantly impacted by these product sales.
Lifestyle And Assets
From the vast fortune she has earned from her music career, Melissa Etheridge lives a lavish lifestyle. Her expensive lifestyle can be seen in the properties she has owned over the years, along with other assets. She previously owned a 6,837 square feet, six-bedroom house with her previous partner, Tammy Lynn Michaels. The pair put their home on sale for $4.9 million in 2007. 
The famous artist currently owns another massive property in Hidden Hills, California, which she purchased before putting the previous one on sale. She reportedly paid $5.1 million for the five-bedroom home and has lived there for years. During the Californian wildfire in 2018, Melissa was forced to evacuate her home but later revealed that there was no damage to her property.
Looking at the price tags of the properties she has owned over the years, we can say that Etheridge lives a lavish lifestyle.
Facts
Melissa Etheridge is the youngest daughter of Elizabeth Williamson and John Etheridge and was born on the 29th of May, 1961, in Kansas, U.S.
She attended the Berklee College of Music but dropped out to pursue her music career.
She came out as a lesbian publicly in 1993 and has been vocal about LGBTQ rights.
She has four children; Beckett Cypher and Bailey Jean Cypher from her relationship with Julie Cypher and Miller Steven Etheridge and Johnnie Rose Etheridge with Tammy Lynn Michaels.
Her eldest son Beckett was found dead on May 13, 2020. He struggled with opioid addiction.
She is currently married to actress Linda Wallem.
Explore more on eCelebrity Spy and get updates on Celebrity News, Wikis, Net Worth, and More.