Michael Rosen Net Worth - Besides Being A Novelist, What Are His Other Income Sources?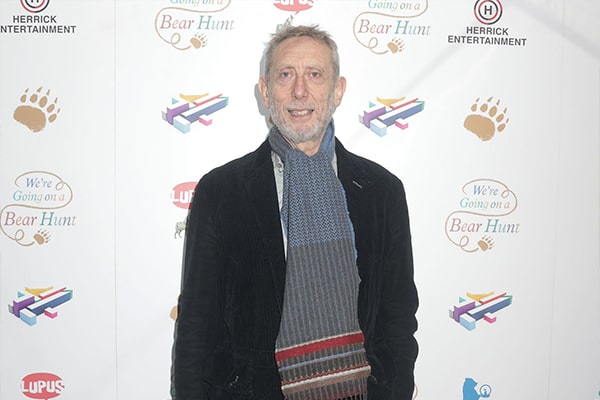 Making children laugh through books and stories is a tough task. The little ones and their inquiring brains are one of the hardest to please groups in the group of readers. Thousands of books focused on children and their needs have been published over the years. And among these crowd, Michael Rosen is one of them who has managed to make children smile from his stories and poetry.
Michael Rosen has been writing children's books since the 1970s. His stories and poetry have been a constant in the lives of children across the world.
Michael Rosen's Net Worth And Earnings
Known for his successful children's books, Michael Rosen's earnings from the book sales have helped increase his net worth consistently over the years.
Earnings From Writing
The English children's novelist, poet, and author have written more than a hundred books since he first started writing. The first published book of poetry by the author was Mind Your Own Business in 1974. This book was the first in the line of many more books Rosen wrote. His collection of humorous poetry for children in books like Wouldn't You Like To Know, Chocolate Cake, Quick Let's Get Out of Here, You Tell ME! among others helped establish him as a children's author. Some of his books and their prices are listed below:
| | |
| --- | --- |
| Books | Price |
| Little Rabbit Foo Foo | $10.02 (Paperback) |
| We're Going on a Bear Hunt | $10.38 (Paperback) |
| Chocolate Cake | $13.84 (Paperback) |
| Quick Let's Get Out of Here | $11.06 (Paperback) |
| Wouldn't You Like to Know | $2.08 (Paperback) |
| You Tell Me! | $2.97 (Paperback) |
Over the years, Rosen has not only wrote children's books but have also written many articles for various well-known newspapers and website. For his writing, he has received many accolades and also must have earned him a hefty sum of money. The earnings from his book sales must have increased Michael Rosen's net worth for years.
Income From Television, YouTube, And Radio
Along with his writing, Michael is also known for hosting many documentaries on TV. He has presented and narrated many television series like The Book Tower, Bookmark, The Real Room 101, and many others. Also, Rosen has a YouTube channel, Kids' Poems and Stories With Michael Rosen, where he narrates his stories. With 389K subscribers and more than 70 million video views, his official channel has estimated earnings of $5.3K to $85.1K yearly.
Also, the author also worked as a radio broadcaster and presented many documentary features on the British radio. He is also the presenter of the radio program Word of Mouth, of the BBC Radio4 channel. The appearances in TV shows, YouTube channel, and radio presenting jobs must have helped increase Michael Rosen's net worth.
Income From Teaching
After gaining an MA in Children's Literature from the University of Reading and a Ph.D. from the University of North London, Rosen himself taught the subject for years. He has taught the Children's Literature at many universities like colleges under the University of London.
As a visiting professor, in these universities, Rosen must have had a massive sum as his salary. The years of teaching in the reputed colleges must have helped in Michael Rosen's earnings significantly.
Income From Merchandise
While most of the artists around the world have a merchandise line, it is not as common among the authors. However, the children's author has a range of merchandise related to the books that he has written. The line includes products like tote bags, t-shirts, and mugs and is available in the stores. Some of the products and their respective prices are listed below:
We're Going On A Bear Hunt (Bag) - $19.99
No Breathing! (Mug) - $14.99
Chocolate Cake (T-shirt) - $21.99
These products seem to be popular among the author's readers and must be one of the significant sources of income for him. Part of the income from the sales of these products helped increase Michael Rosen's collective wealth.
Some Facts About Michael Rosen
Michael Wayne Rosen was born on the 7th of May, 1946, in London, England.
Both of his parents, Harold Rosen and Connie Rosen, were teachers.
He went to Middlesex Hospital Medical School but dropped out and later gained a Ph.D. in literature.
He has been married three times, and his current wife is Emma-Louise Williams.
He is the father of five children. His second son's death from meningitis was the inspiration for Michael Rosen's Sad Book.
Explore more on eCelebrity Spy and get updates on Celebrity News, Wikis, Net Worth, and More.