Polo G Net Worth - Earnings As A Rapper, From His Merch And See His Jewelry
Polo G Net Worth
$3 million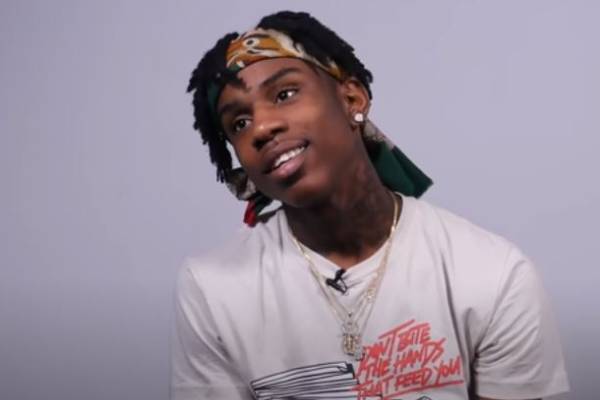 | | |
| --- | --- |
| Birth Name | Taurus Tremani Bartlett |
| Birth place | Chicago, Illinois |
| Profession | Rapper, Singer and Songwriter |
| Nationality | American |
| Zodiac Sign | Capricorn |
| Hair Color | Black |
Not many artists find success early in their careers, and many of them had to wait for years to taste success for their art. Rapper Taurus Tremani Bartlett or better known as Polo G, is among the very few individuals who earned fame since the start of their career.
At a very young age, the talented rapper has managed to make a name for himself in the competitive music industry and also earn a massive fortune. According to Celebrity Net Worth, Polo G's net worth is estimated to be $3 million.
Crystal Blease Bio - Polo G's Girlfriend
Polo G Net Worth And Earnings
As stated above, Polo G has an estimated net worth of $3 million. He has accumulated the vast fortune from his highly successful career in the music industry.
Income From Music
Taurus was part of the Chicago drill music scene for years and started releasing his music on YouTube in 2017. He started gaining attention after he released songs like Finer Things, Welcome Back, and many others. He also released his most successful song "Pop Out" during this time, and this led to him signing to Columbia Records.
Polo released his debut album, Die a Legend in 2019, which peaked at number 6 on the Billboard 200 chart. The record was critically acclaimed and introduced the world to his amazing lyrical capabilities. He followed up with his second album titled The Goat in 2020, which went on to debut on the Billboard 200 at number two. Many of his songs from these albums charted for weeks and resulted in him tasting major success in the early stage of his career. All of his albums are available on Amazon, and their prices are listed below:
| | |
| --- | --- |
| Album | Prices |
| Die A Legend | $9.99 (MP3) |
| The Goat | $10.99 (MP3) |
With the records and multiple singles charting, it is clear that Polo G's net worth must have been heavily influenced by the album sales. And with more music coming in the near future, it won't be a surprise if the rapper's total earnings see massive growth.
Income From YouTube And Streaming Services
Like many artists, Bartlett also earns a large sum from the streaming services. His YouTube channel boasts 1.99 million subscribers and also garners millions of views on each video. Also, his music is available on streaming services like Spotify, Deezer, TuneIn, where his music has been streamed more than two billion times collectively.
According to Social Blade, as of June 2020, Polo G's earnings from his YouTube channel is estimated to be $103K to $1.6M per year. This, alongside the income from various streaming services, must have helped increase Bartlett's net worth significantly.
Income From Merchandise Line
After gaining much success from his career, Polo launched his own merchandise line in support of his albums. His line includes products like t-shirts, hoodies, masks, posters, and other accessories. Some of them, along with their respective prices, are listed below:
The Goat Hoodie - $59.99
The Goat Crewneck - $49.99
Chicago Goat Tee - $24.99
The Goat Shorts - $29.99
Polo G Face Masks - $15.99
Official "The Goat" Lyric Book - $30.00
All of these merchandise products are available for purchase at the artist's official store. Some of the items are even sold out, which shows the artist's popularity. And the income from these merch sales must have made a massive impact on Polo G's net worth.
Lifestyle And Assets
After a hard few years filled with multiple arrests and jail time, Polo G currently lives a comfortable lifestyle with his son Tremani Bartlett. He has stated that he wants to be a role model for his son, so he has tried living a good life now. However, it doesn't mean that he has shied away from using his hard-earned money for the things he loves.
Polo's love for expensive jewelry is a well-known fact, and he has an insane collection of heavy encrusted chains, watches, and bracelets. He has shown off his prized collections on multiple occasions. In an interview with GQ, he revealed that one of his chains cost him $40K, whereas one of his watches costs $115K. He also said that all of his jewelry pieces has a significant meaning and is an essential part of his life.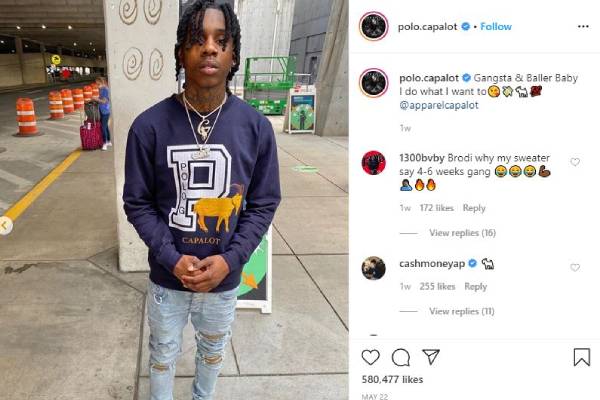 His most recent purchase was a Goat locket-chain, which he showed off in his social media. The customized piece is a tribute to his second studio album and must have cost him thousands of dollars. Looking at the price tags of his possessions, we can say that Polo lives a lavish lifestyle. And with his popularity increasing day by day, his collection will also undoubtedly increase in the coming years.
Facts
Taurus Tremani Bartlett or better known as Polo G, was born on January 6, 1999, in Chicago, Illinois.
He grew up with his three siblings in Marshall Field Garden Apartments in Chicago.
He is heavily influenced by American rapper Lil Wayne.
He had ten songs in the Hot 100 charts in the last week of May 2020.
The album cover of The Goat features his son, Tremani Bartlett.
Get More Updates In News, Entertainment, Net Worth, and Wikis In eCelebrity Spy.