Tory Lanez Net Worth - Earnings As A Rapper And Was Offered A By Deal MTV For "Quarantine Radio"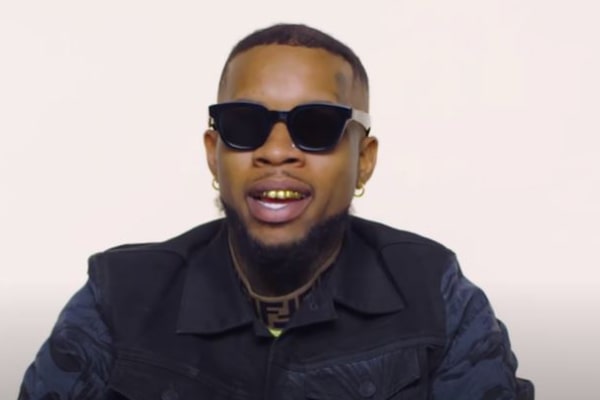 Not many rappers have gained success that they have wished for in the music industry. Some keep trying for years while others fizzle out of existence. To succeed in the business, you need as much luck as hard work, and only a few can dream of achieving star status in the community.
Tory Lanez is one such star who dreamed big and then successfully fulfilled his dream of becoming a performer. He has risen from his troubled childhood and established himself in the rap scene also earned a massive fortune of $2 million along the line.
Tory Lanez Net Worth And Earnings
As one of the most famous artists these days, Tory Lanez's net worth is estimated to be $2 million. He has managed to earn this big fortune from his successful music career and other ventures.
Income From Music
The talented artist was a music enthusiast since he was a child, but his first taste as a rapper was when he was sixteen and started performing songs at many outdoor concerts. After continuing this for a few years, Lanez released his debut mixtape, T.L. 2 T.O., in 2009. At the same time, he also posted videos on his YouTube channel, which he himself directed. Famous performers like Justin Bieber came across his video, but Sean Kingston was the first one to approach him in regards to his music. During this time, he also released other mixtapes like One Verse One Hearse, Playing For Keeps, Just Landed, and Mr. 1 Verse Killah.
Tory Lanez Allegedly Delivered Beatdown To Formerly Rumored Girlfriend
After this, he signed with Kingston's label Time is Money and released a few mixtapes, including Chixtape. However, the collaboration didn't last long, and Tory became an independent artist and released even more mixtapes like Sincerely Tory, Chixtape II, and Conflicts of My Soul: The 416 Story over two years. He continued to make music and released a bunch of singles and subsequently released an E.P. titled Cruel Intentions in 2015.
Years after his debut mixtape, Lanez released his debut studio album, I Told You, in 2016. The album produced under Benny Blanco's Mad Love Records, and Interscope Records received mixed reviews from critics and fans alike. Two years later, he released two albums in the span of months. Both records, Memories Don't Die and Love Me Now? performed well on charts and Love Me Now? even won Juno Award for Rap Recording of the Year. His fourth album Chixtape 5, was then released in 2019. All of these albums are found on Amazon, and their prices are given below:
| | |
| --- | --- |
| Albums | Prices |
| I Told You | $8.39 (CD) |
| Memories Don't Die | $10.01 (CD) |
| Chixtape 5 | $10.49 |
All of the records were successful in their own rights and helped Tory earn recognition from the fans as well as the music industry. His singles and numerous mixtapes that were released to support the studio albums were excellent in terms of sales. From all of the earnings from album sales, Tory Lanez's net worth must have seen new heights in recent years.
And back in 2017, Tory Lanez even reached up to Forbes' 30 Under 30 List.
Income From Tours
From singing at various outdoor concerts to performing in front of thousands of people, Tory has come a long way in his career. As every performer in the business, he has been in tours on many occasions, whether it is as a supportive performance or his own headlining tour. He has been on the road with many artists like G-Eazy, Rockie Fresh, Jacquees, among others. He has also headlined tours like Lost Cause Tour, The Level Up Tour, and I Told You Tour in support of his albums.
Along with this, he has performed in multiple festivals around the country. He performed at Summer Jam and Pemberton Music Festival in 2016. From the number of tours and performances in various festivals, Tory Lanez's earnings must be significant. The income generated from ticket sales definitely helped increase his collective net worth.
Income From YouTube And Streaming Services
The famous Canadian artist's YouTube channel has more than 2.73 million subscribers as of May 2020. Many of the music videos on the channel have millions of views. One of the videos with the highest view on his channel is Say It, which has 242 million views currently.
According to SocialBlade, as of now, Tory Lanez's earnings from the channel is estimated to be $118.9K to $1.9 million per year. Also, Tory's music is available in various streaming sites like Spotify, Deezer, Apple Music, among others. With millions of streams on these platforms, Tory Lanez's net worth must have had significant growth from the streaming services.
Income From Merchandise
Similar to many artists around the world, Lanez also has a merchandise line where fans can purchase various items. This line includes clothing apparel and various other accessories like water bottles, towels, masks, t-shirts, hoodie, and sweatpants. Some of these products and their buying prices are listed below:
TNT3 Tour Tee - $30
Chinatown Market X THT3 - Calcium Crop Hoodie - $70
Chinatown Market X TNT3 - Calcium Sweatpants - $80
Chinatown Market X TNT3 Water Bootle - $25
Chinatown Market X TNT3 Towel - $50
Chinatown Market X TNT3 Mask - $10.00
All of these items are available in the rapper's official merchandise store. As one of the most famous artists of the present times, Tory Lanez's earnings from the sales of these products must be pretty big.
Lifestyle
Rappers are known for their lavish lifestyle, and Tory Lanez is no exception. He is a big fan of big heavy jewelry like gold chains and bracelets. He is always seen wearing lots of heavy and expensive-looking jewelry. In an interview with G.Q., he revealed the prices of different pieces of his jewelry, among which his rings range from $6,000 to $9,000.
He also loves flaunting his riches to his fans through social media pages. Tory Lanez's Instagram page is filled with photos of him posing in front of his cars holding cash bundles. This showcases that the multitalented rapper enjoys a very lavish lifestyle.
Not only this, but Tory also believes in giving back to society and has supported many causes on multiple occasions. Most recently, Lanez and his father's vowed to raise money to provide meals and essentials for underserved families. Also, he has been hosting the show Quarantine Radio on his Instagram Live during the quarantine. He also revealed that MTV had offered him a deal to host the show per their guidelines. Whether he accepts the offer is to be seen, but we hope that Lanez continues to inspire people to do good to the society. 
Some Facts About Tory Lanez
Tory Lanez was born on July 27, 1992, as Daystar Peterson.
He was born in Canada and later moved to Miami, Florida, after his mother's death.
His mother, Luella Peterson died of a rare disease when he was young, and his father, Sonstar Peterson, raised him.
The name "Lanez" was given to him by his best friend, Hakeem.
Explore more on eCelebrity Spy and get updates on Celebrity News, Wikis, Net Worth, and More.