Aaron Hagar - Artist and Sammy Hagar's Son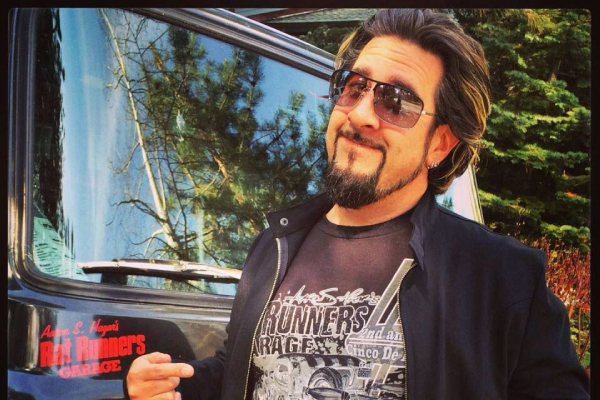 Quick Wikis
Fact
Value
Birth Name
Aaron Hagar
Birth Day
02/24/1970
Zodiac Sign
Pisces
Nationality
American
Profession
Artist
Parents
Sammy Hagar, Betsy Berardi
Husband/Wife
Michaela Hagar
Sibling
Andrew Hagar, Kari Hagar and Samantha Hagar
Children
Sabina Hagar and Finn Hagar
Eye color
Brown
Hair Color
Grey/Black
Celebrities and their lives will always be a topic of interest for the general public. Whether it is their relationship or other personal matter, nothing can be excluded from people's eyes. The same is the case for the children of famous musicians and actors. All of them are expected to follow into their parent's footsteps, and even if they are successful in their own rights, they will mostly be known as the son or daughter of their popular parents.
As the first son of the famous American musician, Sammy Hagar, Aaron Hagar has been known to the world since his birth. While he is known mostly as Sammy Hagar's son, Aaron has been making a name for himself in the world of art and cars for a long time.
Early Life And Family
Aaron Hagar was born on the 24th of February 1970, to father Sammy Hagar and mother, Betsy Berardi. He is the oldest among his siblings and has a brother, Andrew Hagar, and two half-siblings, Kama Hagar and Samantha Hagar, from his father's second marriage. 
As a child, Hagar was very artistic and loved drawing and sketches. He shares his love for cars with his father. Not only this, but Hagar also followed in his father's footsteps and was part of a band Bloodlines. He might not have enjoyed the success as his father had in the music industry but that does not stop him from singing with his father on various occasions.
Married And Has Two Kids
Sammy Hagar's son Aaron Hagar has been married to his wife, Michaela Hagar, for years. The couple seems to be very in love even after so many years of marriage. They also have two children together, Sabina Hagar and Finn Hagar. And it looks like Hagar's daughter has inherited his artistic ability as she is a photographer according to her Instagram bio.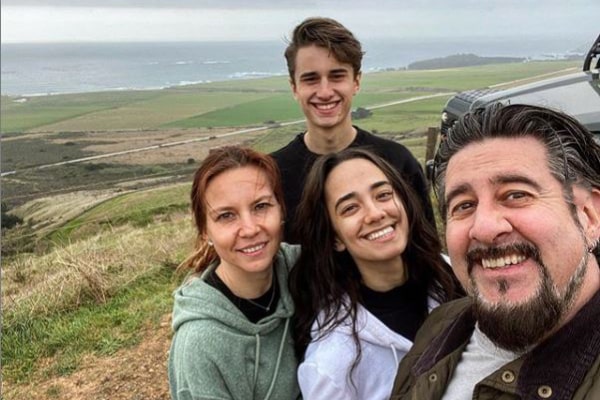 The family seems to be very close to each other. All of them are frequently posting pictures of their various trips and vacations together.
Aaron Hagar's Net Worth And Income Sources
While Aaron did follow in his father's footsteps and was part of the band for some time, his earnings come from many other things he tried his hand on. Some of Aaron's sources of income include TV appearances, podcasts, among others.
Owner Of Rat Runners Garage
Aaron Hagar has been an artist from an early age. His idea to create Rat Runners Garage seemed from his love for creating and working with cars. He describes his garage as an art-based Hot Rod and Custom shop. The garage deals with the art of resurrection and preserving old metals and wheels. The shop is an extension to Aaron's love for art as an extraordinary piece of art is created in the form of motorcycles, paintings, Rat Rods, and other pieces.
The talented artist and his crew specialize in findings old and junk metals and helps bring them to life by making them into a working and running machine in no time. With all the heavy works that the shop does to repair old stuff and even replacing with new ones, a single job might cost thousands, if not more. As the owner of the garage, Aaron Hagar's earnings from such works in his garage must be significant. 
Income From Paintings
Not only painting cars and motorcycles, but Aaron is also very good at creating his own piece of art. The subject of his paintings varies according to where he is in his life. His paintings have appeared alongside many other artists at the Marcus Ashley Gallery in Lake Tahoe. He still works on his art, and some of the sketches can be viewed on Aaron's Instagram page.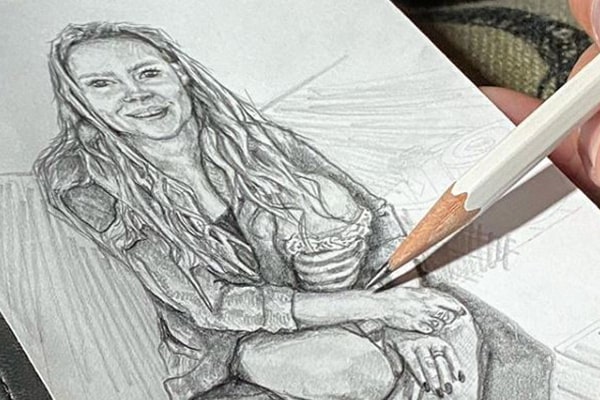 Not only this, according to his LinkedIn profile, but Hagar also has also done art cover design for a book called Dance of the Electric Hummingbird. His work as the cover artist in the book must have earned him a hefty sum of money. Also, the beautiful paintings that he has made must have earned him plenty if he ever sold one of the pieces.
Income From Television Appearances And Podcasts
As the son of Sammy Hagar, Aaron was bound to be in front of the camera in one way or the other. While he was not in any of the music videos, the talented painter was part of many TV series which were based on cars and their designs. He has appeared in series like Jay Leno's garage, Design - Cut - Build, and Trunkfest. All these must have helped increase Aaron Hagar's net worth to some degree.
Recently, Hagar has also been a part of the podcast Shift And Steer. He co-hosts the podcast along with Brad Fanshaw and Matt D'Andria and discusses the world of wheels and every day lives. The podcast is popular among car and motorcycle fans and must help to increase Aaron Hagar's earnings significantly.
Well, as a matter of fact, Aaron's father Sammy Hagar's net worth is estimated at $120 million.
Trivia
Aaron had a heart attack in his early thirties, which was partly due to his works with automotive finishes and paint.
As an artistic person, Aaron has designed many products and logos for various brands.
He has provided background vocals in his father's songs and even performed with him on stage.
Explore more on eCelebrity Spy and get updates on Celebrity News, Wikis, Net Worth, and More.