Coi Leray - Musical Artist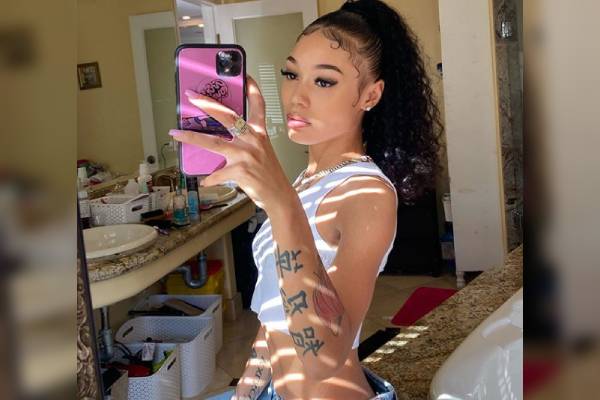 Quick Wikis
Fact
Value
Birth Name
Brittany Collins
Birth Day
11/05/1997
Birth place
Boston, Massachusetts, USA
Zodiac Sign
Taurus
Nationality
American
Profession
rapper
Parents
Raymond Scott
Sibling
Kwame, Taj
Personal Website
http://coileray.com/
Height
5' 3"
Weight
126 lbs
Eye color
Brown
Hair Color
Black
Despite starting not too long ago, Brittany Collins, better known as her stage name Coi Leray, this young rapper and hip-hop artist has managed to steal the hearts of countless stars and she is a topic of great interest among many. She has already proven her skills on stage and despite her popularity, it seems that there is still quite a bit that is not known about her.
Childhood And Early Life 
Born on the 11th of May in 1997 as Brittany Collins, Coi Leray was someone who had a very ordinary life before stepping up on stage. Not until recently, however, did a lot of information about Coi Leray's childhood get released, which happened during her interview with Nardwuar. In the interview, a piece of shocking information regarding her family was revealed, Coi Leray's father is none other than Raymond Scott, better known to the public as Benzino. However, details regarding her mother are yet to be revealed.
Coi grew up with two siblings while in her early years who are called Kwame and Taj. Growing up, her talent in singing was clearly visible but she started gaining fame when she started moving independently. At the age of 16, Coi dropped out of high school to pursue music as a career. It was only since December of 2017 that she started her career, but it still took until mid-2018 for her to finally take off in her career.
Coi Leray's Net Worth And Career
As stated prior, Coi Leray dropped out of high school at the age of 16. Her career began in December of 2017 when she released her first track titled, 'G.A.N'. Coi then released her debut album titled, 'EverythingcoZ' in May of 2018 and continued to release quite a few songs which brought the attention of quite a few music enthusiasts. The breakthrough in her career, however, was thanks to her song 'Huddy' which made her quite the popular star.
Now, with quite a bit of popularity, her songs are one that is sold quite a bit which can be purchased on Amazon. She also has her own official store where one can be directed to some fashionable items as well tickets to her shows when available. Some of Coi Leray's top albums along with their prices are as follows:
EC2- $7.49
Everythingcoz- $9.49
No Longer Mine- $1.29
She also has her own YouTube channel from where according to Social Blade, she has estimated yearly earnings of $8.4K to $133.8K. All in all, it goes to show that, Coi's earnings are something quite high and, while an exact amount is yet to be released, it has been estimated that Coi Leray's net worth is somewhere around $300K. As for her father, Benzino's net worth has been estimated at $500K.
Coi Leray's Boyfriend. Is She Dating?
Back in March of 2019, Coi Leray had started dating rapper Trippie Redd and the two had been together in several music tours and often showed their love on their social media. However, not long after, the two had broken up. 
When the two of them were together, the couple would usually appear together in pictures shared on each of their Instagram, and it wasn't until these photos started getting deleted that fans noticed something even stranger. Both Coi and Trippie Redd had not only deleted all of their couple shots from their social media but had also unfollowed each other. 
Rumors had started popping up that the two had broken up with each other back in August of 2019. As stated the two had been together for a short time, and while many thought that their relationship would at least last a couple of years, they were all left disappointed and disheartened. Now, at the moment, it seems that Coi Leray's boyfriend is a title yet to be handed down to someone, and clues of who it might be yet to be revealed.
Nonetheless, fans hope that it isn't long before it is.
Lifestyle And Tattoos
At the moment, it seems that the Coi Leray has been living a wonderful life. Coi lives in a wonderful, lavish yet humble house.
A quick look through her Instagram also shows that Coi spends quite a bit of her time modeling for shoots and enjoying her time with her friends and family. This goes to show that while she is serious in her work, she also makes sure to spend enough time with her friends and family.
Aside from these, Coi Leray also seems to be a fan of tattoos and it is believed that she has roughly 12 tattoos over her body. From a Powerpuff girls tattoo on her feet to the small heart on the side of her forehead, she brandishes tattoos on her back, neck, chest, arms, and legs, some small, and some really big and colorful ones.
It is thus clear that Coi is a fan of ink and she might even get a couple more in the near future.
Facts And Trivia
She has over 1.5 million followers on Instagram.
She has over 106K subscribers on her YouTube channel.
Get More Updates In News, Entertainment, Net Worth, and Wikis In eCelebrity Spy.