Danny Tamberelli - American Actor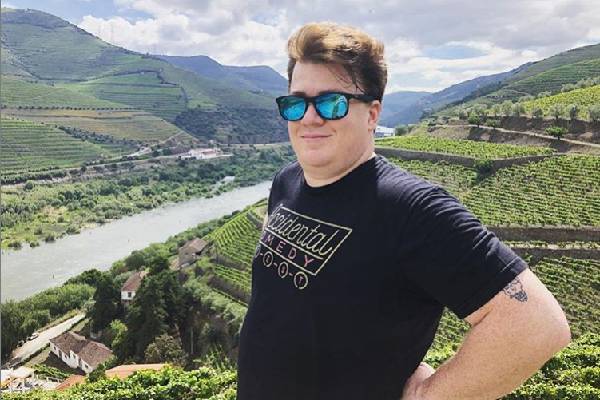 Quick Wikis
Fact
Value
Birth Name
Daniel Paul Tamberelli
Birth Day
02/08/1982
Birth place
Wyckoff, New Jersey, US
Zodiac Sign
Aquarius
Nationality
American
Profession
Actor, Comedian, Musician
Husband/Wife
Katelyn Detweiler
College/University
Hampshire College
Children
Alfred Noel Tamberelli
Personal Website
http://dannytamberelli.com/
Eye color
Dark Brown
Hair Color
Dark Brown
Danny Tamberelli is well-known as the kid from The Adventures of Pete & Pete. As one of the few child stars who did not manage to lose their spot in Hollywood, Danny has managed to get a lot of fans. Danny still appears in several shows till this date, and it seems like he will continue to do so. Because of his growing popularity since he was a kid, it is no wonder that there are fans who continue to want to know about him. 
If you happen to be one of the thousands of fans wanting to know about Danny Tamberelli, make sure to read this article till the end to find out.
Family And Childhood
Born on February 8th, 1982, as Daniel Paul Tamberelli, Danny grew up in a family of five where he had two younger sisters. While Danny himself made a name for himself, Danny Tamberelli's sister and parents tried to stay off the spotlight, revealing as little as possible. Even while growing up, Danny was always interested in acting. In fact, his knack for acting was seen when he appeared on the show Ryan's hope at a very young age. While growing up, Danny was interested in a lot of things, including music, and enjoyed playing hockey.
Who Is Danny Tamberelli's Wife Katelyn Detweiler? Love Life And Children
It wouldn't be wrong to say that as a child, Danny was more related to his career as an actor than he is now, but at the end of the day, it was clear that Danny's childhood was quite fun.
Career
As stated, Danny first joined the acting career in the show Ryan's Hope. At the time, Danny was no more than seven years old. His talent was clearly seen by the directors of the show, and it paved the path for his future as an actor. Danny later became one of the main cast members of The Adventures of Pete & Pete, and it is still one of his most recognized works to date. The show even had its own 20th-anniversary rerun.
Danny has since been a part of many television shows, including The Magic School Bus, All That, and Fillmore! among many others. Danny is also set to appear on two new series titled Stellar People, and The Tonopah Five, both of which are yet to announce a release date. Danny is one of the few child stars who grew up to still have a place in Hollywood as many don't manage to make it this far.
Danny is also a comedian, who does sketch comedy for two groups called ManBoobs Comedy and The Adventures of Danny and Mike. Danny's comedy is humorous and his fans love his shows. The group also regularly performs their skits in NYC. Being an actor and a comedian, Danny seems plenty busy, but Danny is also a musician, playing the bass guitar in groups like Jounce, Undone Sweaters, Midnight Spaghetti, and Middle Blue. 
Danny Tamberelli Net Worth And Earnings
While Danny has appeared in a lot of shows, it is still unclear as to exactly how much Danny Tamberelli's net worth might be. While some sites suggest that the amount is somewhere around a few hundred thousand, some state the amount to be along the $1 million mark, if not more.
The average yearly salary of an actor is also expected to be anywhere between $35,000 to over $100K, and based on the popularity of the star can even go upwards to more than a million. Knowing that Danny is a well-established actor, while not a million, Danny must be making a few hundred thousand a year. Plus, his upcoming works ate likely to increase Danny Tamberelli's net worth to some extent. Aside from acting, we can expect his earnings from his comedic and music career to make quite a bit of contribution to Danny Tamberelli's net worth.
Relationship
Having met online on Tinder in 2014, Danny shares a beautiful relationship with his wife, Katelyn Detweiler. The couple instantly hit it off as they met for the first time and got engaged sometime in 2017. The following year, in May of 2018, the couple tied the knot and became husband and wife.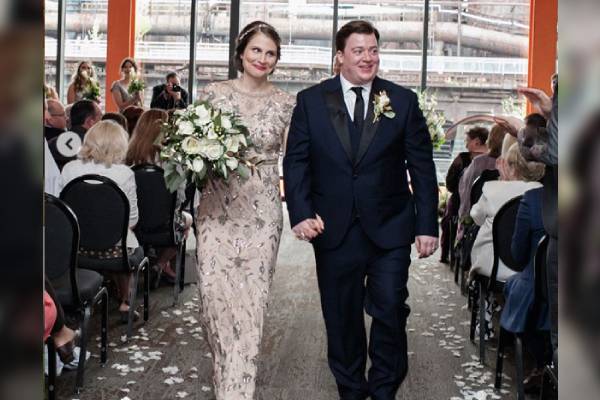 Danny Tamberelli's wife, Katelyn, is the author of a few books, including Immaculate, Transcendent, and The Undoing of Thistle Tate. On June 14th of 2019, Katelyn became the mother to Danny Tamberelli's son, Alfred Noel Tamberelli, and after the news released, fans were immediately taken aback by the cuteness of the baby.  
Lifestyle
The couple, along with their beautiful baby, spend their days in Brooklyn, New York, where they have a beautiful home of their own. Often spending time with their baby, the couple also enjoys traveling to new places and trying out new experiences.
The couple spends their days living happily together, whether they are close or miles apart, and their love seems to be as strong as ever. The couple also seems to always be making memories together as a family, and they tend to capture these moments and share them with their fans on their Instagram.
Facts And Trivia
He is a fan of the New York Mets.
Was the manager of his High School Hockey Team.
Can play the electric bass guitar.
Explore more on eCelebrity Spy and get updates on Celebrity News, Wikis, Net Worth, and More.