Jarrius Robertson Bio - Net Worth, Celebrity Game, Family, Height, Relationship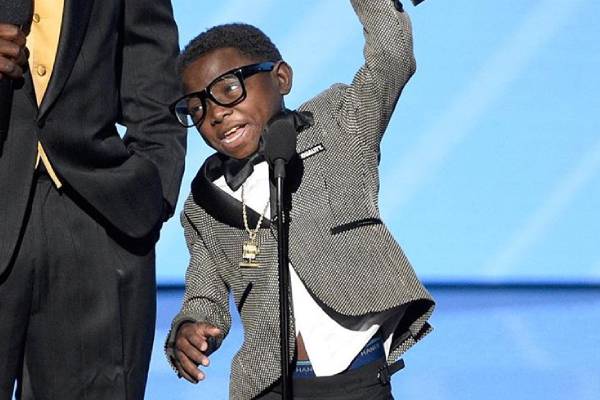 Quick Wikis
Fact
Value
Birth Name
Jarrius Robertson
Birth Day
03/26/2002
Birth place
New Orleans, Louisiana
Zodiac Sign
Aries
Nationality
American
Parents
Jordy Robertson, Patricia Hoyal
Sibling
Tiy Qian Robertson
Height
4 feet
Weight
52 lbs
Eye color
Black
Hair Color
Black
Jarius Robertson is well-known as a young New Orleans Saints fan who stole the show at the 2017 NBA match. The now-18-year-old has since been getting attention all over sports media and has a good relationship with many sports stars including WWE wrestlers, football players, and of course basketball stars. But despite the wide coverage that he has received, there is still a lot that fans don't know about this superfan turned star, all of which we will try to cover here.
Growing Up And Health Problems
Born on March 26th of 2002, Jarrius was unfortunate to have been born with biliary atresia-a chronic liver disease which has affected his physical growth. At the tender age of one, Jarrius received a liver transplant, which did help him but also forced him to make regular visitations to the hospital. Since then he has had roughly 13 surgeries, and at one point in time, the situation was so bad that Jarrius had to be in a coma for a whole year.
It goes to say that Jarrius' childhood was not one that many people would wish for anyone to go through, and it was certainly difficult for his parents, Jordy Robertson, and Patricia Hoyal, as well for his brother Tiy Qian Robertson. And while it was all tough for the family in the beginning, all of it took a huge turnaround after an encounter with the members of the New Orleans Saints.
Starting With The Media Coverage
Jarrius Robertson was someone unknown to any sports fan up until December of 2015 when he received some media coverage after members of the Saints did a surprise visit to the Ochsner Hospital for Children, the hospital where Darrius was at. Not only did they meet this young superfan, but they got more than what they bargained for when he started giving advice to the players. The hospital then released a video on Facebook showing this moment.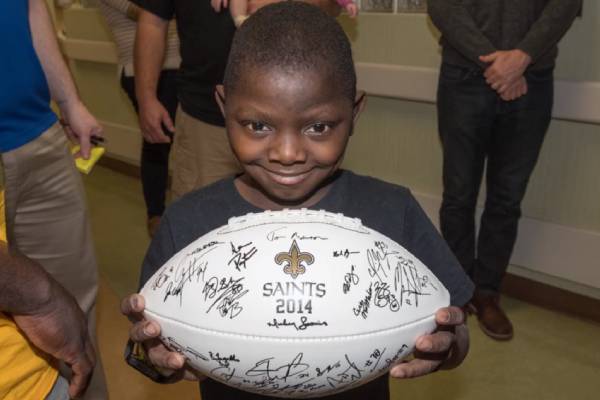 Jarrius then became friends with the Saints and had even started making occasional videos with them. Roughly 10 months after their fruitful encounter, Jarrius had become so close with the Saints that in October of 2016, he was presented with a contract to be the team's social media reporter for the game making him an Honorary Saint. He had then started receiving a lot of attention from the media, but the big moment came in February of 2017 when Jarrius stole the limelight in an NBA match as he managed to score against players that were leagues ahead of him.
Awards 
Shortly after stealing the show, in July of 2017, Jarrius was awarded the Perseverance Award, an award handed to deserving members of the sports world who have made a name through their determination and perseverance. He then started to appear all over sports media and became a part of many interviews. Then in 2018, Jarrius received another award, the WWE Hall of Fame 2018 Warrior Award, in the presence of well-known WWE stars including Roman Reigns, Randy Orton, John Cena, and The Miz.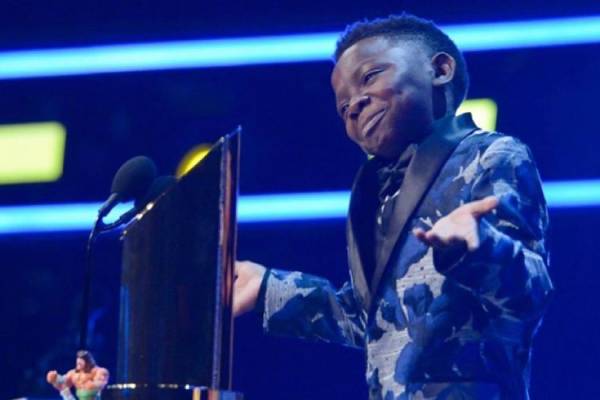 His speeches and his jokes in all the events that he has attended seems to have put a smile on everyone, and of course, he has become a beloved member of the sports family. He has already shown great enthusiasm and many professional coaches have agreed that if Jarrius wants to, he can be an amazing coach in the future. This is surely a career choice that Jarrius will think about, and who knows, maybe Jarrius Robertson's net worth in the future might be the most out of any other pro coaches before him. But seeing how there is still time for him to choose a career path, the future is still uncertain.
His Father's Crime
Back when Jarrius was just starting to get some media coverage, Jarrius Robertson's father set up a page for donations called the It Takes Lives To Save Lives where people where quickly chipping in and had donated as much as $150K in total. At the time, Jarrius' mother only had suspicions of this but was persuaded by her friends to keep quiet. The money that came in from the site as well as through a go-fund-me page was used mostly in casinos and such, and the feds found out about it when it was revealed that Jarrius' medical fees were being covered by the federal Medicare program as well as the Ochsner Hospital for Children.
Jarrius' father pleaded guilty in court and Jarrius was considered innocent as he had no idea about this. While his family thought that he would have a mental breakdown from all of this, Jarrius' friends from the sports family made sure to have his back and made him know that there is nothing to worry about. Jarrius later made an announcement stating that he loves his daddy, but he also knows that good people have been hurt. Despite being crushed, it seems that J.J will continue to be loved and adored by members of the sports family.
Lifestyle And Relationship
At the moment, it seems that Jarrius is living the healthiest life he has ever had and is spending time with his friends and family. Most of these friends however are some big shots and the Miz, who Jarrius once joked to be on the bottom of his favorite superstar list, is one of his closest friends. Jarius is most active on Instagram followed by Twitter, where he shares a lot of videos to make his followers' day. But he also makes sure to spend a lot of time with his family, who he loves and adores.
Despite a wonderful relationship with his family, it seems that Darius has yet to find a girl to be his. At the moment, there has not been a girl who could become Jarrius Robertson's girlfriend, but fans hope that he finds one soon to share her with the world. All in all, one can say without a doubt, that while Jarrius did have a rocky start with life, he has made the best of it, and does not regret anything so far.
Facts And Trivia
He was close to giving his chain to Draymond Green for his watch.
He has had a fun play fight with Charles Barkley.
Get More Updates In News, Entertainment, Net Worth, and Wikis In eCelebrity Spy.