Lyn-Z Adams Hawkins - Travis Pastrana's Wife And Professional Skateboarder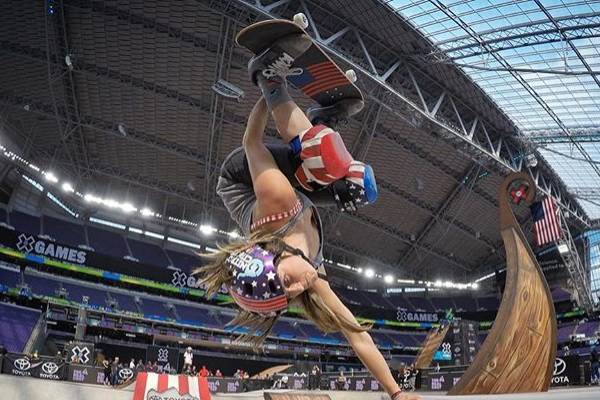 Quick Wikis
Fact
Value
Birth Name
Lyndsey Adams Hawkins
Birth Day
09/21/1989
Birth place
San Diego, California
Zodiac Sign
Virgo
Nationality
American
Profession
Skateboarder
Parents
Ron Hawkins, Lynn Hawkins
Husband/Wife
Travis Pastrana
Sibling
Tyler Hawkins
Children
Addy Pastrana, Bristol Murphy Pastrana
Height
5' 4"
Eye color
Grey
Hair Color
Brown
Lyn-Z Adams Hawkins, a legend in women's skateboarding, and a woman of great skills is a woman who has managed to grab the world's attention with her skills alone. Despite having quite the history in sports, her personal history is one that is still quite unclear to fans and many are continuously searching over the net to know as much as they can about her.
Childhood, Family And Growing Up
Born on September 21st of 1989 as Lyndsey Adams Hawkins to parents Ron Hawkins and Lynn Hawkins, Lyndsey was never afraid to try new things as a kid. Raised in Cardiff-by-the-sea, California, and spending a part of her childhood in Sayulita, Mexico, Lyndsey got interested in several activities. Her first activity being surfing at the age of six after her brother Tyler Hawkins got her a membership at the Encinitas YMCA and later followed her brother into skateboarding as well. As a child, she was very athletic and also played sports like soccer, baseball, gymnastics, and basketball.
While Lyndsey is her legal name, the nickname Lyn-Z became common after she started using it while in 4th grade. In December of 2003, when Lyn-Z was just 14, her father passed away, and since then, many of her customized skateboard grip tapes bear the letters 'R.I.P', in memories of her late father. All in all, if we are to summarize Lyn-Z Adams Hawkins' childhood, we can say that it was one similar to many others with a bit of a sad story in it.
Skateboarding Career
Starting at a very young age, Travis Pastrana's wife Lyn-Z began taking part in skateboarding competitions after her hobby turned more into a passion. She started taking part in skateboarding competitions as a teen and quickly made a name for herself. but because of a torn ACL, and a broken arm in 2005, she was not able to participate in any competitions held in 2006. During this time, she became the on-camera host for the girls' competitions, which also helped increase her fame.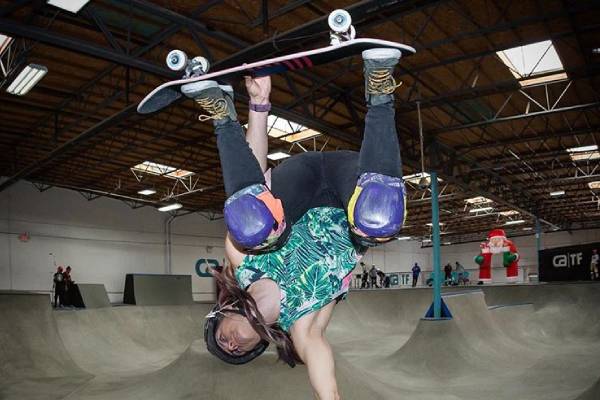 Making a comeback in competitions in 2007, she has continued to dominate the ramp and win several medals. In her skateboarding career, Lyn-Z has overcome many feats, and one of them includes skating the DC Mega Ramp, which few skaters have done. Not only that, but she was the first woman skateboarder to do so. Then in 2009, Lyn-Z broke another record as the first woman to land a McTwist. Since then, while keeping skateboarding as her main sport, Lyn-Z has also been taking part in and winning, several snowboarding competitions.
Lyn-Z Adams Hawkins' Net Worth And Medals
Having such a wonderful career with great accomplishments, it would only make sense for several people and companies to back her up, and what better way to do this than by sponsorships. In fact, Lyn-Z has several sponsors, some major ones being Volcom, Birdhouse Skateboarders, S-One Helmets, Nixon Watches, Oakley Eyewear, Type-S Wheels, and K-five Boardshops. Having sponsorships from these big names in sports means that her earnings are in no way small. On average, a pro skateboarder has been known to make anywhere between $1,000 to $10,000 a month however, there are also some like Tony Hawks, Shaun White, and Ryan Sheckler, who have brought home $12 million, $9 million, and $5 million a year respectively.
Seeing that well-known names can make so much money, it has been estimated that Lyn-Z Adams Hawkins' net worth is over $1 million. Of course, most of her earnings come from her sponsorships, but she has also made big bucks from winning competitions. On the other hand, Lyn-Z's husband, Travis Pastrana's net worth has been estimated at a grand of $30 million.
In her skateboarding career, Lyn-Z has managed to win quite a few competitions. Some of her wins are listed below:
| Competition | SKB Vert/Street/Park | Position |
| --- | --- | --- |
| X Games 2003 | SKB Vert | 3rd |
| X Games 2003 | SKB Park | 2nd |
| X Games 2004 | SKB Vert | 1st |
| X Games 2004 | SKB Street | 4th |
| X Games 2005 | SKB Street | 7th |
| X Games 2005 | SKB Vert | 2nd |
| X Games 2007 | SKB Vert | 1st |
| X Games 2008 | SKB Vert | 2nd |
| X Games 2009 | SKB Vert | 1st |
| X Games 2010 | SKB Vert | 2nd |
From these wins alone, we can say that Lyn-Z has managed to win not only medals but also a handful of cash. Aside from this, Lyn-Z also received quite the amount from the Tony Hawk's Project 8 video game and appearing on several skateboarding related shows as herself.
Lyn-Z Adams Hawkins' Husband And Kids
Lyn-Z had been in a relationship with stunt performer Travis Pastrana for a few years before something unexpected happened. In the spring of 2010, she was invited to go on tour with him for the Travis Pastrana Nitro Circus show that happened in Australia. Then in the world tour for the same, on June 4th, 2011, while they were in Las Vegas, Travis stopped the show, got down on one knee, and in front of everyone, proposed to Lyn-Z. It was a romantic proposal and of course, she said yes.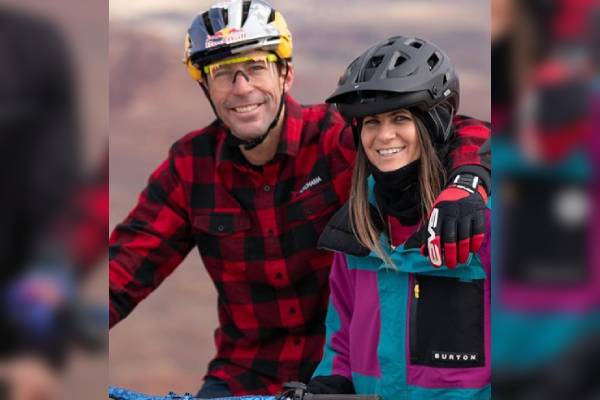 On October 29th of the same year, the two tied the knot near Lyn-Z's Southern California home and Travis officially became Lyn-Z Adams Hawkin's husband. On September 2nd, 2013, Lyn-Z gave birth to her first child Addy Pastrana, and on February 9th of 2015, Lyn-Z's second child, Bristol Murphy Pastrana was born. Now their children are very athletic like their parents and often make appearances on the couple's social media.
Lifestyle
A quick look at Lyn-Z's Instagram shows that at the moment, the family of four are enjoying their time to the fullest. Often with her husband and kids, the family posts pictures and videos of their time having fun together and their kids learning new skills. From Bristol's first skateboard ride to Addy's first time at the riding her bike, all these precious memories are shared with her fans and followers.
And just looking at the kids performing these rides, one can make a guess that the kids have a future in sports. The kids are also very athletic and love to spend time with their parents, and while they are not forced to choose a career path similar to their parents, it seems that they enjoy it quite a bit.
Facts And Trivia
She has over 136K followers on Instagram as of now.
She appeared on the cover of Concrete Wave Magazine's annual Skateboard Directory 2008.
Get More Updates In News, Entertainment, Net Worth, and Wikis In eCelebrity Spy.