Matthew Reeve Bio - Christopher Reeve's Son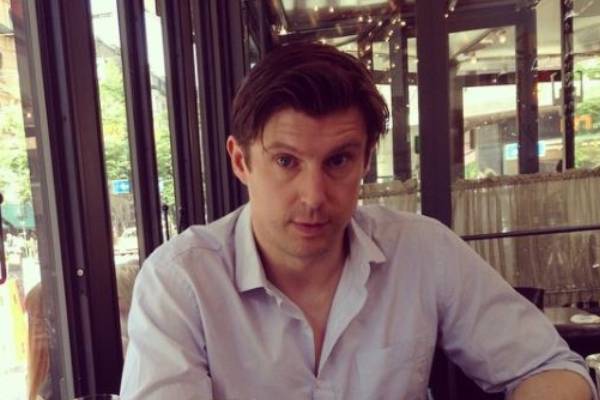 Quick Wikis
Fact
Value
Birth Name
Matthew Exton Reeve
Birth Day
12/20/1979
Birth place
London, England, UK
Zodiac Sign
Sagittarius
Nationality
British-American
Profession
Producer, Director, Screenwriter
Parents
Christopher Reeve and Gae Exton
Dating Partner
Anna Lo Westlin
Sibling
Alexandra Reeve Givens and William Reeve
College/University
New York University and Brown University
Children
Auden Reeve and Sander Reeve
Height
6 feet 2 inches
Hair Color
Brown
British-American producer, director, and screenwriter Matthew Reeve is the eldest son of the famous actor, Christopher Reeve. As a part of the well-known Reeve family, Matthew has made a name for himself in the industry.
Due to him being the son of such a well-known actor like Christopher, Matthew's life has gained much attention from his father's fans and the general public.
Meet Will Reeve's Girlfriend Lexi Henkel - Relationship, Marriage Plans And More
Early Life And Education
Matthew Exton Reeve was born on the 20th of December, 1979, in London, England, to parents Christopher Reeve and Gae Exton. He grew up alongside his sister and was raised by his mother after their parents separated in 1987. Reeve and Exton were together for nine years but were never married.
Matthew attended the St. Paul School in London and graduated in 1997. After this, he came to the US and graduated with a Bachelor's Degree in Arts from Brown University. Christopher Reeve's son then attended New York University for the duel MBA/MFA degree program. He graduated in 2012 with a Master of Fine Arts and Master of Business Administration.
Family And Siblings
Matthew is the oldest among three children of the highly acclaimed actor Christopher Reeve. He has a younger sister named Alexandra Reeve Givens, who was born in December 1983. The two were raised in London by their parents, but after Exton and Reeve separated, their father moved back to the States.
Matthew also has a younger half-brother, Will Reeve, from his father's marriage with Dana Reeves. The three siblings stood by each other's side after their father's accident and subsequent death. Matthew, Will, and Alexandra are very close to each other and have continued to work together on their father's foundation.
Matthew Reeve Net Worth And Career
Unlike his father Christopher, who is one of the most celebrated actors in Hollywood, Matthew chose to be active behind the scene and works as a screenwriter, director, and producer. His first work was the documentary, Christopher Reeve: Courageous Steps which gained massive accolades from the people.
It was followed by Christopher Reeve: Hope in Motion, and both of these documentaries were directed and produced by Matthew Reeve himself. All of these documentaries followed the life of Reeve's father and stepmother Dana Reeve after Christopher suffered from a severe spinal injury.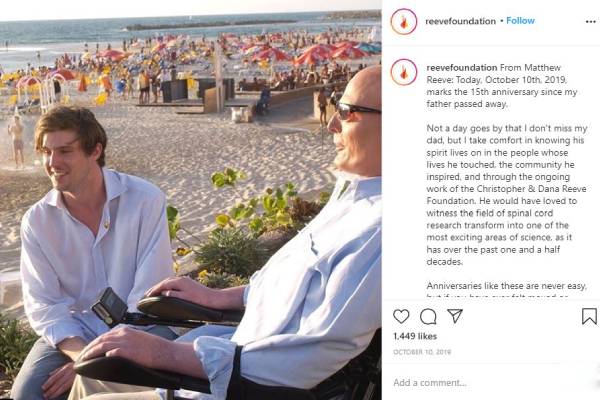 In addition to the works mentioned earlier, Reeve has also written, produced, and also directed numerous other documentaries and scripted television series. He has been a part of projects like Over The Water, Shadow Puppets, Better Days Ahead, Agent Hamilton, among many others.
Along with his works in the films and documentaries, Reeve also works in his father's foundation Christopher and Dana Reeve Foundation. He joined the foundation's Board of Directors in 2006 and has continued to work alongside his siblings to further his father's dream of finding treatment for spinal injuries.
All of his works as a screenwriter and producer has undoubtedly helped him earn a significant amount. He is also reportedly part of a few upcoming projects like The Land That Never Was and Second Strike, which will definitely help increase Matthew Reeve's net worth in the coming years. As for his father, Christopher Reeve's net worth was estimated to be $3 million during the time of his death.
Relationship And Children
While his father lived a highly publicized life due to his stardom, Matthew has managed to stay away from the media. Most of his life has been hidden from the public and looks like he will continue to do so. He currently lives in Stockholm, Sweden, with his partner and has built a family for himself there.
Matthew is in a relationship with Anna Lo Westlin and the couple has been together for eight years. The pair are parents to their daughter, Auden Reeve, and baby boy/son, Sander Reeve. While Reeve has set his Instagram profile on private, his partner's page is a great source for the Reeve family pictures. Well, whether or not Anna is Matthew Reeve's wife or not is still a mystery as there are no news of them being married.
Nevertheless, we wish the family a happy life ahead and hope that Matthew and Anna share more about their family life in the coming days.
Trivia
Matthew Reeve and his sister Alexandra Reeve Givens were awarded the National Leadership Award at the 2010 Castle Connolly Awards.
Reeve ran in the New York City Marathon in 2009 to raise money for spinal cord injury research. His younger brother, Will, too, ran in the marathon in 2016.
He was just fifteen-year-old when his father was severely injured by a horseriding accident.
Explore more on eCelebrity Spy and get updates on Celebrity News, Wikis, Net Worth, and More.