TheOdd1sOut - YouTuber and Animator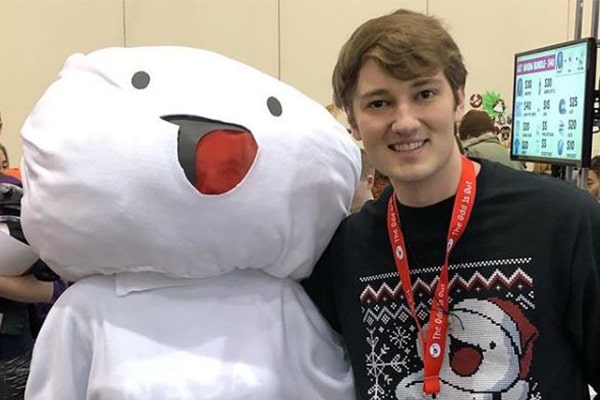 Quick Wikis
Fact
Value
Birth Name
Robert James Rallison
Birth Day
05/14/1996
Birth place
Arizona, US
Zodiac Sign
Taurus
Nationality
American
Profession
YouTuber, Author, Animator
Parents
Janette Rallison
Sibling
Faith Rallison
Eye color
Brown
Hair Color
Brown
YouTube has gained a reputation for introducing many talented artists, whether they are singers, songwriters, actors, or animators to the world. Many of these artists may not have even gotten any recognization if they have not taken the risk and uploaded a video to the internet. Among the mass of thousands of talented artists known due to YouTube, James Rallison is one of them.
James Rallison, or better known as TheOdd1sOut, is one of the most famous YouTube animators and has more than 14 million subscribers. He is popular for his amazing animated videos and the comic strips and books he has published.
Life Before Fame And Family
Robert James Rallison or TheOdd1sOut was born on the 14th of May, 1996, in Arizona, U.S.A. He is one of the five children of his parents and has an older brother, Luke, his twin sister Faith Rallison, and two other sisters. His mother, Janette Rallison, is a writer herself who writes novels under her pen name.
TheOdd1sOut was actually the webcomic James uploaded on Tumblr in 2012. He had been drawing comics since he was eight years old. His comic strip did not gain as much traction he hoped for. During that time, he was also attending college as a math major. However, he dropped out of college after his YouTube channel blew up.
Net Worth And Earnings
With millions of views on his YouTube channel, the animator has managed to earn a fortune from his animation skills and book sales.
Income From YouTube
James Rallison started his YouTube channel in 2014 as theodd1sout comic, where he posted animated videos with him narrating the video. The videos were popular as he talked about his life, thoughts, and opinions in the most fun way possible. His most viewed videos are the ones where he talks about his experience working in the food chain Subway or as he calls it Sooubway. Due to his unique content, his channel kept growing, and his subscriber count started to grow rapidly. As of March 2020, TheOdd1sOut channel has 14.3 million subscribers.
According to Social Blade, James's first YouTube channel's earnings are quite impressive. The estimated amount he earns from the channel is $237.3K to $3.8 million yearly. With millions of subscribers, the earnings from his channel are to be expected.
Not only this, but James also has a second channel, TheOdd2sOut, which has more than two million subscribers. He mostly posts challenges and vlog type videos on his second channel as opposed to the animated ones on his main channel. James made the channel in 2017, it already boasts more than two million subscribers and has estimated earnings of $14.9K to $238.1K yearly.
Because of his YouTube career not only popularity, James Rallison's earnings have also reached new heights. With consistent growth in the number of subscribers, the man behind TheOdd1sOut's net worth will increase in the future.
Income From Books
After he gained a massive following from his YouTube channel, TheOdd1sOut, James went on to fulfill his childhood dreams of drawing comics and publishing it. His first book, The Odd 1s Out: How to Be Cool and Other Things I Definitely Learned from Growing Up, was based on his life as a shy kid. With many tidbits about him, while growing up and little lessons he learned along the way, the book was an instant hit and became the New York Times bestseller. Following its massive success, James published the sequel, The Odd 1s Out: The First Sequel in 2020. Both of them are available on Amazon and their prices are listed below:
The Odd 1s Out: How to Be Cool and Other Things I Definitely Learned from Growing Up - $11.99 (Kindle)
The Odd 1s Out: The First Sequel - $10.00 (Paperback)
Both of these books were very popular among the viewers of the TheOdd1sOut channel. The earnings from the sales of the book must have helped increase James Rallison's income significantly.
Income From Merchandise
Just like most of the artists and YouTubers, James Rallison also has a line of merchandise of his comic character. With millions of subscribers on both of his channels, there must be a huge demand for products with TheOdd1sOut name on it. His merch line includes a variety of products that can be bought from his official merch store. For reference, some of the products and their price are listed below:
| | |
| --- | --- |
| Black Odd1sOut Brim Hat | $20 |
| Can't Catch Harry Bundle | $35 |
| Big Squooshy | $12 |
| Christmas Sweater | $10 |
| Giant Plushie Bundle | $55 |
| I'm Odd Hoodie | $45 |
All of these products are related to animated stories and characters we can see in his videos. With so many various products for purchase, fans must have bought many of this stuff. The income from these products' sales must have helped increase the TheOdd1sOut's net worth exponentially.
Relationship And Dating Life
As a famous YouTube personality, James Rallison's lovelife is a topic of interest for many of his followers. However, he has chosen to keep most of his personal life away from the internet. Fans have speculated about his close relationship between the voice of TheOdd1sOut's adorable comic character and his fellow animator on YouTube Jaiden Animation. However, James has never revealed if he has a girlfriend or not.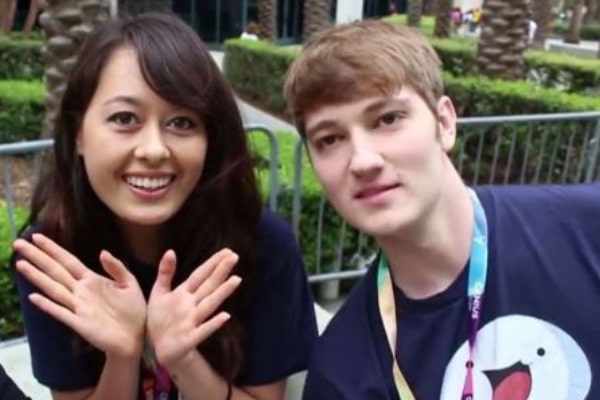 In a panel at VidCon, he stated that what people know about him are only a few things that he has revealed and feels comfortable sharing with everyone. So, if and when he is ready to talk about his relationships, we can be sure that his fans will be very accepting of it.
For a long time, fans didn't know what James looked like, even though they had been watching his videos for years. However, he revealed his face to his viewers in the middle of one of his videos after many requests. This created a frenzy among his viewers and the video is still one of the most talked-about ones in his fan groups.
Trivia
One of James' most famous animated series is the Sooubway series, where he talks about his work experience in the Subway shop at his hometown.
He has worked on the board/card game Can't Catch Harry.
He uploaded his first song, "Life is Fun" featuring in July 2018. It has more than 105 million views as of March 2020.
He has been nominated for Streamy Awards in the animated category.
His channel has received positive reviews from many reputed sites.
Explore more on eCelebrity Spy and get updates on Celebrity News, Wikis, Net Worth, and More.