Who Is Sean O'Malley's Girlfriend Danya Gonzalez? Any Plans On Marriage?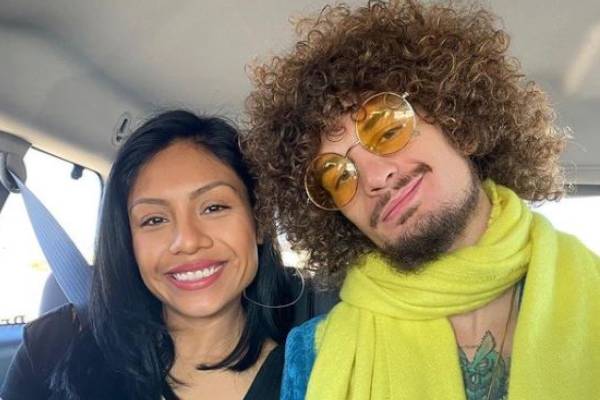 Sean O'Malley, famously known as Sugar Sean O'Malley, is an American UFC fighter who has enjoyed an unbeaten run since 2013. Known for his aggressive nature and unique hairstyles, O'Malley has made a name for himself in the MMA world as a potential championship winner.
Unlike many other fighters, Sean O'Malley's girlfriend, Danya Gonzalez, has been a part of his fighting career from the start and has been seen by his side on many of his fights.
UFC Fighter Sean O'Malley Is Flattered By His Comparison With Conor McGregor
Who Is Sean O'Malley's Girlfriend Danya Gonzalez?
While Sean O'Malley's life has been a piece of public knowledge for years, his girlfriend Danya lives a considerably private life. She currently works as an independent hairstylist and provides various hair care services for both men and women. She is based in Phoenix, Arizona, and her store is suitably named Hairapy By Danya.
If you look at Sean's ever-changing hair color and style, it is clear that his girlfriend, Danya, is a talented woman. Along with her own clients, Gonzalez has also worked wonders in her boyfriend's hair. She is the one who styles his hair for his fights as well as various other professional photoshoots.
As his hairstylist, Sean O'Malley's girlfriend, Danya is an integral part of his team and is frequently seen by his side during his big fights. And not only a supporter but Gonzalez herself is an active mixed martial artist. She has trained alongside Sean on multiple occasions and has participated in various jiujitsu tournaments.
While information about her career as a hairstylist and her martial arts hobby has been public, Danya's life before she gained attention as O'Malley's girlfriend is a big mystery. Gonzalez is yet to reveal about her early life, and viewers are left wanting to know more about the girl who stole the UFC fighter's heart.
Sean O'Malley And Danya Gonzalez Relationship
The relationship between Sean O'Malley and his girlfriend Danya is an interesting one. The two have been together since before Sean became a famous UFC fighter. While the exact timeline of their dating history is unknown, it is clear that Danya was by her boyfriend's side from the start of his career.
Going through their Instagram profiles, we can see that the loved up couple has been dating since 2016. Both of them have posted numerous photos of them together in the early stage of their relationship, and without a doubt, they look good together.
The pair are still very much in love with each other, and Sean does not hesitate to share his love for his girlfriend on special occasions. And looking at the love they have for each other, we can see the two of them being together in the long run.
Have An Open Relationship
In a recent interview on the show Food Truck Diaries, Sean opened up about a crucial part of his relationship. He revealed that he and his girlfriend, Danya, have an open relationship. He admitted that he loves to enjoy life, and being intimate with someone other than his girlfriend is not a big deal for him.
O'Malley said that if Danya ever decides to do the same, he would not stop her but will go through any feelings he might have himself. He also shared that Danya and he has navigated through many tough life decisions in their time together and has always come out stronger than before.
After hearing him say all of these things, it is clear that the loved-up pair have immense trust in each other and can survive any difficulties they might face in the future. While they have yet to reveal their marriage plans, when it happens, we hope that the duo shares their happiness with the whole world.
Also, Sean O'Malley and his girlfriend, Danya Gonzalez, welcomed a new member into their family in late 2020. Their daughter, Elena O'Malley, has been a constant star on O'Malley's Instagram. Neither Sean nor Danya talked about their daughter beforehand but let's hope we get to know about the little one in the coming days.
Get More Updates In News, Entertainment, Net Worth, and Wikis In eCelebrity Spy.