Andre Iguodala Net Worth - Reported Salary Of $16 Million, Also Look At His Other Earning Sources
Andre Iguodala Net Worth
$50 million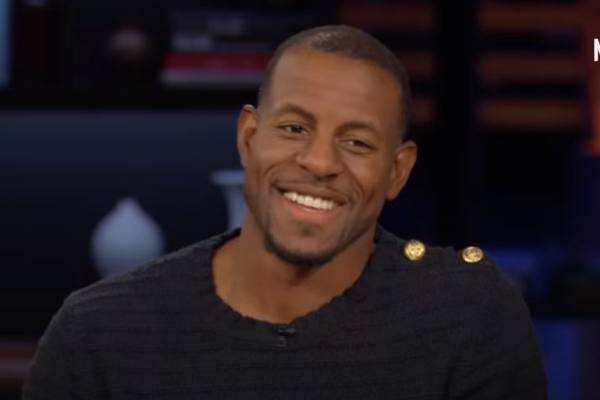 | | |
| --- | --- |
| Birth Name | Andre Tyler Iguodala |
| Birth place | Springfield, Illinois |
| Profession | Basketball, Player |
| Nationality | American |
| Zodiac Sign | Aquarius |
| Hair Color | Black |
Andre Iguodala is a name recognized by many NBA fans. Known for his amazing on-court abilities, he has established himself as one of the most versatile and valuable players in the game. Along with his basketball career, Andre is also known for his business ventures and has earned massive success in everything he has set his eyes on.
Along with multiple championship titles and records, the famous star has also earned a massive fortune from his career. According to Celebrity Net Worth, Andre Iguodala's net worth is estimated to be $50 million.
Iman Shumpert's Net Worth - Amassed Millions Thanks To His Career As A Basketballer
Andre Iguodala Net Worth And Earnings
As mentioned above, Andre Iguodala has an estimated net worth of $50 million, which comprises of his earnings as an NBA player and his many business ventures.
Income As An NBA Player
Andre Iguodala was picked by the Philadelphia 76ers in the 2004 NBA draft. His selection was regarded as a mistake by many, but it only motivated him to play better in the games and resulted in him having a fantastic start as an NBA rookie. The 76ers decision to pick him resulted in many memorable moments and multiple records in his name. He signed multiple contracts with the 76ers and the last one being a six-year deal worth $80.5 million in 2008.
After playing for the76ers for almost eight years, Iguodala was traded to Denver Nuggets in 2012 but only competed in one season with them. And he went on to sign a four-year, $48 million contract with the Golden State Warrior in 2013 as a part of a sign-and-trade with the Nuggets and Utah Jazz. He won multiple NBA championships with them in the six years he spent there.
In 2019 he joined the Memphis Grizzlies and, after one season, signed a two-year $30 million contracts with them as a part of Extend-and-Trade with Miami Heat. Currently, he is one of the most valuable players for the Miami Heat team. Since his NBA debut in 2004, Andre Iguodala's salary has increased at a steady pace and the list of his estimated yearly earnings according to The Richest is given below:
| | |
| --- | --- |
| Team/Year | Salary |
| Philadelphia 76ers / 2004 | $1.91M |
| Philadelphia 76ers / 2005 | $2.06M |
| Philadelphia 76ers / 2007 | $2.8M |
| Philadelphia 76ers / 2008 | $11.3M |
| Philadelphia 76ers / 2010 | $12.3M |
| Denver Nuggets / 2012 | $14.9M |
| Golden State Warriors / 2013 | $12.8M |
| Golden State Warriors / 2017 | $14.8M |
| Golden State Warriors / 2018 | $16M |
| Golden State Warriors / 2019 | $17.1M |
The NBA star's salary has seen huge growth over the years and will continue to rise in the upcoming years. Looking at these massive numbers, it is clear that Andre Iguodala's net worth is heavily influenced by his earnings as an NBA player.
Income From Multiple Business Ventures And Brand Deals
Along with basketball, Iguodala has tried his hand on multiple business ventures and investments. He is a major tech-investor and also a leading advocate for his fellow NBA players to invest in the industry. He has investments in social media giants, Facebook, Twitter, and even in Tesla.
Also, along with his longtime business partner, Rudy Cline-Thomas, he reportedly has invested in many startups in the technology industry as well as other sectors and has earned millions from these ventures. Not only this, but the Miami Heat star also advocates for NBA players to invest in these companies to secure a financially secure future.
His forward-thinking and business savvy mind has undoubtedly helped to increase his net worth. And with the companies he has invested in gaining more and more profit, it won't come as a surprise if Andre Iguodala's earnings reach a new height in the near future.
Income From Book Sales And Brand Deals
After gaining massive success from his basketball career, Andre decided to share his stories and struggles with the world. He wrote a memoir titled The Sixth Man: A Memoir, in which he documented his life as an NBA star and various other achievements. The books were a small peek to the big world of the author, and fans were eager to know about him. This resulted in it being a National Bestseller and joined the list of one of the best memoir written by an athlete. This book is available in multiple formats and can be purchased on Amazon.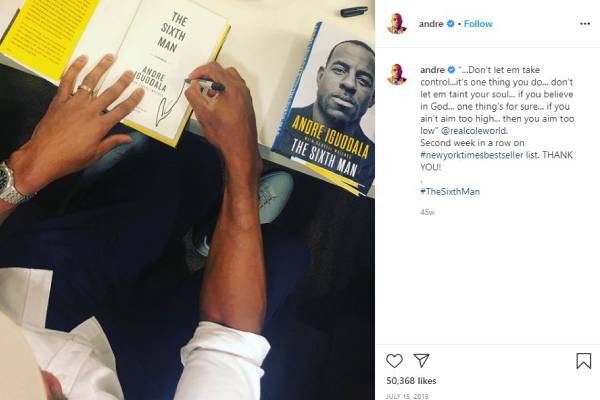 Furthermore, the hardworking player also has a deal with a number of brands. The most notable one being the Nike sneaker deal. As one of the most valuable players in the game, brands are always vying for his commitments, and this helps in increasing Andre Iguodala's earnings.
Lifestyle And Assets
After more than a decade in the NBA scene, Andre Iguodala has earned millions of dollars and now lives a comfortable lifestyle with his wife Christina Gutierrez and two children. The family currently resides in sunny California. He bought his Bay Area home for $3.6 million in 2017 and has stayed there since. Previously he owned a property in Sherman Oaks, which he put up for sale at $1.75 million in 2016.
Additionally, Andre seems to be a massive fan of luxury wheels and reportedly owns a collection worth $3.2 million, as stated in The Richest. All of this information points to the NBA legend enjoying a lavish lifestyle.
However, Andre has not forgotten his roots, and even after being a multimillionaire has always given back to society. He set up the Andre Iguodala Disaster Relief Fund and raised money for tornado victims in his hometown. He also established a youth foundation under his name and hosts many charity events. His drive to help the unfortunates has made him a hero in the eyes of many people.
Facts
Andre Iguodala was born in Springfield, Illinois, on January 28, 1984.
He has two children, London Iguodala and Andre Tyler Iguodala II.
He had London with his baby mama Clayanna Warthen.
He has won three NBA championships and has set many records throughout his career.
He has also won many titles as a part of the US National Basketball Team.
Explore more on eCelebrity Spy and get updates on Celebrity News, Wikis, Net Worth, and More.