Busta Rhymes Net Worth - Income As A Rapper, Look At His Car Collection And Jewelry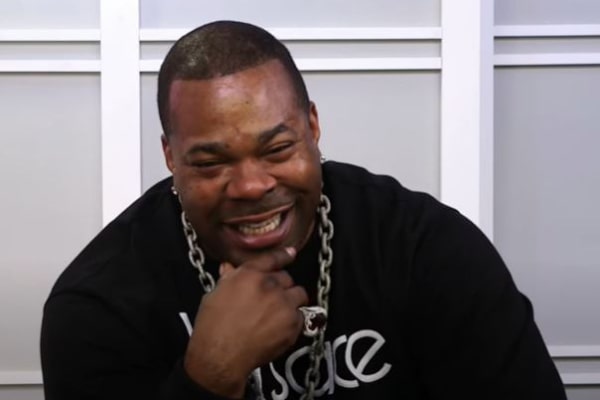 Trevor George Smith Jr. or famously known as Busta Rhymes, has been in the music industry for more than twenty years. Along with his unique music style, Smith Jr. is also recognized for his one of a kind fashion sense and style. 
Since the start of his career in music, Busta Rhymes has managed to earn a vast fortune. He has not only established himself as an artist but has also generated a huge income of an estimated $20 million as a rapper, record producer and executive, and even an actor. 
Busta Rhymes Net Worth And Earnings
As one of the most famous rappers in the present times, Busta Rhymes's net worth is estimated to be $20 million. However, there are other sites that suggest that Rhymes' net worth is even higher and reaches the mark of $65 million at the moment.
Income From Music
In his very long career in the music business, Rhymes has released many studio albums, mixtapes, singles, and also collaborative albums. Before debuting as a solo artist, he was part of the hip-hop group Leaders of the New School and was signed with the Elektra Records. As a group, they released two albums, A Future Without a Past and T.I.M.E. The group with members Charlie Bryan, Dinco D, Cut Monitor Milo, and Busta Rhymes were actively making music for about four years but disbanded due to internal conflicts.
Rhymes had already gained recognition from the industry due to his unique musical abilities and him using his Jamaican roots in his songs. In 1995 he began working in his solo album, The Coming, which was released in March 1996. The record was successful in the U.S., and soon after, he began working on his second album When Disaster Strikes, which was released in 1997 and earned him international success.
After this, he consistently worked on new music and released seven other albums between 1998 to 2012. Most of his records managed to make a mark in the rap scene and was praised by the critics. Hit singles like Fire It Up, Woo Hah!! Got You All in Check, I Know What You Want, Make It Clap, and many others helped back the album sales. He also collaborated with famous artists like Mariah Carey, Sean Paul, Pharrell Williams, P. Diddy, among others in the records. All of his albums were successful in their own rights, and some of their earnings as stated in The Richest are given below:
| | |
| --- | --- |
| Album | Earnings |
| The Coming | $910K |
| When Disaster Strikes | $1.85 million |
| Extention Level Event: Final World Front | $1.79 million |
| Genesis | $1.5 million |
| The Big Bang | $910K |
| It Ain't Safe No More | $750K |
Along with these solo albums, the rapper also had another album with the Flipmode Squad. The album, The Imperial was released in 1998 and had received positive reactions from fans and critics alike. Also, he has collaborated with and featured in mixtapes from many artists. 
Looking at all the number of albums released and the total earnings from their sales show the range of income he had from them. All of the earnings from album sales, singles, and features in many songs form other artists definitely helped in the rise of Busta Rhymes's net worth.
Income From YouTube And Streaming Services
The multitalented artist has more than 913K subscribers on his YouTube channel as of May 2020. His channel generates thousands of views daily and also earns a huge amount of money from the video views. Many of his music videos featuring artists like Mariah Carey, Eminem, and Pharell Williams has millions of views. 
According to SocialBlade, currently, Busta Rhymes's earnings from his channel is estimated to be somewhere between $32.1K to $514.1K yearly. Also, the Grammy-nominated artist's songs are available in streaming services like Deezer, Spotify, Apple Music, and many others. Well, the money earned from streams on the music sharing sites is also included in the artist's collective income.
Income From Record Label
After making music under multiple records for over twenty years of his career, Rhymes founded his own record label, Flipside Entertainment. However, the label served as an imprint to Elektra and was only responsible for putting the albums of different acts together. Elektra handled other factors like funding, promotion, and distribution. He moved the label to other companies like Sony, J Records, and Interscope.
Who Is Mona Scott-Young's Husband Shawn Young? Do They Have Any Children?
Years later, in 2011, Busta founded The Conglomerate Entertainment, and his previous label was dissolved and is no longer called Flipmode. Since then, many artists have been signed to the label and have produced many albums over the years. Currently, artists like Spliff Star, Jae Millz, O.T. Genasis, Aaron Cooks are under the label have released many records.
As the founder of the record label, the talented rapper must own a large share of the company. The sales of various albums from the artists under the label must have helped increase Busta Rhymes's net worth significantly.
Income From Acting
Along with making amazing music, Busta has also shown off his acting abilities in films and television shows. He first appeared in the movie Who's the Man? in 1993. Since then, he has been a part of films like Strapped, Higher Learning, Shaft, Finding Forrester, Full Clip, Breaking Point, among others. 
Also, the rapper and producer has cameo appearances in many tv shows. He has been in single episodes of famous shows like Fresh Off the Boat, Master of None, and many others. He has also voiced a character in the video game, Def Jam: Fight for N.Y., and Def Jam Fight for NY: The Takeover. 
Whether it was a major role in movies or guest appearances in shows, the talented rapper has always managed to leave a big impact on the viewer's mind. As one of the biggest artists in the current scene, Busta Rhymes' income from these acting projects might have been pretty impressive. 
Legal Troubles
While the rapper gained international success through his music, he also had to face various legal troubles over the years. In 2006, Busta was arrested for attacking a man who had reportedly spat on his car after the AmsterJam Music Festival in New York. He was also arrested for other charges in 2007 for driving without a license and sentenced him to probation, community service and also fined $1,250 in 2008. He was also ordered to pay $75,000 in compensation for an assault to a concert goer.
Along with this, it was also revealed that Rhymes owed $789,577 in back taxes in May 2014. Also, the I.R.S. claimed that he failed to pay taxes in 2008 and 2012. The record producer has neither confirmed nor denied the allegations about the tax issues.
Either way, Busta must have earned a heavy sum during those years from his music career.
Lifestyle And Assets
Similar to every other rapper in the industry, Busta Rhymes also loves wearing expensive clothes, heavy diamond embedded chains, and riding impressive vehicles. His collection of jewelry and cars alone might be priced at millions. Not only this but looking at his inked body, we can also say that Rhymes has spent a huge sum of money on his intricate tattoos. He loves to show off his riches and has filled his Instagram profile of him wearing various jewelry pieces, which proves the fact that the talented rapper has come a long way in his career.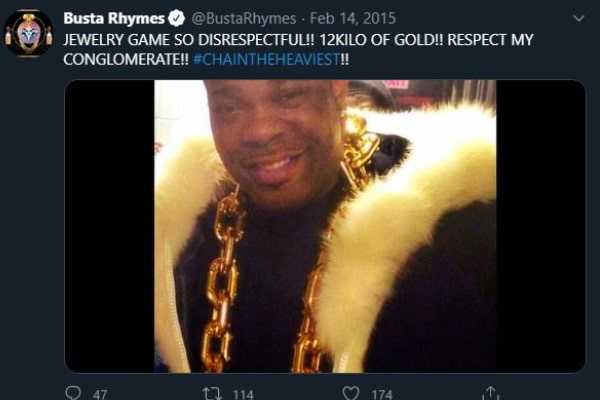 Looking at the rapper's collection of expensive assets, we can say that Rhymes enjoys a lavish lifestyle. And with him heading the record label and producing music for himself and other artists, Busta Rhymes's net worth will continue to increase in the coming days.
Some Facts About Busta Rhymes
Busta Rhymes, real name Trevor George Smith Jr., was born on May 20, 1972, in Brooklyn, New York. 
His father, Trevor Smith Sr. was from New York and mother, Geraldine Green was of Jamaican heritage.
He has many children, including three sons T'ziah Wood-Smith, Trillian Wood-Smith, and T'Khi Wood-Smith and three daughters, Mariah Smith, Cacie Smith, and Miracle Smith.
He has been nominated for Grammy Awards eleven times for his music.
He broke the Guinness World Record for most syllables in one second in 2000.
Explore more on eCelebrity Spy and get updates on Celebrity News, Wikis, Net Worth, and More.