John Madden Net Worth - Income And Salary As A Former Football Coach And Sportscaster
John Madden Net Worth
$200 Million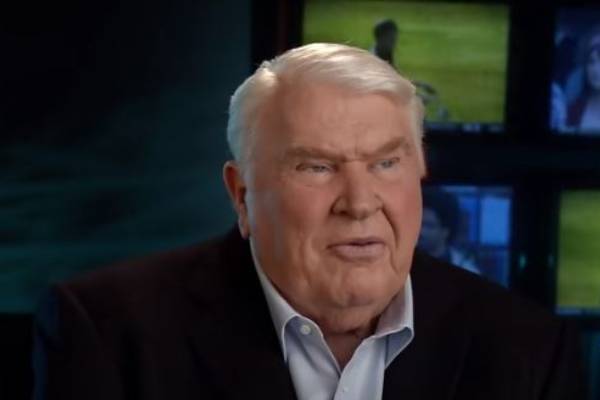 | | |
| --- | --- |
| Birth Name | John Earl Madden |
| Birth place | Austin, Minnesota, United States |
| Profession | Former NFL Coach and Sportscaster |
| Nationality | American |
| Zodiac Sign | Aries |
| Hair Color | Grey |
John Madden is one of the most recurring names in NFL history. His legacy as a football coach and a sportscaster is up in the legendary category. Beloved by fans for his excellent commentary and his time as the coach of Oakland Raiders, Madden is a golden name written in the history books of the NFL.
From his exemplary career, he has managed to garner a massive sum of money and fame. Even though he was professionally a sportscaster and a coach, most of his fortune comes from the video game deals he has made with the franchise Electronic Arts. According to Celebrity Net Worth, John Madden's net worth is currently valued at around $200 million- a humongous figure.
John Madden Net Worth And Career
As we mentioned above, John Madden's net worth is about $200 million, mostly covered by his video game deals, coaching, and commentary. During his prime, he also had a lot of endorsements coming from some renowned brands. Although he had not been successful as a player with injuries and lack of opportunities, he did great as a coach, winning the NFL in 1977 with the Oakland Raiders in an incredible fashion. Now, without further delay, let's get right into more details about his earnings. 
Income as an NFL Coach
After ending his career as a player at a relatively young age, Madden got into coaching as the assistant coach at Allan Hancock College. He was promoted to head coach two years later, but San Diego State hired him as assistant defensive coach until 1966. His time there helped him learn a lot about tactics under one of the masterminds, Don Coryell. Madden got his big break when he was hired as the head coach of Oakland Raiders at the young age of 32, making him the youngest coach in history at that time.
Madden had previously worked as the linebacker's coach for the Raiders under Al Davis, an apprentice of the man who revolutionized American football, Sid Gillman. So, Madden had indirectly learned from the legend himself. Madden won the Superbowl in 1977 after years of promising performances. He is even considered one of the best coaches of the Raiders to date for his feat. Madden's salary must have been of an enormous sum during his time as a professional coach. He retired in 1979 after it took a toll on his health.
Income From Television And Books
John Madden decided to work as a sportscaster for NFL right after his retirement. After some prominent initial years, he became one of the most sought out commentators. He had a fantastic time as a color commentator and analyst from 1979 to 2008. He is well remembered for his incredible in-depth analysis.
Madden has worked under all of the big four media houses, including CBS, Fox, ABC, and NBC. NBC's owner GE even offered him to build a 'luxury train' when he was a free agent. He was provided multimillion-dollar salaries from different media houses. His time with Al Michaels in the 'Monday Night Football' is remembered by fans worldwide. John Madden's salary was grand during his peak, and his $8 million contracts was a high watermark.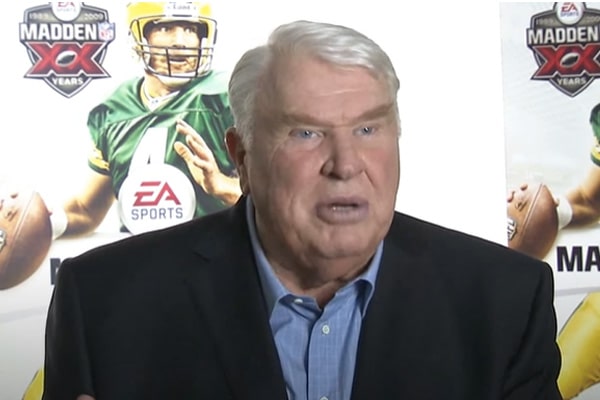 Madden has some film credits as well. According to IMDb, some of his notable appearances include 'Miller Lite: Tastes Great, Less Filling,' ' The Simpsons,' and 'Arli$$.' He has also written some books about his football experiences like 'One Size Doesn't Fit All' and 'The First Book of Football.' His books are available for purchase through Amazon. All of these big-time earnings must have increased John Madden's net worth by ten folds. 
Earnings From Video Games and Brand Endorsements
As we already mentioned above, Madden's vast amount of fortune comes from his video game deals with the gaming franchise EA. When the sports game was gaining popularity, EA had come up with the idea of making a game for the NFL. Madden loved the idea of incorporating teachings and coaching about football through video games. He then taught Trip Hawkins-EA's founder and game developer, Joe Ybarra, everything they needed to know about the sport and its strategies.
The game went on to sell 130 million copies worldwide, earning a massive sum of money. In the mid-2000s, Madden's name was about to be removed from the game, but later, it was reported he had signed a whopping $150 million deal with EA for them to use his name for eternity. He also earns additional millions annually in royalties from the games. Furthermore, according to Sportscasting, EA had offered Madden to buy their share at $7.50 a share, but he refused, thinking of it as a trick; he later regretted his decisions after EA's stock skyrocketed. 
Madden has also been involved with different brands as well. During his prime, he was reported to have been paid $2 million per year by Tenactin. He was also associated with other popular brands like Ace Hardware, Outback Steakhouse, Verizon Wireless, Miller Lite, and Toyota.
John Madden's Lifestyle and Assets
Madden married his wife, Virginia Fields, on December 26, 1959. They have two children together, Joseph Madden and Michael Madden. Madden is currently living his retirement in full comfort from all the money he has made throughout the years with his outstanding career. 
According to Virtual Globetrotting, he lives in a beautiful mansion in Pleasanton, California. He is nowhere to be seen on social media and pretty much likes to keep a low profile in the media nowadays. So, most of the things about his personal life remain unknown.
Quick Facts
John Madden was born on April 10, 1936, to father Earl Russell Madden and mother Mary Margaret Flaherty. 
Madden has won several Emmys for his sports broadcasting work.
He was inducted into the Pro Football Hall of Fame on August 5, 2006, and the NFL Hall of Fame in Canton, Ohio, on August 6th, 2006.
He is aversive to flying, so he travels around the country in a luxurious customized bus, which he has dubbed the 'Maddencruiser.'
Explore more on eCelebrity Spy and get updates on Celebrity News, Wikis, Net Worth, and More.