Megan Mullally Net Worth Vs Nick Offerman Net Worth - Who Is Richer Amongst The Married Pair?
Megan Mullally Net Worth / Nick Offernam Net Worth
$25 million combined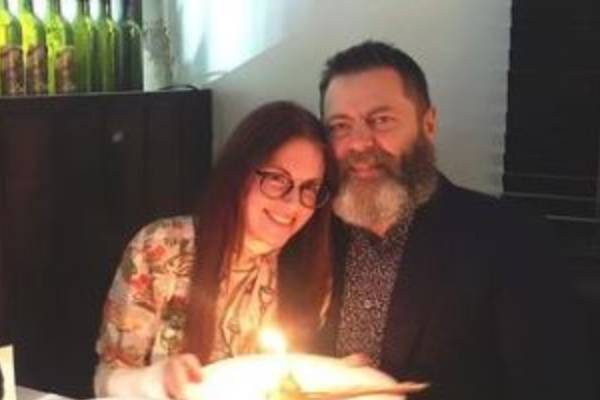 | | |
| --- | --- |
| Birth Name | Megan Mullally / Nicholas David Offerman |
| Birth place | Los Angeles, California, USA / Joliet, Illinois, USA |
| Profession | Actress, Singer, and Comedian / Actor, Writer and Carpenter |
| Nationality | American / American |
| Zodiac Sign | Scorpio / Cancer |
| Hair Color | Red / Brown |
The married couple Megan Mullally and Nick Offerman have both found immense fame from their respective acting career. Megan is best known for portraying the character Karen Walker in Will & Grace, while Nick is recognized as Ron Swanson on the NBC show Parks and Recreation. They have also starred in several projects together, including the theatre play Annapurna.
Both Megan and Nick have been working in the entertainment business for decades and have earned a colossal fortune from their career. According to Celebrity Net Worth, Megan Mullally's net worth is $25 million, and this is the combined net worth of the actress and her husband, Nick Offerman.
Megan Mullally Net Worth And Earnings
As stated above, Megan Mullally has a combined net worth of $25 million with her husband, Nick Offerman. Megan has been working in the industry since 1981 and is best known for her work in the popular sitcom Will & Grace.
Income From Acting
Megan Mullally grew up studying ballet and began acting while she was attending Northwestern University. Her professional career then started in the early 1980s, and one of her earliest work was in a McDonald's commercial. Mullally had brief stints in a few tv-series, but her big break came in 1986 when she starred in The Ellen Burstyn Show as Molly Brewer Ross.
After the show, Megan continued to guest star in many sitcoms, including Wings, Mad About You, and Seinfeld. One of her most significant guest roles was in an episode of the show Murder, She Wrote. According to Mullally, she was paid $5,000 for the appearance, and it is one of the favorite things she has ever shot.
While she has starred in more than fifty television series, Megan is mostly recognized for her performance as Karen Walker in the NBC sitcom Will & Grace. She played one of the four main characters in the show and was part of every episode of the show.
According to The Richest, Megan Mullally's salary per episode after the 2017 revival of Will & Grace was $250,000. Having starred in all the episodes of the show, the actress has undoubtedly pocketed millions for her work. She has also hosted her own show, The Megan Mullally Show, and was a guest host for many other talk shows.
Additionally, Megan Mullally has appeared in many feature films over the years. Her first movie was Once Bitten, which was released in 1985. Given below are some of the film that she has been part of and their respective box-office collection:
| | |
| --- | --- |
| Movies | Worldwide Collection |
| Monkeybone | $7.62M |
| Bee Movie | $293.5M |
| Somebody Up There Likes Me | $89.4K |
| The Kings of Summer | $1.5M |
| Alexander and the Terrible, Horrible, No Good, Very Bad Day | $100.65M |
| Hotel Transylvania 2 | $474.8M |
| The Disaster Artist | $29.82M |
| Where'd You Go, Bernadette | $11M |
With ninety-eight acting credits to her name, it is clear that the American actress has found immense success in her acting career. Also, she has been part of many well-known movies and television shows, and as a result, has accumulated a massive fortune. And looking at her works, there is no doubt that Megan Mullally's net worth has heavily benefitted from her earnings as an actress.
Income From Theatre And Music
Apart from movies and television series, Megan Mullally has also showcased her skills through Broadway and off-Broadway productions. Her Broadway debut came in the 1994 revival of Grease, where she played Marty. The following year she appeared in How to Succeed in Business Without Really Trying as Rosemary.
Off-broadway, Megan has starred in the play Annapurna alongside her husband, Nick Offerman. Her most recent Broadway role was the It's Only a Play production. The show was played at Gerald Schoenfeld Theatre and Bernard B. Jacobs Theatre, and there were 274 performances. Since she played significant characters in the aforementioned shows, Megan Mullally's earnings from them must have been considerable.
Also, Mullally has pursued a career in music and has been part of the band Supreme Music Program. In 2012, Megan formed the band, Nancy & Beth, with Stephanie Hunt and went on tour in 2013 accompanied by Megan's husband, Nick Offerman. The two-woman band has released a self-titled LP, which can be found on various streaming sites.
Nancy & Beth went on another tour in 2019, which was highly successful. The band also toured Australia in June 2019 and earned a considerable sum from the ticket sales and revenues. As a result, Megan Mullally's earnings saw considerable growth in recent years.
Nick Offerman Net Worth And Earnings
Like his wife, Megan Mullally, the famous American actor, has also amassed a fortune from his career. And while Nick Offerman's fortune of $25 million is the combined wealth of the couple, his earnings from acting and other business ventures have helped increase the total wealth.
Income From Acting
Nick Offerman began his acting career in the mid-1990s, and his first silver screen appearance was in 1997 in the film, Going All the Way. He had minor roles in many other movies and also voiced animated characters in few films. He was part of movies like White Fang, The Lego Movie series, Ice Age: Collision Course, and Sing.
While Nick appeared and voiced characters in numerous films, he found fame from his television career. He had guest roles in shows like 24, NYPD Blue, Gilmore Girls, and Out There. He was also featured in the NBC sitcom Will & Grace and several other shows, including Devs, Comrade Detective, Gravity Falls, and Axe Cop.
However, the talented actor is mostly recognized as Ron Swanson in the famous sitcom Parks and Recreation. While he only had a regular supporting role in the show, Nick Offerman's salary was $30,000 per episode. His co-star, Amy Poehler, who plays the main character, was paid $200K per episode.
Even though his salary is far less than his co-star Amy Poehler's salary per episode, Nick ended up pocketing millions from his work in the show. Additionally, he has played significant characters in other tv-series, and earnings from them have helped increased Nick Offerman's net worth.
Income From Woodshop
Nick Offerman grew up swinging hammers and using countless other tools. He used his expertise to work on scene shop in various theaters, which helped him earn money and keep the love for woodwork alive. Offerman then opened his own shop in a warehouse in LA and began collecting tools.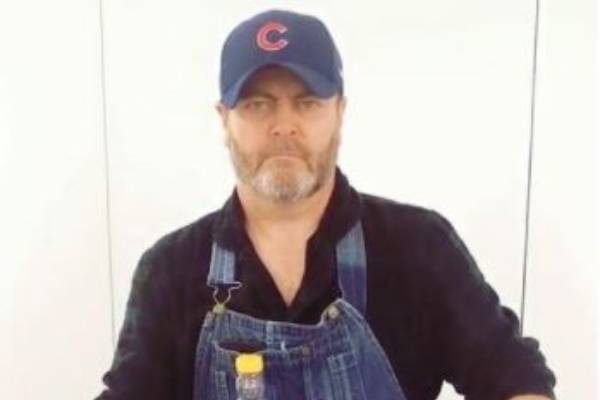 The small, modest shop has since grown and now operates as Offerman Woodshop, where people can find finely crafted products. The store not only sells its own products but also built custom furniture as per customer's demands. For those interested, Offerman Woodshop also has an online store, and given below are a few of the products available on the official website:
'Tis the Season Candle Holder - $38.00
Camp Chair - $475.00
Knock-Down Dining Table - $3,500
OWS Cutting Board - $110.00
Stump Side Table - $550.00
Whiskey Coasters - $39.00
Yes Box (Ring Box) - $165.00
Moustache Comb - $75.00
Offerman Shop Apron - $135.00
Offerman Tank Top - $22.00
The Offerman Woodshop has gained a major following and has already worked on many custom designs for clients. And as the owner of the woodshop, Nick Offerman's net worth has been heavily impacted by the earnings from the store.
Income From Book Sales
Along with the woodshop, Nick Offerman has also showcased his love for woodworking through various books. He has published a few books where he talks about his journey as a carpenter and wrote a book with his wife, Megan Mullally. Some of Offerman's books and their prices are listed below:
Paddle Your Own Canoe - $18.89 (Hardcover)
Good Clean Fun - $15.30 (Hardcover)
The Greatest Love Story Ever Told - $ 8.99 (Kindle)
Gumption - $12.92 (Paperback)
Since he has found fame from his acting career and woodworking skills, Nick's books have been popular among his fans and even topped the New York Times Bestsellers list. The income from these book sales has undoubtedly helped increase Nick Offerman's net worth.
After looking through both Megan Mullally and Nick Offerman's career and income source, it is clear that the married couple has worked very hard and earned millions in the process. And while it is unclear who among the pair is richest, we can see that the Mullally-Offerman family has accumulated a giant fortune.
Lifestyle And Assets
The married couple Nick Offerman and Megan Mullally have a fortune of $25 million to their name and live a lavish lifestyle. They have made the sunny Los Angeles their home and previously owned a beautiful home in Hollywood Hills. The pair sold the 3,803-square-foot property for $9.97 million in 2013. They also own another home in the area.
Talking about assets, at one point, Mullally was the owner of a luxury car. She and her fellow Will & Grace castmates were gifted a Porsche Boxter by NBC after the show became popular. As per The Richest, the purchase value of the car was $68,400. Even though she no longer owns the luxury vehicle looking at the price tags of Megan and her husband Nick's properties, it is clear they enjoy a lavish lifestyle.
Trivia
Megan Mullally was born in California on November 12, 1958.
Nick Offerman was born as Nicholas David Offerman, in Joliet, Illinois, on June 26, 1970.
Megan and Nick got married in 2003, but they don't have any children together.
Get More Updates In News, Entertainment, Net Worth, and Wikis In eCelebrity Spy