Sal Vulcano Net Worth - Know His Salary For Impractical Jokers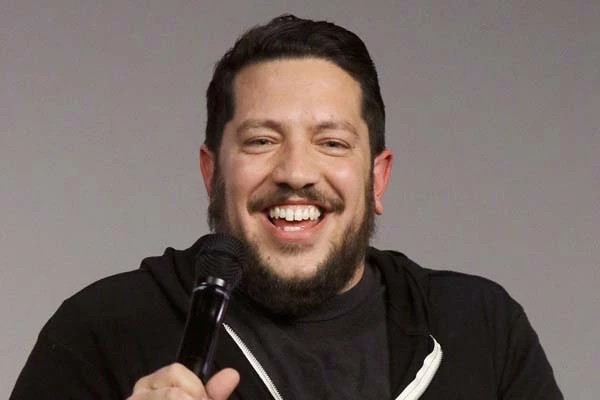 The talented television star, Sal Vulcano's net worth is estimated to be $5 million which he has mostly accumulated from his successful career as a producer and actor in numerous comedy movies and series. Sal is widely prominent for starring in The Impractical Jokers along with three others, James Murray, Brian Quinn, and Joseph Gatto aka Joe Gatto.
Sal Vulcano was born on November 6, 1976, in Staten Island, New York City, New York to parents Sal Vulcano Sr. and Dianne Fernandez-Vulcano. However, Sal's parents divorced when he was young. Vulcano grew up alongside his three sisters Kelly Ann, Dianna and Jenna Vulcano who has made a recurrent appearance in episodes of Impractical Jokers.
Net Worth and Sources of Income
As mentioned earlier, the talented stand-up comedian and TV star, Sal Vulcano's net worth is estimated to be $5 million which he has gathered from his amazing work in comedy television series. Nevertheless, he has pitched in a handsome income from his podcast and book too.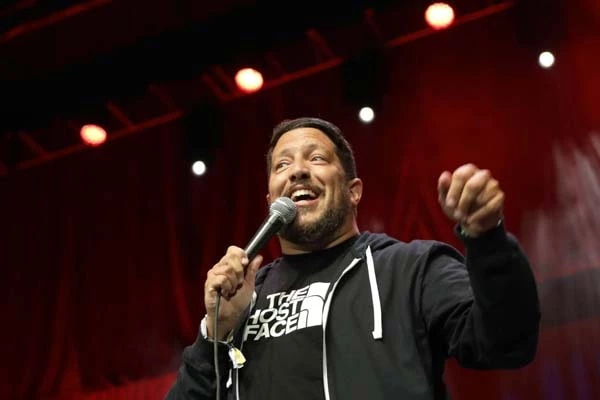 Vulcano was into comedy from a very young age and performed across the country alongside comedians like Big Jay Oakerson and Godfrey. Later on, he formed a comedy troupe, Tenderloins and won a whopping prize of $100K prize in NBC's It's Your Show competition which was a good enough capital for them to start their first show. 
Sal Vulcano is a comedian who gained prominence through his role in TruTV's Impractical Jokers which has about a total of 200 episodes and 30 specials. The first episode was reportedly shot through an iPhone and was watched by more than 32 million viewers. Some sources state that the actors in the show, Sal, James Murray, Joseph Gatto, Brian Quinn and Drew Patterson are paid about $50K per episode for the show. However, the numbers aren't concrete yet, but we do know that a significant part of Vulcano's net worth comprises of his income from The Impractical Jokers. Sal's salary must have inflated with passing years, and his experiences must assist him in filling his pockets with a handsome profit.
Furthermore, Impractical Jokers has been renewed for a 26-episode season 9, which is speculated to premiere in 2020. We are pretty sure he must have piled up a good amount of wealth from it and will keep doing so after the release. 
Aside from that, Vulcano has also appeared in a 1998 movie named Damned, Just Another Romantic Wrestling Comedy, as well as in an episode of Bones and one episode of 12 Monkeys with actor Joe Gatto. This must-have granted Sal a good fortune too. Moreover, he has raked in good money from the book he co-authored, Impractical Jokers.
As Vulcano is a stand-up comedian, he goes on multiple tours too. On his website, one can book tickets for his tour or his comedy group, The Tenderloins' shows. Sal Vulcano's upcoming tour is in Boston on 12th and 13th of December, 2019 and The Tenderloins next show is on January 18, 2020.
Was an Internet Meme
A picture of Sal in his youth when he was way heavier that has been on the show had become an Internet meme, and it also became a popular Photoshop meme on Instagram in 2016. The meme was titled Tonight's Big Loser. However, we are really certain that Sal dislikes being spammed with it.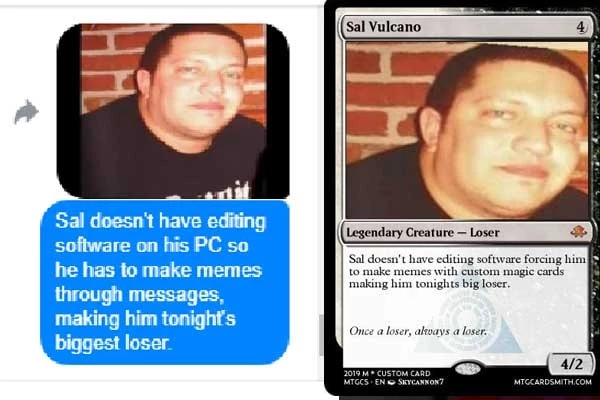 While the precise origin of the meme is unknown, one of the early posts using the format was created by Redditor Menmario on December 19th, 2018 and it gained over 4,100 upvotes in 12 days.
Get More Updates In News, Entertainment, Net Worth, and Wikis In eCelebrity Spy.