Steve Kerr Net Worth - Earnings And Salary From His Career As Both Player And Coach
Steve Kerr Net Worth
$35 million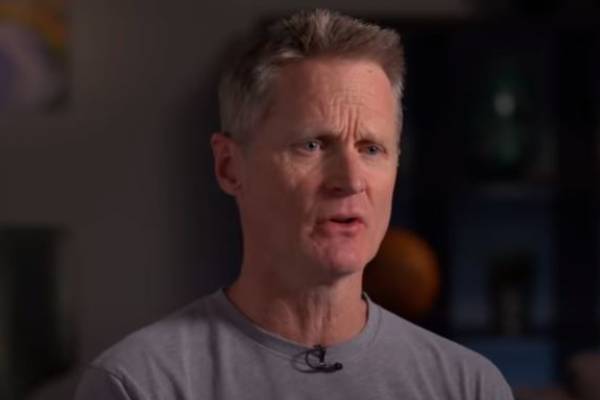 | | |
| --- | --- |
| Birth Name | Stephen Douglas Kerr |
| Birth place | Beirut, Lebanon |
| Profession | Basketball Player, Coach |
| Nationality | American |
| Zodiac Sign | Libra |
| Hair Color | Blonde |
Many former basketball players have tried their hand in coaching after retirement, but only a few have gained as much success as the Golden State Warriors coach Steve Kerr. He is counted among the very few people who have won multiple NBA championship as a player and a coach. From the start of his career in 1988, Kerr has managed to impress the fans using his on-court abilities and off-court personalities.
As one of the most successful people in the NBA, Steve Kerr's net worth is estimated to be $35 million. He has accumulated this fortune from his earnings as an NBA player and coach.
Toni Kukoc Net Worth - Income And Earnings From His Career As A Basketball Player
Steve Kerr Net Worth And Earnings
According to the Celebrity Net Worth, Steve Kerr has an estimated net worth of $35 million which he has amassed as a professional basketball player and a coach. However, other sources estimate his total net worth to be $18 million. While the numbers are contrasting, we can say that Kerr has amassed a fortune from his career.
Income As An NBA Player
Born and brought up in Beirut, Lebanon, Steve Kerr started playing at a young age and was a crucial part of the Arizona Wildcats during his time at the University of Arizona. He was also a part of the gold medal-winning team of American Men's Senior Team. All these experiences and statistics helped him to be selected by the Phoenix Suns in the 1988 NBA draft.
Kerr spent a year with the Suns and was traded to the Cleveland Cavaliers the following year and played with them for the following three seasons. However, he found success only after joining the Chicago Bulls in 1993. He won his first NBA championship with them and was a significant part of the process, as well as the team's later success.
Steve was selected by the San Antonio Spurs in 1999, in a sign-and-trade deal with the Bulls. He led the team to the finals and went onto win the title. While his time there was pretty eventful, he was traded to Portland Trail Blazers in 2001 but returned to Spurs in the following year. After leading the Spurs to the NBA championship, he announced his retirement in 2003. During his years as a player, Kerr reportedly earned a total of $15.8 million. Some of the Kerr's yearly earnings as given in The Richest are listed below:
| | |
| --- | --- |
| Team / Year | Earnings |
| Phoenix Suns / 1988 | $100K |
| Cleveland Cavaliers / 1991 | $553K |
| Chicago Bulls / 1993 | $150K |
| Chicago Bulls / 1995 | $800K |
| San Antonio Spurs / 1998 | $1.7M |
| San Antonio Spurs / 1999 | $1.97M |
| San Antonio Spurs / 2001 | $2.41M |
| San Antonio Spurs / 2002 | $2.4M |
He apparently earned his highest salary of $2.625 million during his last year with the Spurs. And looking at the big numbers, we can say that, Steve Kerr's net worth mostly comprises his earnings as an NBA player.
Income As A Commentator And Broadcaster
After retiring from basketball, Steve joined the Turner Network Television as a broadcaster analyst and provided his commentary in the network. He hosted the show called Steve's Refreshing Thoughts, where he shared interesting facts of the NBA. The show was a huge success and was even sponsored by various brands.
Not only this, but he has also provided his voice for in-game commentary for various channels and undoubtedly earned a considerable sum from this step of his career.
Income As A Coach
After spending a few years as a commenter, Kerr became the general manager of the Phoenix Suns in 2007. However, he stepped down in 2012. After this, he signed to be the head coach for the Golden State Warriors in 2014. His salary as the head coach for the team was $5 million.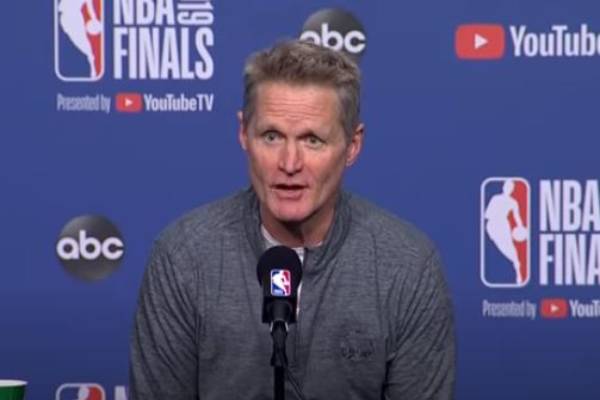 Not only earning millions, but he also set multiple records as a coach for the Warriors. From the highly successful run as a head coach, Steve Kerr's earnings undoubtedly influenced his total net worth.
Lifestyle And Assets
After accumulating millions from his successful career as an NBA player and head coach, Steve Kerr lives a comfortable lifestyle with his wife, Margot Kerr, and three children. The famous star lives in a beautiful townhouse in San Francisco. According to various sources, he paid $7.35 million, $1.5 million more than asking price for the four bedrooms, home in 2018.
Steve previously owned a 4,284-square-foot property in Lake Forest, Illinois, for which he paid $625K in 1996. He went on to sell the house in 1999 for $760K. Not only this, but he is also very vocal about various social issues. He is also a massive supporter of gun control and has donated to different causes through charities. All of these point towards the generosity of the NBA star.
Facts
Stephen Douglas Kerr was born on September 27, 1965, in Beirut, Lebanon, to Malcolm H. Kerr and Ann Zwicker.
His father was killed by gunmen when Steve was just eighteen years old.
Steve attended the University of Arizona and graduated with a Bachelor of General Studies in 1988.
He married his college sweetheart, Margot Kerr, in 1990, and they have three children; Nick Kerr, Matthew Kerr, and Madeleine Kerr, together.
He has won five NBA championships as a player and three as a coach.
Get More Updates In News, Entertainment, Net Worth, and Wikis In eCelebrity Spy.