Steve Vai Net Worth - Know The Three Time Grammy Winner's Income And Earning Sources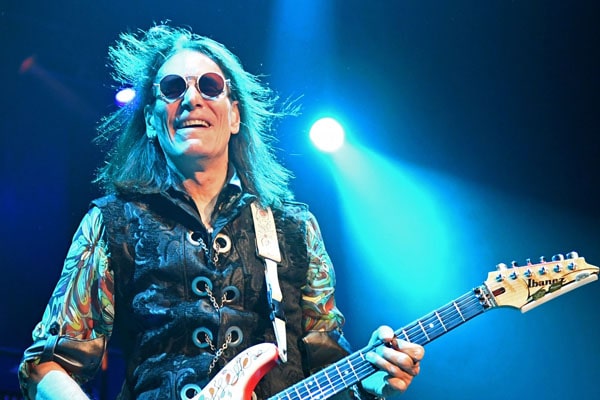 Steve Vai is one of the most talented guitarists the world has seen. His solo works, as well as his works with different bands and artists, is well known. Many people in the world know him for his amazing guitar skills. Whether he is making albums as a solo artist or helping other artists make one, Steve Vai's name will forever be remembered in the music industry. 
Well, Steve Vai's net worth is estimated to be $14 million. And he earned this huge sum from his various albums both solo and as a part of different bands. Also, Vai's record label and other business ventures surely helped him earn his massive fortune.
Andy Summers Net Worth - Know The Police's Guitarist's Income Sources
Steve Vai's Net Worth And Earnings
As mentioned above, Steve Vai's net worth is estimated to be $14 million. All of his earnings come from his career in music as a guitarist and some from his record label.
Income As A Solo Artists
The talented guitarist's career started in 1978 as a transcriptionist for Frank Zappa. However, Steve's career as a solo artist didn't take off until 1983. Flex-Able was his first studio album that was released in 1984, which was recorded in Vai's old back garden, which he turned into a studio. The album was received very well by critics and audiences alike for a debut album. Vai released eight more albums as a solo artist, namely Passion and Warfare, Fire Garden, Sex & Religion (under his band Vai), The Story of Light, among others. Incomes from Steve's solo albums according to The Richest are mentioned in the table below:
| | |
| --- | --- |
| Albums | Earnings |
| Flex-Able | $61K+ |
| Passion & Warfare | $1 million+ |
| Sex & Religion | $182K+ |
| Fire Garden | $88K+ |
| The Ultra Zone | $41K+ |
These albums not only solidified the musician as a great artist but also helped in his overall income. The earnings from the album sales must have helped Steve Vai's net worth to grow a lot.
Income From Bands
Before embarking on his step to become a successful solo artist, Vai was part of Frank Zappa's music group and later toured in his band from 1980 to 1982. During his earlier years, he was a transcriptionist for Zappa and later became a full-time member of the band. He is credited in many of Zappa's songs for performing impossible guitar parts. After Zappa, Vai released his solo album and then later replaced the lead guitarist of Alcatrazz and released an album, Disturbing the Peace, with them.
And then afterward, Steve left his former band to join David Lee Roth's band as lead guitarist. With the group, Vai had two albums, Eat 'Em and Smile and Skyscraper, both of which gained critical as well as commercial success. He also went on tour as for the albums but left the band after the second one and joined Whitesnake and recorded the guitar parts for the group's album, Slip the Tongue. The album sold over three million copies worldwide, and Steve went on a thirteen-month world tour with the band. He left the band soon after and worked with other artists. His stint in various bands earned him fame and also helped increase his net worth.
Income From Tours
Throughout his career, Vai has performed in many countries with many bands. These performances garnered thousands of people and resulted in incomes through ticket sales. However, Steve Vai's live concert DVD projects were as popular as, if not more, than his live shows. 
Not only these DVDs helped people watch Vai's amazing guitar skills at home, but they also helped increase the earnings generated from a single live performance. So, it comes as no surprise if one of the major reasons in Steve Vai's net worth is the earnings from these DVD sales.
Income From Video Games And Movies
Many of Steve's guitar solos and songs are featured in video games. Formula One, Grand Theft Auto: Vice City, Halo 2 were some of the games where his songs were used. Many other video games also have Vai's songs in their soundtrack. Surely, the guitarist was given some amount of money as payment for including his songs in the games.
Also, Vai has appeared in movies as different characters as well as composed soundtracks in some. While he must have been in movies in different roles, the one common thing in them is that Steve's character is always a guitarist. As a decorated artist, Steve Vai's earnings from these movies must have been a handful, and with many new upcoming projects on the line, their release will surely propel the guitarist's income to new heights.
Own Record Label
Not only an artist, but Steve is also someone who encourages other artists to showcase their talent. To ensure this, he and Ray Scheer founded Favoured Nations Entertainment in 1999. The label has given the music industry many gifted artists like Eric Johnson, Andy Timmons, Johnny A., and many more. 
Along with music, Vai also seems to be interested in making movies. He is credited as an executive producer in the award-winning movie Crazy. The work from artists and the earnings from the movie definitely is one of the sources of Steve Vai's income. 
Guitar Designs, Merchandise, And Other Ventures
Not only a player, but Steve has also designed a few guitars with the company Ibanez. Vai designed the Ibanez JEM guitars in 1985. As of 2010, five more submodels of the JEM guitars have been released. With the popularity and subsequent production of these guitars, Steve Vai must have got a fair share from their sales.
Similar to most of the artist around the world, Vai also has his own merchandise line. His line includes t-shirts, scarves, blankets, wallets, among others. Some of the products and their prices are listed below:
Phoenix T-shirt - $19.99
Vai Logo Scarf - $200.00
Passion And Warfare Woven Blanket - $89.99
Logo Wallet - $34.99
Logo Patch - $9.99
Along with his talents on guitar, Vai is also an avid painter. His paintings may not be as famous as his guitar skills, but looking at some of his art, we can be sure that he is a very talented artist. These products can be found on his website. And the sales from all of these products must have helped increase Steve Vai's net worth. Plus, you can also purchase music books and many other products from his website.
Lifestyle and assets
Looking at the collective net worth of the gifted guitarist, we can be sure that he lives a very comfortable life. Steve Vai's Instagram account shows his fans about his touring life and other adventures. Also, we can see his massive guitar collection on his page.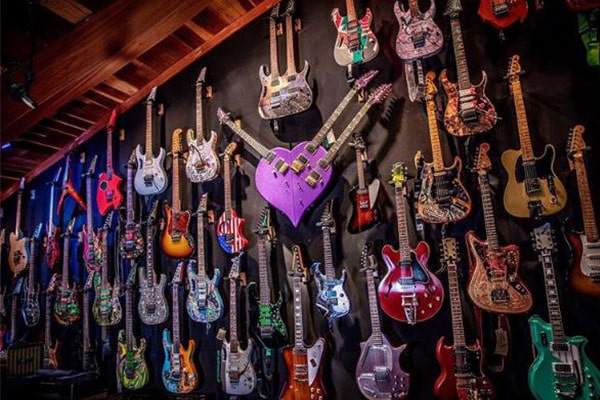 In 2015, it was reported that the acclaimed artist had sold his Hollywood Hills home, which housed his legendary studio. The 3,981-square-foot property was bought by Vai for $330,000 in 1987 and was sold with a huge profit for $1.5 million over twenty years later. However, another site reported that rapper 2 Chainz bought the house in 2016 for $2.45 million. Nevertheless, looking at the property and his guitar collection, Steve must live a very lavish lifestyle.
Some Facts About Steve Vai
Steve Vai was born in New York on the 6th of June, 1960, as Steven Siro Vai.
He learned guitar by studying under Joe Satriani and also studied at the Berklee College of Music.
He is married to Pia Maiocco, former bassist of the band Vixen, and has two sons, Julian Angel Vai and Fire Vai.
He virtually instructed 4,455 students on the online campus of the Berklee College of music. It is the world's largest online guitar lesson.
He keeps bees as a hobby and harvested over 900 pounds of honey in 2001.
He has won three Grammy awards from fifteen solo or collaborative nominations.
Explore more on eCelebrity Spy and get updates on Celebrity News, Wikis, Net Worth, and More.