Tom Bergeron Net Worth - Income And Earning As A Successful Host
Tom Bergeron Net Worth
$16 Million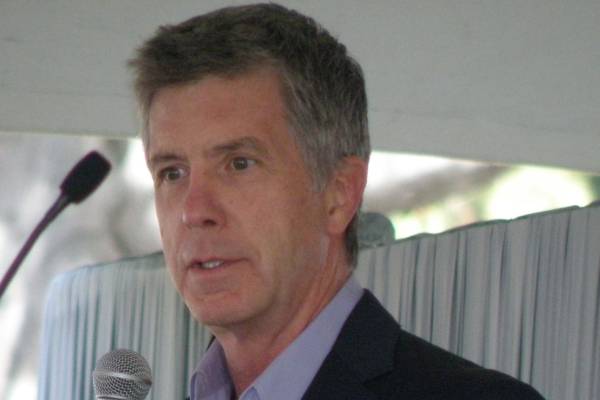 | | |
| --- | --- |
| Birth Name | Thomas Raymond Bergeron |
| Birth place | Haverhill, Massachusetts, U.S. |
| Profession | Television Host, Game Show Host and Comedian |
| Nationality | American |
| Zodiac Sign | Taurus |
| Hair Color | Grey |
From 'America's Funniest Home Videos' to 'Dancing with the Stars,' Tom Bergeron has done it all. Known for his striking stage presence and witty sense of humor, Tom is beloved worldwide. He has been absolutely phenomenal for as long as one can remember. Although he was recently pulled out from hosting 'Dancing with the Stars' for the 29th season, he has already gathered enough reputation for him to keep in the game. The real reason for removing him has not been revealed yet.
Tom's success mostly comes from his hosting skills. But he was not always a host; he started his career as a DJ for radio and played songs. Gradually he entered the hosting industry and garnered a massive amount of fame and wealth.  According to Celebrity Net Worth, Tom Bergeron's net worth is valued at $16 million.
Tom Bergeron Net Worth And Career
As mentioned above, Tom Bergeron's net worth is estimated to be around $16 million, most of which comprise his earnings as a TV host. He has been consistently providing his best, and many fans take him as someone who can bring the charm, wit, and perfect balance of seriousness and irreverence. Tom's career has spanned across multiple platforms, so now without further ado, let's break down how he made his massive fortune.
Earnings From Early Career  
Tom began his career as a DJ for local radio station WHAV, in his home town of Haverhill, Massachusetts. After gaining a fair amount of popularity through another station, Portsmouth's WHEB, he put his hands on additional TV and radio auditions. He got his first breakthrough as a TV host from the local game show, 'Granite State Challenge,' on New Hampshire Public Television. After that, he moved towards shoes like '4Today,' 'Evening Magazine,' and the infamous 'Lottery Live' for WBZ. 
Tom already had enough experience as a host by then and even had his early-morning radio show called 'The Tom Bergeron Show.' He remained on WBZ-TV as a lifestyle reporter and commentator for the station's expanded hour-long noon newscast. Tom must have had a decent amount of salary from his initial experiences, which contributed to his massive fortune.
Income From Later Career
After gaining enough fame and experience, Tom got to co-host the 'Breakfast Time' on FX, which was later changed into 'Fox After Breakfast' when the show moved to the Fox Network. He also hosted the 'Hollywood Squares,' for which he grabbed a Daytime Emmy Award for Outstanding Game Show Host in 2000. Tom began hosting ABC's 'America's Funniest Home Videos' from 2001 and kept on hosting until 2015. He was also the senior producer of the show. 
Tom's most significant rise to fame came from the ever-popular ABC show 'Dancing with the Stars.' He captured the attention of the audience with his irresistible charisma and wacky humor. For a total of 15 years, the brilliant host continued his job wholeheartedly and openly accepted the show's decision to continue next season without him and his co-host, Erin Andrews. He had a brilliant run with the show and had a massive income of $150,000 per episode in 2011, which may have increased later on. He is also on the video request site called Cameo from which fans can request a clip of him.
The earnings from 'Dancing with the stars' contributed heavily to Tom Bergeron's net worth to be this big. Tom has  made some notable appearances as an actor in 'Star Trek: Enterprise' and  'Phineas and Ferb.' He has also written a book, 'I'm Hosting as Fast as I Can!: Zen and the Art of Staying Sane in Hollywood', which is available for purchase through Amazon.
LifeStyle And Assets
Tom has earned every penny through his hard work and dedication towards TV host, and from what he has achieved, his net worth to be this big is a no-brainer. He is pretty active on Twitter, where he posts about the recent ongoings in his professional and social life. Tom is decently active on Instagram as well, where he occasionally shares his ongoings in life. From what we can see, he loves traveling and hiking a lot.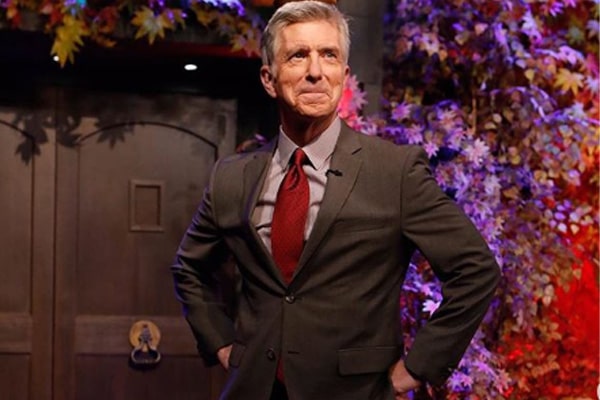 The 65-year-old, Tom, is currently living a cozy lifestyle from the riches he has made throughout his career. As per Virtual Globetrotting, he resides in a massive house with 5-bed, 5-bath, spread across 4,016 sq ft. He purchased the Calabasas, California house for $1.99M in 2005. 
Quick Facts
Tom Bergeron was born on May 6, 1955, to parents Ray Bergeron and Kay Bergeron.
His father was French-Canadian, and his mother was of Irish descent. 
Tom married his wife Lois Bergeron in 1982.
The couple has two daughters Samantha Bergeron and Jessica Bergeron.
The talented Tom Bergeron was inducted into the Massachusetts Broadcasters Hall of Fame in 2007.
Get More Updates In News, Entertainment, Net Worth, and Wikis In eCelebrity Spy.