Jayni Chase Bio - Chevy Chase's Wife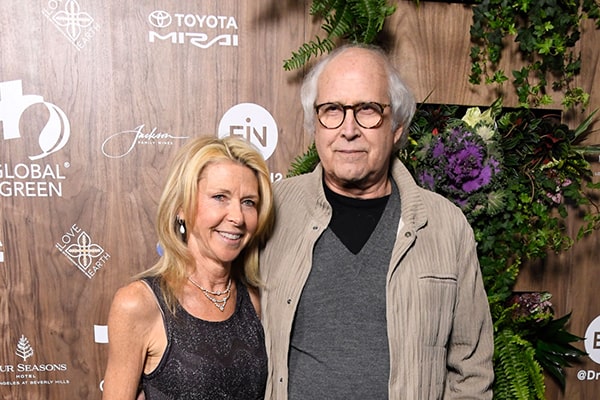 Quick Wikis
Fact
Value
Birth Name
Jayni Ann Luke
Birth Day
08/24/1957
Birth place
Los Angeles, California, USA
Zodiac Sign
Virgo
Nationality
American
Profession
Writer, Environmental Advocate
Husband/Wife
Chevy Chase
Children
Caley Leigh Chase, Cydney Cathalene Chase and Emily Evelyn Chase
Eye color
Blue
Hair Color
Blonde
Jayni Chase is the wife of the famous actor, comedian, and producer, Chevy Chase. Known for his incredible acting abilities, Chevy has always been in the news since his debut in the industry. In contrast, his partner has never been very vocal about her life.
While Chevy Chase's wife is not keen on sharing a lot of her life, she is very passionate about the different environmental issues on the earth. For years, Jayni has been an avid advocate of environmental problems.
Relationship And Children
Born and brought up in Los Angeles, Jayni first met her husband on the set of Under the Rainbow, where she was a production coordinator. Chevy and Jayni got married a few years later on 19 June 1982. The couple got together soon after they met on set. They have been together for more than three decades now. 
The couple has three daughters together, Caley Leigh Chase, Cydney Cathalene Chase, and Emily Evelyn Chase. Among them, Caley is also an actress. The family seems to be very close to each other and are often seen celebrating holidays and everyone's birthdays together. As for Jayni, she celebrates her birthday on August 24.
Work As An Environmental Advocate
Chevy Chase and his wife, Jayni Chase have been working alongside various organizations in order to help save the environment for a very long time. Jayni has admitted that the first Earth Day celebrated in the U.S. in 1970 made a huge impact on her thirteen-year-old mind and pushed her on the journey of being an environmentalist.
Jayni Chase founded Centre For Environmental Education, a non-profit organization that was focused on educating children about the environment. Jayni and Chevy established the organization with the belief that educating the children helped in saving the environment. This was the first step for the couple who were very eager to help save the environment in even the smallest way possible.
Along with this, the pair has also established Project Eco-School, a non-profit research center that is designed to promote environmental education. This organization has supported the link between schools and the vast knowledge of environmental information in a natural way. As a respected environmentalist, Chase has worked in the field of environmental education for more than thirty years. 
Not only this, but Jayni has also been a part of many other organizations and causes involving environmental issues. She is one of the board members of Friends of the Earth and has attended various seminars where she talks about the different ways one could help save the natural beauty of our planet. 
Chevy Chase's wife, Jayni Chase, has used her voice to help save the environment on many occasions. With her husband, she has even hosted TED Talks, where they talked about the human impact on the oceans. These efforts to save the environment and to encourage people from various parts of the world to do the same has been recognized by many, and Jayni Chase has been awarded the Hugh C. Lane Jr. Award of Excellence in Environmental Education in 2018.
Caley Chase Bio - Chevy Chase's Daughter
Jayni Chase's Net Worth And Earnings 
Jayni Chase's net worth comprises all her earnings from her book sales and from the different organizations and business ventures. Nevertheless, as for her husband, Chevy Chase's net worth is estimated at $50 million, which he has amassed mostly from his acting career. 
Income From Movies
Like comedian and actor Chevy Chase, his wife was also a part of the entertainment industry. However, Jayni was mostly behind the camera in her early days in the industry. She has been credited as a production coordinator and location secretary in two movies released in the early 1980s. As one of the members of these teams, Jayni must have earned a significant amount from them.
While Jayni Chase's earnings from these movies must have helped her livelihood, they also introduced her to her current husband, which in itself is a grand prize.
Co-founder of The Pharm Stand
Known environmentalist, Jayni Chase has tried her hand on another business venture as well. Along with Chris Singleton and Jason Provost, Chase founded The Pharm Stand, a store that specializes in CBD, short for cannabidiol's and its potential health benefits. The store sells various CBD products which help in the reduction of inflammation, relieve anxiety and improve sleep.
The store and its products have gradually become popular among the various Hollywood stars as well as regular people. As one of the co-founders of the store, a portion of the profit from the shop must have helped increase Jayni Chase's net worth.
Has Written A Book On Environmental Education
Along with establishing an organization practicing environmental education for children, Jayni has also written a book in the same field. The book, Blueprint for a Green School (Scholastic Leadership Policy Research) focuses on creating environmentally healthy and safe school buildings. It contains different tips for administration, teachers, staff, students, and parents to help meet the goal of a green school.
The educative book is available for purchase in the Amazon. Learning from the book, schools around the world should implement the steps to help save the environment from a small scale.
From her work in the entertainment industry in her younger years and her environmental activism, the advocate must have earned enough for her to continue doing the work. Also, the sales from her book and her products in her store must have helped increase Jayni Chase's net worth significantly. 
Trivia
Jayni Chase is the third wife of actor Chevy Chase.
Looking at Jayni Chase's Instagram profile, it is clear that she is also a big animal lover.
Many celebrities like Cameron Diaz, Rachel Ray, and Simon Cowell, among others, have supported Jayni's non-profit organizations.
Explore more on eCelebrity Spy and get updates on Celebrity News, Wikis, Net Worth, and More.