Brian Inkster, Juli Inkster's Husband Since 1980, Is A Golf Coach
American professional golfer Juli Inkster has won more than thirty LPGA Tour championships in her career spanning over twenty-nine years to date. She is listed among the most successful female golfers in history and is a member of the World Golf Hall of Fame.
Because of her popularity as a golfer, Juli's personal life has always been at the forefront of the media. Especially the relationship between Inkster and her husband Brian Inkster, who is also involved in golf.
Juli Inkster's Husband, Brian Inkster
Brian Inkster is recognized by many golf fans as the husband of a famous professional golfer, Juli Inkster. He has also been involved in golf for a long time. He is a longstanding member at the Los Altos Golf & Country Club and served as the Director of Golf for thirty-seven years. He had previously served as the Head Golf Professional at Pasatiempo Golf Course.
Who Is Golfer Morgan Pressel's Husband Andrew Bush?
Currently, Juli Inkster's husband, Brian, serves as the head boy's varsity golf coach at Saint Francis High School, California. He was appointed for the position in 2017 and has since used his knowledge and experience to help the high school boys to learn more about golf.
Married To Juli Inkster 
While Brian had been part of the golf scene long before he met his wife, Juli, he only came into the limelight due to their relationship. The pair met at Pasatiempo Golf Course, where Juli practiced and also worked as a shop-girl. Immediately after their meeting, Juli Inkster's husband recognized her potential and helped her make it as a professional.
The couple got married in 1980 after dating for a few years. Inkster's marriage seems to be a lucky charm for her as three weeks after her marriage, Juli won her first title, the US Women's Amateurs. She went on to win the same title two times and then turned professional in 1983. 
The relationship between Inkster and her husband has been said to be one of the best in the golf world. Even after forty years of marriage, both Juli and Brian are still in love with each other and enjoying their time together.
Has Two Daughters
In the forty years of marriage, Juli Inkster and her husband, Brian Inkster, were blessed with two beautiful daughters. Both of their girls, Hayley Inkster and Cori Inkster, are now adults and work for SurveyMonkey.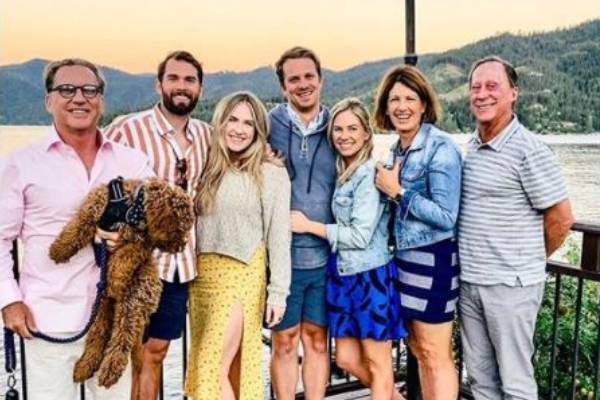 Long before pursuing their own career, Cori and Hayley accompanied their mother on various golf tournaments. They were present when Juli won the US Women's Open and the LPGA McDonald's Championship in 1999. One of Juli Inkster's daughters, Cori, recently got engaged to her long-term boyfriend, Correy Long.
Is Very Supportive Of Juli's Career
While many fellow mothers were retiring to spend more time with their kids, Juli continued her journey as a golfer. The reason behind her success as a golfer was her husband, Brian. He was the one who pushed Inkster to continue with her passion and helped her both professionally and personally.
Inkster's husband, Brian, helped raise the girls while she was out their setting records on the golf course. He and the girls were on tour supporting Juli whenever possible. And when the family couldn't be together, they were always calling and checking up on each other.
Because of her family's immense support and trust in her, Juli went on to win more than forty titles, including thirty-one LPGA Tour win. On multiple occasions, Inkster has credited her husband for helping and supporting her throughout the journey.
Get More Updates In News, Entertainment, Net Worth, and Wikis In eCelebritySpy.