John McEnroe Net Worth - Earnings As A Tennis Player And Has Also Got Many Acting Credits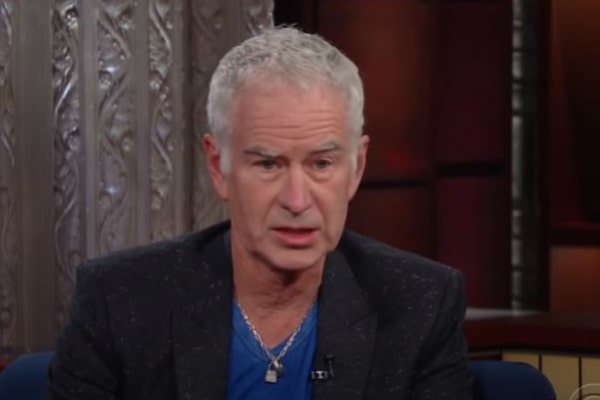 Athletes around the world have the advantage of doing what they do best for living and also earning fame and money along the way. Players of different sports earn millions from prize money, and multiple endorsements deals over their career in sports. John McEnroe is among the long list of players who made millions from their sports career.
Like most of the tennis players, McEnroe has also earned a massive fortune from his successful career. Also, his work in various movies has helped John McEnroe's net worth to reach the $100 million mark.
Patty Smyth Net Worth - Income And Earnings As A Musician
John McEnroe Net Worth And Earnings
According to Celebrity Net Worth, John McEnroe's net worth is estimated to be $100 million. However, other sites have evaluated his total earnings to be around $50 million. Nevertheless, his vast fortune includes prize money from various tournaments, brand endorsement deals, and earnings from acting in movies and television series. 
Income From Tennis Career
John McEnroe started playing tennis since he was only eight and began competing in the national juniors tournament when he was twelve. He won his first grand slam at French Open with Mary Carillo when he was just eighteen. He then went on to win numerous grand slam titles including Wimbledon, US Open and French Open in both singles and doubles category. Along with this, he has won other world titles like Davis Cup, Masters Grand Prix, World Team Cup, among others.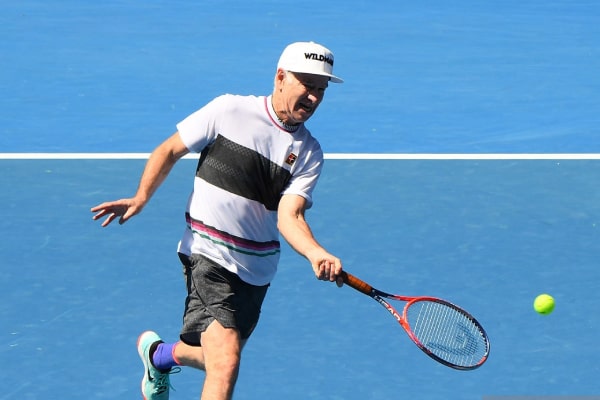 From all of these championship trophies, McEnroe earned a whopping $12.5 million on prize money alone. He reached number 1 on the male ranking and was regarded as one of the greatest tennis players in history. But his abilities as a player did not excuse him from his on-court misbehavior. Famous for his temper tantrum on-court, John has been fined as well as suspended multiple times. Some of the instances where he has been fined are listed below:
John was fined $6,000 total after calling chair umpire "pits of the world" at Wimbledon in 1981
He was fined $3,500 during the French Open in 1983, after clashing with a photographer. 
In 1984, his fine exceeded a $7,500 limit, which resulted in his suspension for three weeks.
He paid $17,500 for verbal abuse and misconduct in the 1985 US Open.
He was fined $6,500 for various incidents, including verbally abusing umpire Gerry Armstrong in the 1990 Australian Open.
Even if he lost his temper multiple times during important matches and eventually lost money, the infamous player continued to compete in many tournaments inside and outside the US and brought back titles with him. And along with those trophies, he also pocketed a hefty sum as prize money, which is included in John McEnroe's net worth.
Income From Endorsements
Since he is one of the most notable faces in the tennis world, a large number of brands were interested in collaboration with John during his career. HIs first endorsement deal was with Sergio Tacchini in 1978. He wore their sportswear and created a signature look with his now-iconic headband. Since then, he has partnered with the world-famous company Nike and helped boost their sales from 10,000 pairs to more than 1 million. 
Along with clothing items, McEnroe has also endorsed products from various racquet companies like Dunlop and Head. He has also been roped in to endorse companies like Mercedes, Tesco, American Express, and many others. Since he is one of the most well-known faces in the world, John McEnroe's earnings from the brand endorsements deals must be substantial.
Income From Movies And Television Appearances
Along with being a fantastic player, John has also showcased his skills in the acting department. His first foray into the world of glamour was in 1979 in the movie Players. After this he has been a part of many blockbuster movies, some of which are listed below:
| | |
| --- | --- |
| Movies | Box-office Collection |
| Mr. Deeds | $171.2 million |
| Anger Management | $195.7million |
| Wimbledon | $41.6 million |
| Jack and Jill | $149.6 million |
In many of these movies, John has played the fictional version of himself. And as seen above, the films have grossed millions, which undoubtedly helped in the increase of McEnroe's collective wealth.
Also, the skilled athlete has been seen on the television screen in various forms. His most recent involvement in the television world is in the famous series, Never Have I Ever, where John narrated the show. Whether it is as a character in a show or as a commenter and analyst in sports programs, John has managed to capture the audience's attention. 
Income From Book Sales
After being in the limelight due to his career for years, John published multiple books which consisted of events from his perspective. The books were autobiographies and memoir about his experiences as a player and about his life before and after fame. All of his books with their prices are listed below:
Serious - $13.00 (Hardcover)
You Cannot Be Serious - $14.99 (Kindle)
But Seriously - $11.99 (Kindle)
All of these books are available on Amazon and were all successful on their own rights. From the earnings of these book sales, John McEnroe must have earned a significant amount over the years.
Lifestyle And Assets
As a multimillionaire, John and his wife Patty Smyth reportedly owns about $50 million worth of real estate. The couple owns multiple properties, including their six-bedroom Malibu home, which McEnroe purchased for $2.6 million in 1987. The retired tennis player sold his famous Southhampton mansion for $11.25 million in 2017 with a considerable profit. 
Looking at the expensive taste in the properties of the player, we can say that John McEnroe enjoys a lavish lifestyle. Also, he is involved in many charities including Make-A-Wish Foundation and his own The John and Patty McEnroe Foundation.  
Facts
John McEnroe was born in Germany on the 16th of February, 1958.
He has been married twice: first with Tatum O'Neal and then with Patty Smyth.
He has five children; Emily, Kevin, and Sean McEnroe with his first wife, and Anna, and Ava McEnroe from his second marriage.
Explore more on eCelebrity Spy and get updates on Celebrity News, Wikis, Net Worth, and More.