Charlie Ebersol Bio - Television Producer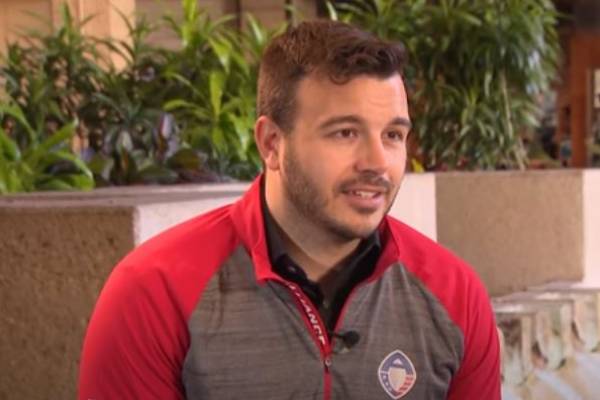 Quick Wikis
Fact
Value
Birth Name
Charles Duncan Ebersol
Birth Day
12/30/1982
Birth place
Torrington, Connecticut, USA
Zodiac Sign
Capricon
Nationality
American
Profession
Producer and Director
Parents
Dick Ebersol and Susan Saint James
Husband/Wife
Melody McCloskey
Sibling
Edward Ebersol, William Ebersol, Sunshine Lucas and Harmony Lucas
Net Worth
$5 million
College/University
University of Notre Dame
Children
Amara Bia Ebersol
Eye color
Brown
Hair Color
Brown
Charlie Ebersol is one of Hollywood's best-known television and film producer. He has executive produced and directed numerous television shows and documentaries and is best known as one of the founders of Alliance of American Football (AAF) and The Company.
Over the years, Charlie has been part of several notable projects and even earned a place in the Television's 50 Most Powerful Producers. With all the success he achieved from his career, many people are interested in learning more about Ebersol's biography and other personal and professional details.
Early Life And Family
Charles Duncan Ebersol was born in Torrington, Connecticut, on December 30, 1982. He is the eldest son of the television executive, Dick Ebersol, and actress Susan Saint James. Because of his parent's careers, Ebersol was introduced to the sports and entertainment industry from an early age.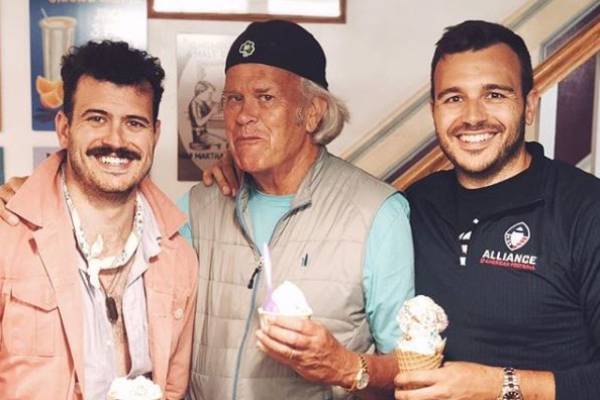 Charlie Ebersol is the eldest among three Ebersol children. His two younger brothers are William "Willie" Ebersol and Edward "Teddy" Ebersol. He also has two half-siblings from his mother, Susan Saint James' previous marriage to makeup artist, Thomas Lucas. Ebersol is close to all his siblings, including his half-siblings, Sunshine Lucas and Harmony Lucas.
In addition to his famous parents, Charlie is also related to several other people in the industry. Popular model and actress Christa Miller is Ebersol's cousin from his mother's side. Miller's husband, Bill Lawrence, is also a producer, director, and screenwriter known as the creator of the tv-series Scrubs and Spin City.
Was In A Plane Crash
During his time as a senior year student at the University of Notre Dame, Ebersol, his father, and his younger brother, Teddy Ebersol, were in a private chartered jet, which crashed during takeoff on November 28, 2004. Charlie managed to rescue his father from the wreckage; however, his younger brother, Teddy, their pilot and flight attendant were killed in the incident.
Charlie and his father suffered severe injuries and trauma because of the crash. The Ebersol family also appeared on The Oprah Winfrey Show to talk about their loss. Even after going through the traumatic experience, Charlie Ebersol returned to complete his senior year shortly after the crash. He graduated on May 15, 2005, with a Bachelor of Arts degree.
Charlie Ebersol Net Worth And Career
After growing up in the entertainment industry, Charlie also became interested in the television world. Since his college days, he has been making documentaries and has since become a successful producer and director and earned millions from his career. According to Celebrity Net Worth, Charlie Ebersol's net worth is estimated to be $5 million.
Income As A Producer
Charlie's first foray into the producing world came while studying at the University of Notre Dame. His first documentary, Ithuteng: Never Stop Learning was released in 2006 and went on to win an award at the Toronto International Film Festival. After watching the documentary, Oprah Winfrey was inspired to donate $1.14 million to Ithuteng Trust School.
The television producer then produced other documentaries including, Tradition Never Graduates, and Don't Look Down, which was about the life of professional snowboarder Shaun White. He also created and executive produced NBC's primetime series, The Wanted, and a few other shows.
With many of his projects gaining attention from both critics and audiences, he found success and earned a massive sum from his career. As the co-creator and producer of these shows and documentaries, Charlie Ebersol's net worth must have heavily benefitted from them.
Income As A Co-founder Of Production Company
After producing numerous shows for years, Charlie and his producing partners Justin Hochberg and Mike Lanigan co-founded their company named, The Hochberg-Ebersol (THE) Company in 2011. Through the banner, Ebersol has been part of several projects like The Great Escape, The Moment, and The Profit. After Justin left in 2013, the banner has since renamed to The Company.
In addition to his own production company, Ebersol also created the football league known as Alliance of American Football. He co-founded the league backed by many well-known investors and then employed coaches and former NFL players. While the league gained massive attention in the early stage, it did not fare well in the long run.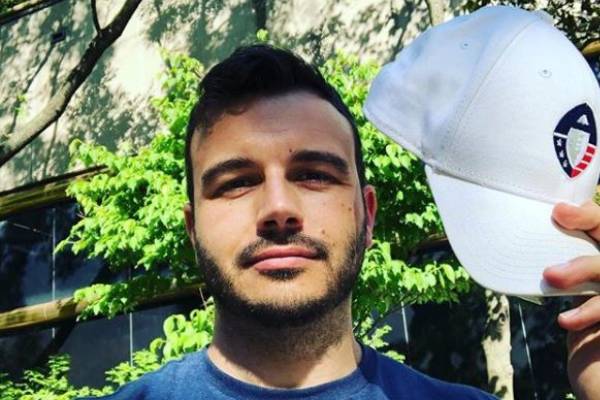 Even though his dream football league did not do as well as expected, the famous producer has continued to be part of many television projects. And as the co-owner of his own production company, Charlie Ebersol's net worth has seen considerable growth in recent years.
Relationships With Famous Women
As the son of famous parents, Charlie Ebersol's relationships have been the talk of the town for many years. While he has not exclusively talked about his love life, his relationship with pop star Britney Spears gained attention from people worldwide. The pair dated for eight months in 2015 and Ebersol reportedly signed an NDA even before he met her.
Before his relationship with Spears, Charlie dated tennis star, Maria Sharapova. The pair was in a relationship for a while in 2008; however, their love fizzled out soon after.
Married And Father Of A Daughter
Years after his highly publicized relationships with two famous women, Ebersol found love in Melody McCloskey.
The duo's first correspondence was via email as they were introduced by a mutual friend and then met each other in 2016. They announced their engagement on Twitter the following year and then tied the knot on July 29, 2017. Ebersol and his wife, Melody, welcomed their first child, a daughter, Amara Bia Ebersol, in 2018.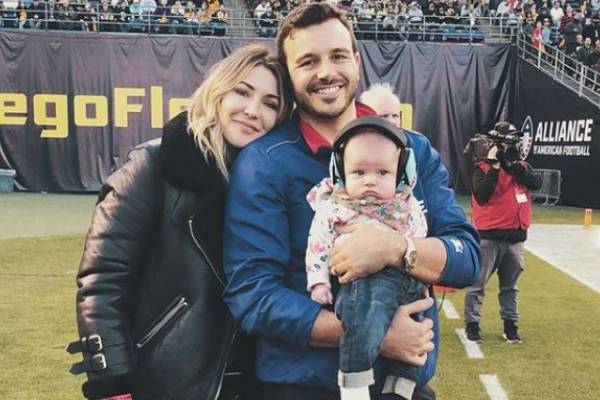 Just like the television producer, Charlie Ebersol's wife, Melody is also a successful businesswoman. McCloskey is the CEO and co-founder of the beauty and wellness service, StyleSeat, which is regarded as a groundbreaking initiative in the beauty community.
Trivia and Facts
Charlie Ebersol was listed on the 40 Under 40 List by Connecticut Magazine.
He was also listed as one of Reality Television's 50 Most Powerful Producers in 2012.
He has garnered around 10.8K followers on Instagram and 11.6K on Twitter.
Get More Updates In News, Entertainment, Net Worth, and Wikis In eCelebritySpy.