Jamillah Ali Bio - Muhammad Ali's Daughter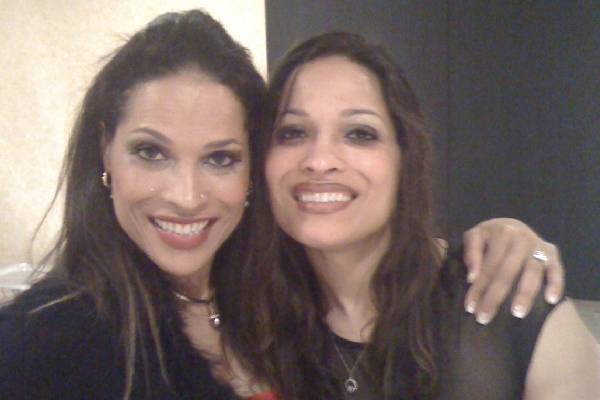 Quick Wikis
Fact
Value
Birth Name
Jamillah Ali
Nationality
American
Profession
Public Servant
Parents
Muhammad Ali and Belinda Boyd
Husband/Wife
Mike Joyce
Sibling
Muhammad Ali Jr, Maryum Ali, Rasheda Ali, Khaliah Ali, Miya Ali, Hana Ali, Laila Ali and Asaad Amin
College/University
University of Illinois
Children
Amira Ali Joyce, Nadia Ali Joyce, Jake Joyce
Eye color
Brown
Hair Color
Black
Muhammad Ali is a name recognized by millions of people around the world. Along with his professional boxing career, Ali is also known as an activist and humanitarian. Throughout his lifetime, the celebrated sports figure continued to inspire people, and after his death, his children, including Jamillah Ali, have carried on their father's legacy.
Jamillah Ali is mostly famous as the daughter of the boxer, Muhammad Ali. As a part of the recognizable Ali family, people are always eager to know about Jamillah's personal life.
Curtis Conway Net Worth - Salary And Contracts Of The Retired NFL Player
Early Life And Education
Jamillah Ali is the daughter of late Muhammad Ali and his second wife, Khalilah Ali (formerly Belinda Boyd). She and her twin sister Rasheda Ali were born in August 1970 and are among four children of the once-married couple.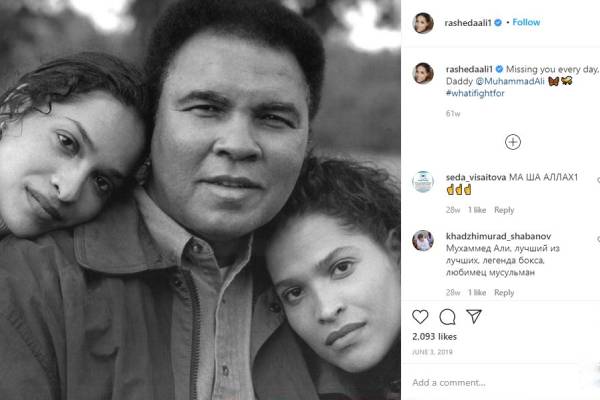 Jamillah reportedly grew up in Chicago but, at one point, lived at her father's training camp, Deer Lake, in Pennsylvania alongside her half-sibling Khaliah Ali and Aaisha Ali, Khaliah's mother. Her father was in an extramarital relationship with Aaisha and later married in an Islamic ceremony, which was not legally recognized.
Jamillah went to public schools and then attended the University of Illinois and graduated with a major in Communications. Her father used to visit her and her twin sister, during her college days, and they definitely have fond memories from that time.
Jamillah Ali Net Worth And Career
After her graduation, Muhammad Ali's daughter Jamillah started working for the MARC Corporation in Silver Springs, Maryland as the primary marketing director. Years later, she moved back to Chicago to work for the State of Illinois. She worked under Jesse White, Illinois' longest-serving Secretary of State.
Due to her hard work, the Secretary of State then appointed her to Illinois Secretary of State Employment Counselor. She still occupies the position and earns a massive sum from the job. She reportedly earned $83,000 in 2019 from her work, which was six percent more than the year before. The earnings from this undoubtedly have a significant impact on Jamillah Ali's net worth.
In addition to her public service work, Jamillah is also an activist and often represented her father at various charitable functions. She has supported organizations like the Mercy Home for Boys and Girls, Fight for a Cure, and Ed Kelly Youth Sports Program, among others. Her involvement in various charities shows that she has followed in her father's footsteps in terms of philanthropy.
Family And Siblings
Rasheda Ali is not the only sibling of Jamillah Ali, as they have seven more siblings. Ali has three siblings and five half-siblings from her father's side. In addition to her identical twin, Jamillah's two siblings are Muhammad Ali Jr. and Maryum Ali.
Ali also has five half-siblings, Laila Ali, Hana Ali, Miya Ali, Khaliah Ali, and Asaad Amin. It is not clear if Jamillah is close to any of her halfsiblings, but there is no doubt that all of them were loved by their father. All of Muhammad's children has made a name for themselves; however, Laila Ali is the only one who followed in her father's footsteps.
Marriage And Children
Muhammad Ali's daughter, Jamillah Ali, is happily married to the former boxer, Mike Joyce. The couple got married in May 2010 in front of 140 family and friends. Even though Muhammad was already diagnosed with Parkinson's disease, he attended the ceremony and also walked her down the aisle.
Jamillah Ali's husband was also a boxer at one point in his life. He went by the name Pickles and is still recognized as Mike "Pickle" Joyce. Currently, he is an attorney and has helped coach numerous young boxers.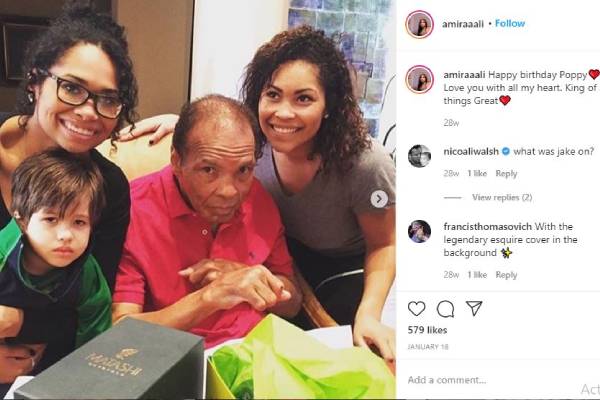 The couple has been blessed with three beautiful children, two girls, and a boy. Their daughters have both grown up, and among them, Nadia Ali Joyce attended the University of Notre Dame. Their middle child, Amira Ali Joyce, is a student at the University of Louiseville. The pair also have a son, Jake Joyce, together. He seems to be the apple of everyone's eyes.
While their family name might garner attention from people around the world, the family has managed to live their lives away from the media. Jamillah has a Twitter account but is only active occasionally. On the other hand, her daughters both have Instagram accounts, but Nadia has set hers on private. We wish the family lives happily and hope that they share more about themselves in the upcoming days.
Trivia and Facts
Jamillah Ali has followed in her father's footsteps and dedicated most of her time to give back to society.
Her father-in-law, Jeremiah E. Joyce, served in the Illinois General Assembly.
Jamillah and her sister Rasheda are identical twins and are very close to each other.
Explore more on eCelebrity Spy and get updates on Celebrity News, Wikis, Net Worth, and More.